Time for round two of the major holiday sales – Cyber Monday! Being so close to Black Friday, and due to the fact that nearly everything has been online the past few years for all the reasons, a lot of the Cyber Monday deals are just a continuation of those launched last week. Still, now is probably your last chance to nab something from the list.
Take a look at what deals are still around, what deals got extended, and even what new ones popped up over the weekend. Definitely jump on something if you see it as many of these options will be expiring come Tuesday morning.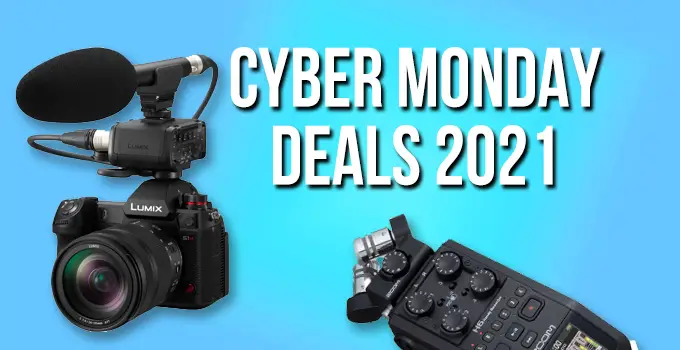 BEST DEALS
ADOBE
We have some good deals for those looking to pick up a Creative Cloud license for the first time or even if you are renewing for another year. The best one is active now through Nov. 26 and is a nice 40% discount off your first year (new subs only), bringing the All Apps down to just $29.99/mo compared to the $52.99/mo normal price.
If you are a student this gets even better as the deal goes up to 70% to drop the price to just $15.99/mo. This is a great deal if you have been waiting to jump in. You can find by heading direct to Adobe's website.
40% Off for New Subscription (70% for Students) — Creative Cloud All Apps (

Adobe

)
Existing subscribers aren't completely left out in the cold as there are some discounts available if you purchase from other retailers. This is a more average discount of 20% for an annual subscription, bringing the total to $479.88/year from $599.88/year.
FILM CONVERT
FilmConvert are also having their annual Black Friday sale, starting Mon November 22 – all FilmConvert and CineMatch plugins are 40% off for one week only.
Individual plugin licenses for FilmConvert and CineMatch are just $99 during the Black Friday Sale (normally $179) and are sold as a one-off purchase – no subscription or recurring fees.
APPLE
Lots of news from Apple on the computer front this year—the M1 Pro and M1 Max MacBook Pros definitely stealing the show—and some of the very latest models actually are seeing some early sales. If you need a new machine now is the time to get your order in.
Outside the Mac world you will find other Apple deals, including on the iPad and AirPods.
APUTURE
Some affordable and powerful lights have just gotten even more affordable.
AMARAN
Some of Aputure's more affordable amaran series lights are an even better deal.
ATOMOS
If you were looking for a new on-camera monitor, this year there are massive savings on the Ninja V+.
CANON
This year Canon is steering more towards the entry-level with the R and RP making the list of specials. There is still some interesting stuff for pros, including nice lenses and special "Cine" kits that bundle in the Atomos Ninja V with a camera.
DJI
Gimbals, drones, and more, DJI has some fun stuff on sale.
FUJIFILM
FUJIFILM has been underrated for video and is already known for excellent stills. Upgrade to some of their best today.
GOPRO
Get your action cam fix on with savings on GoPro cameras, including the newest HERO10 Black.
HOLLYLAND
Wireless video monitoring is a great tool, and Hollyland is quickly becoming one of the go-to brands for it.
IRIX
Making their way onto the cinema scene, IRIX has been getting a few lenses out there that looks quite nice. And now a few are on sale. Here are some of our picks, but the rest of the line seems to have discounts as well.
LOUPEDECK
Get better control when you edit with some of these editing tools.
NIKON
Nikon has been making big strides in video, especially with the new Z 9. That isn't on sale (and is pricey), so here are all the other cameras they have on sale for the holidays.
PANASONIC
Tons of awesome options from Panasonic this year, even some newer stuff like the S5 and the GH5 II.
RODE
Some smaller stuff from RODE, but the brand makes some killer audio gear for filmmakers and audio pros.
SIGMA
Pick up another lens for your Sony camera with these offerings from Sigma.
SMALLHD
Some of the best on-camera and reference monitors are from SmallHD and now is your chance to save.
SONY
One of the brands that always gets on the holiday sales train is Sony, and this year they have a decent set of cameras with discounts along with a ton of lenses. 
TAMRON
Get some good lenses for your Sony camera from Tamron.
VENUS OPTICS
Some weird lenses are made by Venus, including that cool probe lens—which is now on sale!
ZEISS
Known for making some of the best lenses around, you can have some of you own for a deal.
ZHIYUN-TECH
In need of a new gimbal? A ton of Zhiyun-Tech's gimbals is getting discounted right now.
ZOOM
Pick up an audio recorder from Zoom to start getting better sound in your productions.
STORAGE
Everyone can use a new drive. Good thing some great ones are on sale.
MISCELLANEOUS
Find some small bits and pieces for your rig as well as lights and other accessories.
Find a deal we didn't? Let everyone know by leaving a post!
Claim your copy of DAVINCI RESOLVE - SIMPLIFIED COURSE with 50% off! Get Instant Access!