Earlier today, RICOH announced the launch of the RICOH THETA Z1, their new flagship 360-degree camera, now with a bigger sensor and also support for Adobe DNG Raw stills.
The RICOH Theta Z1 features dual 1.0-inch back-illuminated CMOS image sensors that can now produce approximately 23-megapixels resolution (6720 x 3360 pixels) 360-degree still images. The new, larger sensor (compared to the puny 1/2.3-inch chip in the Theta V), is going to help you get sharper, less noisy images and video, improve detail and overall image quality. Maximum ISO is also boosted up to 6400.
On the 360 degree video side, the THETA Z1 can shoot 4K 360 (3840 x 1920) at up to 30fps (at 56Mbps H.264), which is somewhat limiting compared to the Insta360 X, which can do 5.7K, and 4K/50p and high-speed 3K/100fps (more on this camera here), however the Theta Z1 (at least) features 3-axis image stabilization for smoother video footage and shake-free images.
4K video recording is limited to about 5 minutes at a time (25 minutes at a time for 2K), and the 19GB internal memory supports a maximum of about 40 minutes of 4K footage.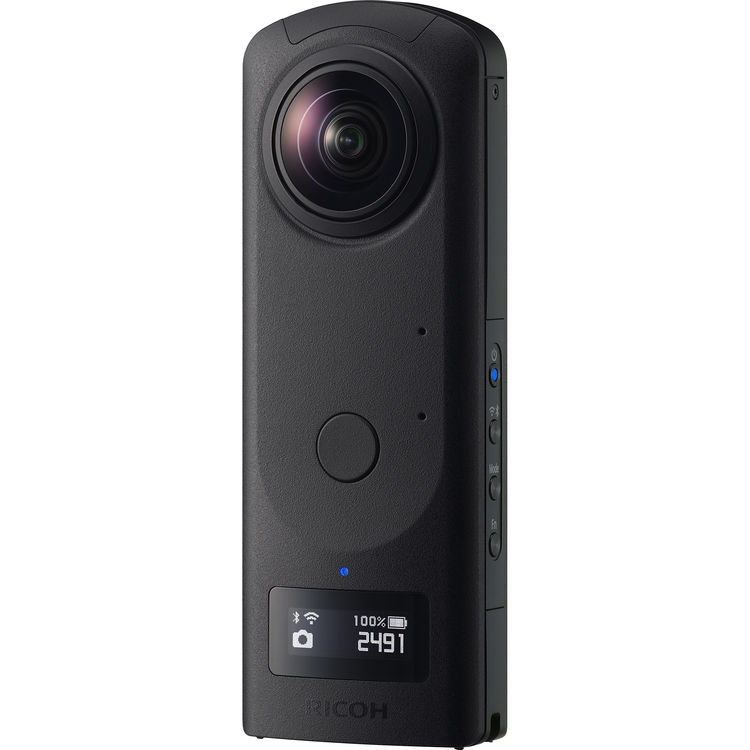 The new 360 camera supports a diverse range of shooting modes, such as aperture priority, allowing users to take high-quality images regardless of the setting: outdoors, nighttime, indoors, tropical beaches or snowy mountain views. You can also chose from a variety of other modes including a new HDR Rendering, Interval Composite, and Multi-bracket shooting.
On the front of the camera, you are greeted by a 0.93-inch organic EL monitor and a Function (Fn) button, grants users access to a multitude of information at a glance, including number of possible shots, exposure settings, and more, thus greatly improving the operability of the camera itself.
The camera features a four-channel microphone array for 360-degree spatial audio recording to give you that extra immersive experience when shooting.
The Theta Z1 gets the same 19GB built-in storage capacity good for about 350 Raw stills, and the lack of a microSD card expansion can be frustrating to some users. Sharing on popular social media platforms such as Facebook and Youtube is also possible via the THETA+ app.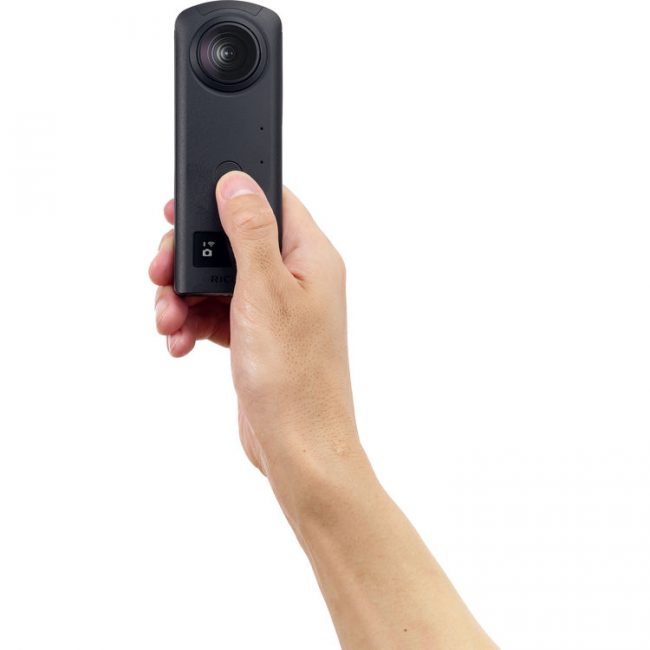 RICOH THETA Z1 Features/Highlights
Highly Accurate 360° Image Stitching
2x (6720 x 3360) 1.0-inch CMOS Sensors
360° 4K (3840 x 1920) video at 30fps
23MP Photos; RAW stills support
Selectable f/2.1, 3.5, 5.6 Aperture
360° Live Streaming in 4K or 2K
Twin-Lens System with 4-Channel Mics
19GB of Internal Memory
Edit with Lightroom Classic CC & Plug-In
THETA+ Android App
Status Display, Magnesium Alloy Body
Pre-order: $995 at B&H/Adorama
The Theta Z1 will be priced at $995.99 at launch, and RICOH will be showing the camera at their stand during CP+ 2019 from February 28, 2019 to March 3, 2019.
For more details, specs and comparisons with other Theta models head over to Ricoh's website here.
Claim your copy of DAVINCI RESOLVE - SIMPLIFIED COURSE with 50% off! Get Instant Access!