Two camera giants are banding together to create a strategic partnership that will focus on the next generation of imaging products. The new partnership will be known as L² Technology and will focus on creating products under both the Leica and Lumix nameplates.
The collaboration will take the strengths of Leica's optical experience and Panasonic's video and digital technologies. The goal will be to release new products with innovations developed under the L² Technology brand of innovations, in order to take their cameras and lenses to the next level.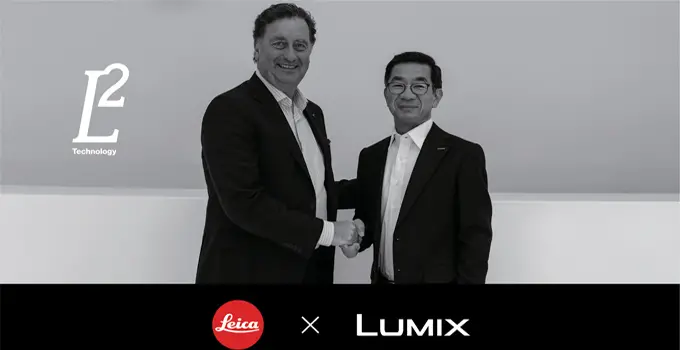 "This is a major turning point that will undoubtedly lead to the development of the imaging business and is especially exciting for Panasonic Holdings," said Yuki Kusumi, CEO of Panasonic. "I personally can't wait to start using the new LUMIX with L² Technology."
Citing the years of partnership with Panasonic in the past, Leica CEO Matthias Harsch added that he believes the "combination of their two brands to form L2 Technology represents a major milestone in meeting challenges in the camera market.
"The partnership proves that the best way is not to segment and specialize, but to deepen capabilities in order to jointly create solutions for the future," Matthias concluded.
A previous partnership between the two companies created the L Mount Alliance, along with lensmaker SIGMA, which developed the LMount as the standard for both Panasonic and Leica brand cameras and lenses.
The Alliance has since grown to include Leitz Cine Lenses, with the L-Mount creating a universal mount to deploy lenses between branded cameras.
Considering the nature of universal cooperation between the two companies, it's likely that future products will have the same compatibility so that the cameras will work in concert, rather than in competition.
It would certainly make sense if future products included image sensors, software operation, and optics that will serve to make both brands closer in performance so that filmmakers can use the platforms interchangeably.
The L-Mount Alliance was launched in 2018, with the L-mount hitting the market at the exact same time. By 2020, the alliance had produced six cameras and 39 native lenses using the mount.
So it's likely that there are already L² Technology designs on the drawing board, and we should see some fruit from the new partnership sooner, rather than later.
Claim your copy of DAVINCI RESOLVE - SIMPLIFIED COURSE with 50% off! Get Instant Access!