Panasonic has updated the firmware for their new GH6 6K Micro Four-Thirds camera to expand the options for recording in ultra high definition video.
The update opens up support for the Atomos Ninja V and V+ external monitor recorders and will capture 5.8K 30p 3:2 ProRes externally.
In addition, the firmware will enable capture of 5.7K 17:9 at up to 59.94 fps and C4K at up to 119.88 fps. The camera will also record ProRes 422 and 422HQ internally for both 4K and 1080p.
Since its launch earlier this year, the Panasonic GH6 has been a popular upgrade for M4/3 shooters looking to take their footage to the next level.
With a 25mp image sensor that offers 6K 10-bit video downsampled from 8K, the GH6 has been on a steady upgrade roadmap to further expand its capabilities.
"Ever since the time of introduction, the LUMIX GH6 gained high attention and have been acclaimed after its release to the market not only from the conventional GH users but also from the new GH users worldwide," states the release notes for firmware 2.0.
"The GH6 is planned to "evolve" with firmware updates to further enhance its performance and usability for professional video creators, as previously announced.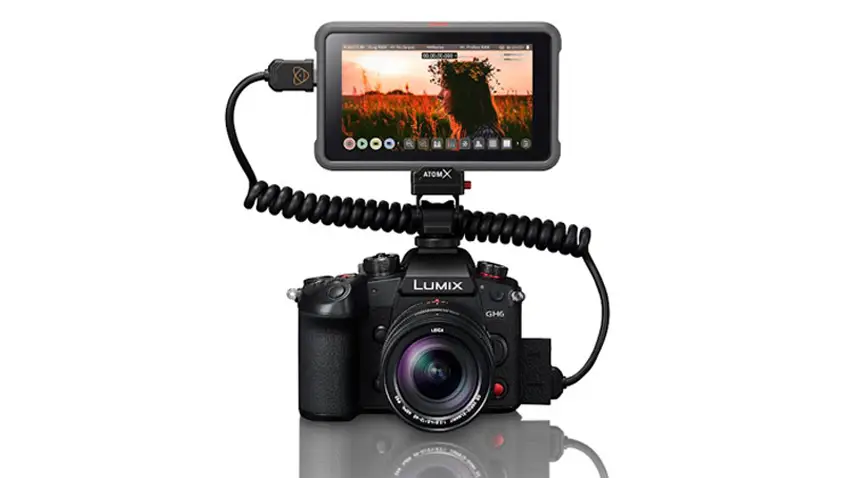 The new firmware 2.0 update further expands its feature set by also adding an anamorphic micro four-thirds option, capturing 5.8K at up to 30p with 12-bit color to the Atomos Ninja V/V+. With the added look-up tables, Panasonic users can match video footage to the Panasonic Varicam and EVA 1 more easily.
The addition of support for the Atomos Ninja V/V+ external recorder means that the GH6 will be able to send the ProRes Raw video data directly to the Ninja platform over HDMI as a 12-bit video file and greatly expand the rich color gamut and dynamic range of the video signal.
There is a limitation, however. While the GH6 will be able to capture 5.7K 17:9 and 5.8K 4:3 Anamorphic video files, it cannot extend the same to 4K video.
It gets even more exciting when one considers just how much more room the GH6 MFT sensor has. Panasonic is planning even more expansion of the sensor's capabilities, including enabling direct recording to SSD drives over USB-Cn and high frame rate 4K recording at up to 120fps.
The firmware update will be available for download in early July from the Panasonic LUMIX Support webpage. Moreover, there is a custom LUT for recording Raw in the GH6. Users can download it here. Atomos Ninja V/V+ users will also need to update with firmware from the Atomos Website.
[source: Panasonic]
Order Links:
Panasonic GH6 Mirrorless Camera (B&H)
Atomos Ninja V 4K HDMI Recorder (B&H)
Atomos Ninja V+ 5.2″ 8K HDMI H.265 Raw Recording Monitor (B&H)
Disclaimer: As an Amazon Associate partner and participant in B&H and Adorama Affiliate programmes, we earn a small comission from each purchase made through the affiliate links listed above at no additional cost to you.
Claim your copy of DAVINCI RESOLVE - SIMPLIFIED COURSE with 50% off! Get Instant Access!