DZOFilm's new Marlin 1.6x Expander is sure to be a valuable tool for camera operators looking to utilize their Super 35 prime lenses on larger format camera platforms.
With a 1.6x expansion, the Marlin expander increased not only the focal length field of view of lenses but also the effective image area so that the sensor doesn't capture vignetting of the scene being recorded.
The Marlin 1.6x Expander allows filmmakers who own Super35 cinema lenses to adapt them to full-frame and Vista Vision cameras like the ARRI ALEXA LF or RED Raptor V cinema cameras.
This could also mean that APS-C lenses could conceivably work with full frame cameras without suffering vignetting.
This is because the expander increases the field of view but at a loss of about 1.5 stops of light. However, that could be a small price to pay considering that there is no degradation of image quality in doing so.
The Marlin Expander also has a detachable supporting base and incorporates unique mounting rings that take the place of unwanted shims or mount replacements to make it fit.
DZOFilm also has a few guides and measurement templates that users can download and print up to measure the 19.64mm flange clearance from the plane to the lens mount itself.
This will ensure a proper fit against their own lenses, before purchasing. They also have a separate PL Mount Clearance Check Template to make sure the mount can properly fit.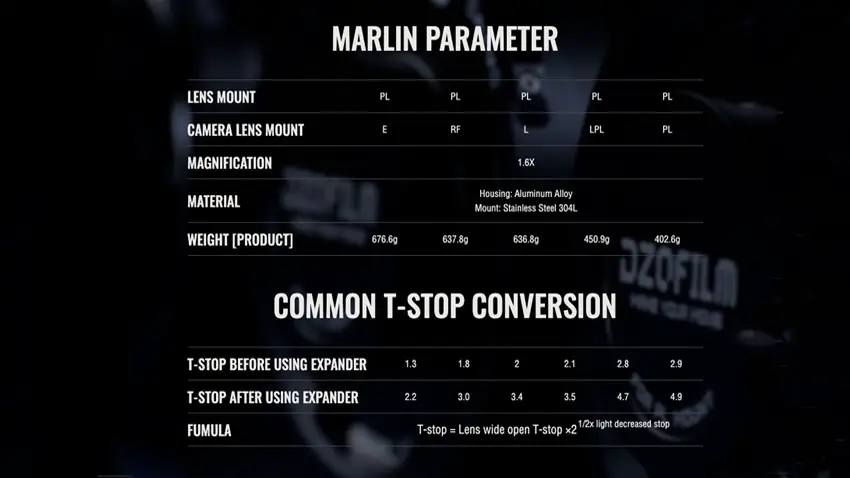 DZOFilm has also created a series of videos to show how to measure and adjust for proper fitness. Users just need to scan the QR code on the adapter clearance check tool, to be sent to the proper website.
The tutorials, however, focus on using the expander for Pictor Zoom, Cata Zoom, or LingLung cinema lenses for which the adapter was initially designed. The company says the concept, however, can be used for third-party lenses outside of the DZOFilm catalog.
The price of the DZOFilm Marlin 1.6x Expander is $1,159 for PL-E, PL-RF, and PL-L mounts. There is also a PL-LPL and PL-PL version for $1,699. Shipping is expected in early July.
[source: DZOFilm]
B&H Order Links:
Disclaimer: As an Amazon Associate partner and participant in B&H and Adorama Affiliate programmes, we earn a small comission from each purchase made through the affiliate links listed above at no additional cost to you.
Claim your copy of DAVINCI RESOLVE - SIMPLIFIED COURSE with 50% off! Get Instant Access!