DJI has sent out invitations to their next UAV product launch and based on the image above, the "Born to Fly" event is believed to be for the official announcement of DJI's CineWhoop drone known as the Avata.
The drone is very similar to images recently leaked by drone watchdog OsitaLV on Twitter. It looks to be encased in a unibody shrouded fan design, with what looks to be four five-bladed three-inch rotors.
Born to fly | 8.25.22 | 09:00 EDT ⏳

Discover more: https://t.co/MhiH4OlFaI pic.twitter.com/6EWGdAiicd

— DJI (@DJIGlobal) August 18, 2022
This compact and flattened design is ideal for making changes in direction while maintaining a steady and smooth image on its image-stabilized camera.
This design is what makes it ideal for shooting indoor aerial cinematography known as the "cinewhoop style."
Avata? pic.twitter.com/3aqwLBXM9L

— OsitaLV (@OsitaLV) May 18, 2022
OsitaLV posted on Twitter that while the camera may be a 4K model with both RockSteady 2.0 and HorizonSteady image stabilization, the design may default to a 1080p Full HD camera capable of capturing at up to 60 frames per second with "exceptional image quality."
That later spec could mean that the drone will oversample the image and then save at a lower resolution for improved quality.
But that is only a rumor based on OsitaLVs connections from within DJI, however, according to PhotoRumors, OsitaLV's leaks were further bolstered by Adorama's listing of DJI Avata accessories on their website before the official announcement.
The accessories included propellers and replacement shrouds, DJI's intelligent flight batteries and charging hubs, and a variety of ND filters to fit the drone camera. The listings have since been removed.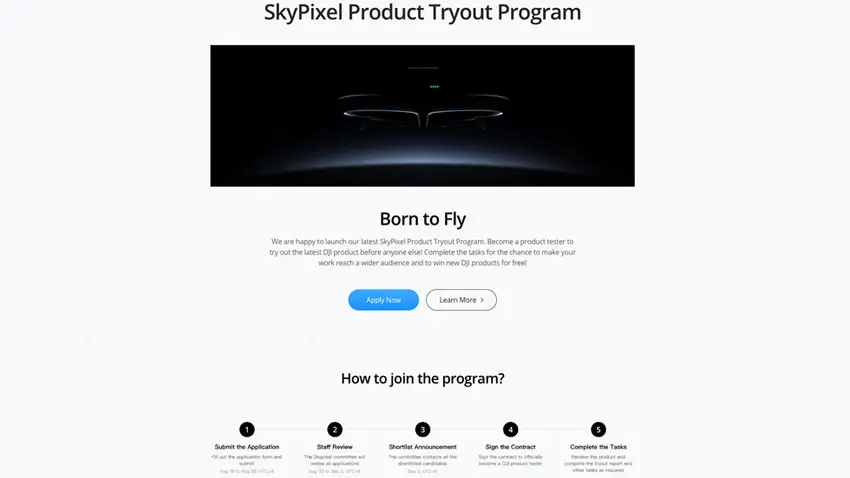 One sure thing that we do know, is that DJI has also opened up their SkyPixel program for interested buyers to test fly the drone before buying it. Interested users can visit the Skypixel website before August 29th, and apply for the opportunity. If approved, DJI will send users a drone near the beginning of September before it comes to market.
Recipients will have twenty-eight days to try out the drone before having to return it. Then, the participant must publish a video on YouTube, Instagram, or TikTok, plus DJI's Skypixel Website and the DJI Forums with a report outlining their impressions of the drone's performance.
Participants will be notified on September 3rd. After the one-month trial period, the drone is to be returned to DJI. Further rules and details can be found on the Skypixel website link above.
As for the product announcement, DJI will be live streaming the event on YouTube on August 25th, beginning at 9 AM EDT. Users can sign up to be notified of further details for the event at the DJI website.
[source: DJI]
Order Links:
Claim your copy of DAVINCI RESOLVE - SIMPLIFIED COURSE with 50% off! Get Instant Access!