Kinefinity has updated their KineOS to version 7.1, adding ProRes 4444 Efficiency Mode to the MAVO Edge 8K and 6K Cinema cameras. The update also introduces new anamorphic modes for both full-frame and Super 35mm configurations, plus optimizing SDI for better data transmission.
KineOS 7.1 takes advantage of the dual 3G SDI camera connections to output status information data to an external monitor and provides for crisper image output. The update optimizes this connection, enhancing the image with maximum output, and offers the ability to trigger records through the connection and adjustment to multiple new frame rate options.
Additionally, the new ProRes 4444 Efficiency Mode will the storage space required for each image file, and extend recording times. The result is the file is 50% smaller than regular ProRes 4444, while Dynamic Range is also preserved under the new codec.
The new codec, however, is not from Apple and could be the result of some special tweaking done by Kinefinity.
Moreover, KineOS 7.1 introduces new full frame and Super 35mm anamorphic sensor modes, along with 3:2, 6:5, and 4:3 options. Full frame 3:2 recording is also supported to a frame rate of up to 50 fps.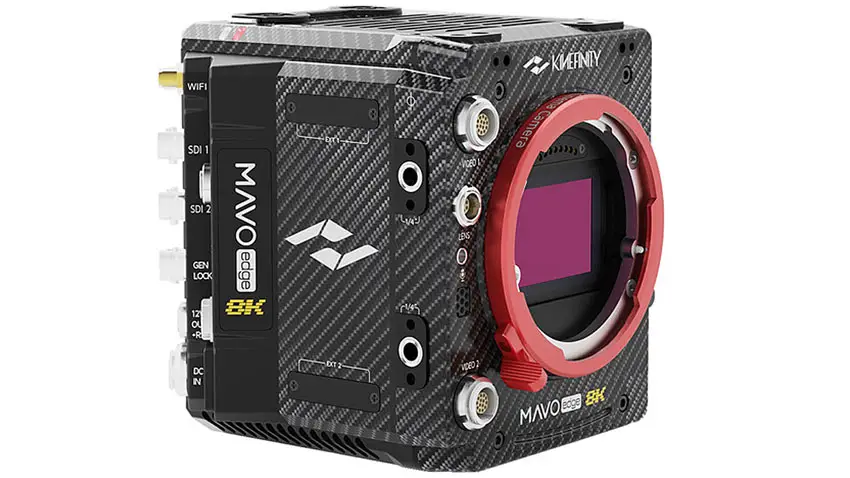 Here's a complete list of all the new recording modes, broken out by camera model:
New 3:2 Resolutions:
MAVO Edge 8K
FF 7.2K 3:2 (7168×4760)
FF 4.8K 3:2 (4864×3176)
S35 6K 3:2 (6144×3840)
S35 4K 3:2 (4096×2560)
MAVO Edge 6K
FF 5.7K 3:2 (5760×3700)
FF 3.8K 3:2 (3840×2460)
S35 4K 3:2 (4096×2700)
Newly added FF anamorphic resolution:
MAVO Edge 8K
6.4K 4:3 (6400×4760)
5.7K 6:5 (5760×4760)
4.2K 4:3 (4224×3176)
3.8K 6:5 (3840×3176)
MAVO Edge 6K
5K 4:3 (5120×3700)
4.6K 6:5 (4608×3700)
3.4K 4:3 (3456×2460)
3K 6:5 (3072×2460)
3. Newly added S35 resolution:
MAVO Edge 8K
5K 4:3 (5120×3840)
4.8K 6:5 (4864×3840)
3.4K 4:3 (3456×2560)
3K 6:5 (3072×2560)
MAVO Edge 6K
3.2K 6:5 (3328×2700)
3.6k 4:3(3712X2700)
2.7K 1:1(2688X2688)
Finally, KineOS 7.1 performed a little housekeeping to make the cameras operate faster and more efficiently.
The camera can no toggle faster between preview and playback mode, and there's also a more precise display of the VU meter for monitoring audio levels.
The KineOS 7.1 firmware update is available as a free download from the Kinefinity website.
The company advises that users be running KineOS 7.0 before performing the latest update, and the process should take about a half hour to complete from start to finish.
[source: KineFinity]
Order Links:
Kinefinity MAVO Edge 6K Digital Cinema Camera (B&H)
Kinefinity MAVO Edge 8K Digital Cinema Camera (B&H)
Claim your copy of DAVINCI RESOLVE - SIMPLIFIED COURSE with 50% off! Get Instant Access!