There's a fresh rumor going around that Canon is planning to announce a new RF mount M-style mirrorless camera.
The EOS R100 is believed to have a 24.2-megapixel APS-C image sensor, and a DIGIC X processor, capable of capturing 4K 30p video and stills captured at 12 fps in burst mode.
The newcomer will enjoy second-generation Dual Pixel Autofocus, a mechanical shutter in burst mode, and will likely contain similar features as the EOS R10 which came out earlier this year alongside the Canon EOS R7.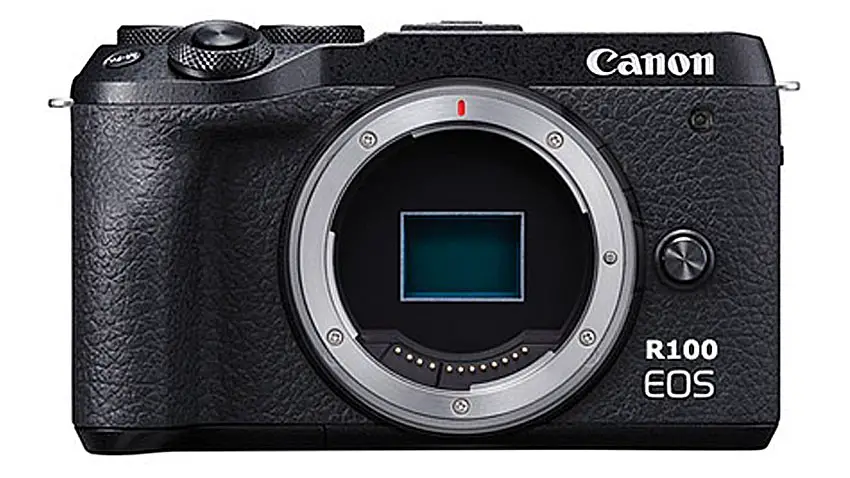 The camera is designed to rely solely on its 1.04 million dot vari-angle LCD touchscreen, with no electronic viewfinder sitting on top. It will have an RF mount and will support various RF and RF-S lenses.
The design makes the camera far more compact and lighter than Canon's full-frame and APS-C mirrorless models and may be designed to appeal to vloggers like the M-Series was before the line was discontinued, ending with the M6 Mk. II.
The camera will also appeal as a backup camera to professionals, travel photography, and other mobile applications.

So, in essence, if this rumor is legit, the R100 is believed to be essentially the R10 without the EVF.
Canon's standard naming convention tends to place a larger three-digit number on more entry-level consumer-oriented camera models, and smaller one and two-digit numbers representing midrange and higher-end prosumer models.
However, with a more advanced Dual Pixel Autofocus II, and 4K video at 30p, the R100 is carrying the entry-level spec to a higher standard.
Sadly though, according to the rumored specs, the M6 Mk. II 32.5 MP image sensor won't carry over, since that sensor is now being utilized in the R7. Therefore, Canon has opted for the standard entry-level 24.2 CMOS sensor for this RF-mounted compact form factor.
The rumor also suggests that the R100 line will also have several new accessories launched with the camera when it is announced, presumably either late 2022 or early 2023, though they are unknown at this time.
Presumably, this will include a range of support for RF-S lenses, and perhaps even a variant of Canons EVF-DC2 attachable electronic viewfinder, which connects via the hot shoe.
Only time will tell.
[source: Canon Rumors]
Order Links:
Canon EOS R10 Mirrorless Camera with 18-45mm Lens (B&H)
Canon EOS R7 Mirrorless Camera (B&H)
Claim your copy of DAVINCI RESOLVE - SIMPLIFIED COURSE with 50% off! Get Instant Access!