It's the final roundup of deals for the Black Friday, Cyber Monday, and general holiday season. This week is the best chance to find some great savings and now the time is truly running out.
This is going to be the complete roundup of deals meaning it is going to be a long post, but no worries about hunting down the previous ones.
Some of these discounts may go on for longer than this weekend and others may be expiring as you read. Head down through the list and hopefully, you'll find something that catches your eye.
If you want to complete picture I would recommend heading to B&H's Holiday Deals page where they have everything!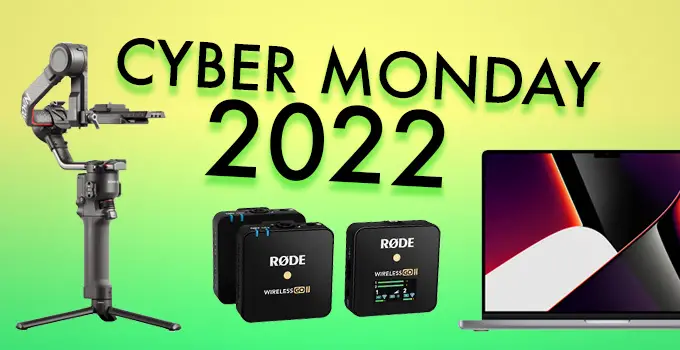 ADOBE
Currently running up through Black Friday, November 25, That Black Friday deadline always gets extended at Adobe and they are still discounting the All Apps Creative Cloud plan by 25% – now until December 4, 2022 for new signups.
Considering it is practically a must-own for filmmakers, bringing the price down to $39.99/month against the normal $54.99/month (or $478.88/year versus $659.88/year), should be appreciated.
25% OFF — Adobe Creative Cloud (All Apps) — Now $40/Month (

Adobe

)
Best Camera Deals (So Far)
APPLE
Got a lot of Apple products, from the newer M-series computers to iPads and the everyday AirPods.
Outside the Mac world you will find other Apple deals, including on the iPad and AirPods.
APUTURE/AMARAN
Lights designed for creators (and their budgets). Solid savings on some of the most popular LEDs.
ATOMOS
BLACKMAGIC DESIGN
Not much from Blackmagic this year, but there is a great kit featuring the Pocket 6K Pro, an Atomos Ninja V, the external EVF, battery grip, and more.
CANON
Canon has stuff for everyone this year from the R5 and premium glass to the APS-C R series cameras.
DJI
Gimbals made the list for this year's Black Friday sales, plus the original FPV if you were interested in trying that out.
DZOFILM
DZO's lenses were already a good deal. Now might be the time to jump on them.
FUJIFILM
Many shooters have a soft spot in their heart for Fujifilm cameras and their video specs are actually very competitive. It may not include the killer X-H2 series, but there's some solid stuff. Check out what's on sale this year.
GOPRO
Get your action cam fix on with savings on GoPro cameras, including the newest HERO10 Black.
G-TECHNOLOGY
Get some cheap and easy portable SSDs.
HOLLYLAND
Wireless video has never been easier.
INSTA360
A viable GoPro alternative that also has excellent options for 360-degree imaging that is designed for creators.
JOBY
If you are looking for affordable and ultra-compact support systems then JOBY is the place to look.
With some of their classic GorillaPods and the newer motion control options on sale you might find something worthwhile here.
LACIE
Solid, reliable, and rugged (with that distinct orange bumper at least). LaCie is one of the top when it comes to storage.
LENSBABY
Some people love it. Some people hate it. But you can't deny that Lensbaby gives you a look for not much money.
Now it is even less. Lots of different lenses made the cut this year including their swappable optics systems.
LEXAR, SANDISK, AND OTHER MEMORY CARDS
What's not to love here? Everyone can use some new memory cards and Lexar, SanDisk, and others are all ready to help with that.
LITEPANELS
A few great lights have made the deals list from Litepanels.
LOUPEDECK
Get better control when you edit with some of these editing tools.
MANFROTTO
The Manfrotto name started with some solid tripods. That's still king here, but they also have some bags, backgrounds and a lot more on the list.
NANLITE
Another solid brand for LED lighting – especially the newer tube lights – Nanlite has some killer sales with some being super limited offers. Jump on these.
NIKON
Ah, the perennial challenger to Canon. Though not quite as dominant in video, every new Z Series camera seems to make some improvement.
There are some quite compelling vlogger options on the list this year. We are going to focus on Z Series equipment here.
PANASONIC
Panasonic is a staple of video production and many indie shooters love the compact system options. Plenty makes the discount list this year.
PEAK DESIGN
Some slick everyday bags and tripods are the go-to picks from Peak Design. Check them out as pretty much everything they make is on sale.
RODE
Start a podcast or just get some better on-location audio with some RODE systems.
$50 OFF — RODE X XCM-50 Podcasting Kit — Now $399 (

B&H

)
$50 OFF — RODE X XDM-100 Podcasting Kit — Now $498 (

B&H

)
ROKINON
Lots of affordable lenses, from their classic Cine DS to their newest XEEN CF, are on sale this week.
SMALLHD
Some of the best on-camera and reference monitors are from SmallHD and now is your chance to save.
SMALLRIG
Want to build up your rig? Well, SmallRig probably has the answer.
SONY
One of the brands that always gets on the holiday sales train is Sony, and this year they have a decent set of cameras with discounts along with a ton of lenses.
TILTA
Tilta has so much going on with this sale. The sheer number of deals makes it hard to pick out the tops, but here are a few. Be sure to check out the full list to bulk up your rig.
ZEISS
Known for making some of the best lenses around, you can have some of you own for a deal.
ZOOM
Solid equipment at great prices. They even started making some unique products that leverage the incredible dynamic range of 32-bit recording.
Have you found any killer deals?
Claim your copy of DAVINCI RESOLVE - SIMPLIFIED COURSE with 50% off! Get Instant Access!