One battery type for all your devices? That just doesn't seem possible. Apparently, with a little bit of DIY know-how, you might be able to pull this off. All those camera batteries you have picked up may be more useful than you originally thought.
Caleb from DSLR Video Shooter demonstrates how you can create this battery adapter to convert you NP-F devices to run off a camera pack, such as the always abundant Canon LP-E6 or Sony NP-FZ100.
A simplified power system will make it a lot easier for using your monitors, small lights, transmitters, and more. Think about it. Even losing one charger from your bag can be wonderful.
The reason that this setup works is because most camera batteries, like the NP-FZ100, actually have a similar voltage output as NP-F packs, which is around 7.2V.
That means anything that runs on an NP-F-style battery should work just fine with a camera battery. The problem is obvious though – they don't have the same connectors.
That is why you'll need an adapter.
If you shoot Canon you might actually be in luck. There is an LP-E6 to NP-F adapter already available on eBay. The rest of us will need to do some DIY work.
For some more reassurance that this actually works well, Caleb was able to record 4K video on an Atomos Ninja V for over an hour using the NP-FZ100 battery.
Parts Needed
Before you get started you'll need to collect some pieces.
NP-F L-series battery contacts
Glue
Wire strippers
Soldering iron
Multi-meter
It may seem scary or complicated but it is easier than it seems.
You can acquire these parts in a lot of ways though the easiest for the plate is to find a cheap battery charger or charger system where you can pick up the sled for your battery type.
For the NP-F series battery contacts side you'll likely need to scavenge from another component. One option is to get a dummy battery and remove the contacts.
You could also get it off a dead or older battery pack though you'll need to be very careful with this option. You'll need something with positive and negative connections.
You'll also want to double check that the battery parts you are using will end up fitting your devices. Sometimes the battery receivers are deeper than you think and this setup won't fit. Spacers may be needed.
Tutorial
To start, you'll need to find the positive and negative connections on both your battery plate and the scavenged battery contacts. This may be marked nicely or it might not be. This is where a multi-meter can help you find the proper configuration.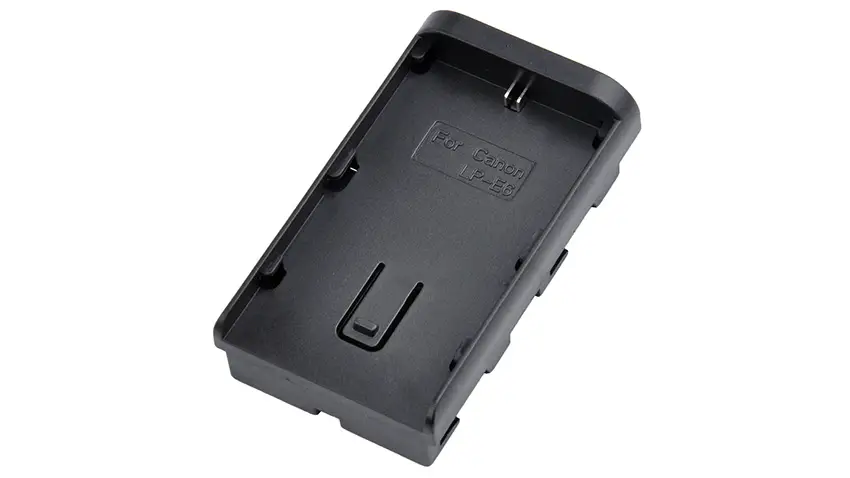 Strip down your wires and then tin your wire ends and contacts using the soldering iron. What this does is coat the connecting points with the solder and makes it so that you just put the two components together with the iron to complete the job.
Once the connections are made you will need to glue your sides together—make sure the orientation is correct. You may need to use super glue or even hot glue to make it clean and secure.
That's it!
Pros and Cons
This isn't always the ideal solution. While the batteries seem to be working just fine they may not be ideal for your workflow. The camera batteries are usually smaller and you will burn through them faster than the larger NP-F-style packs.
The other issue is compatibility. Voltages aren't always consistent and some devices require more than others to operate at their full effectiveness. You may find some battery packs just won't be up to the task.
There are newer NP-F batteries that can be better overall and provide additional outputs as well, which you won't get with this setup. I personally now use these ZILR batteries that will charge via USB-C and also have a USB-C output to power a second device during use. Cut a battery charger from my bag and fewer batteries needed on my rig at one time.
Are you going to try and build this battery adapter?
[source: DSLR Video Shooter]
Order Links:
Claim your copy of DAVINCI RESOLVE - SIMPLIFIED COURSE with 50% off! Get Instant Access!