RØDE has announced the availability of the world's first audio/video capture interface and control device.
The RØDE Streamer X offers an all-in-one streaming solution for video and audio content creators and looks to be an offshoot of its phenomenally successful RØDECaster Pro line.
The Streamer X device may be RØDE's attempt to compete squarely with fellow Australian video company Blackmagic Design and its popular ATEM Mini streaming device. And while the company's maiden foray into video capture looks relatively small and compact, looks can be deceiving.
"As RØDE's first hardware product with video functionality, it represents a huge milestone for the company and a signpost for big things ahead," says RØDE's CEO Damien Wilson. "
Just like the RØDECaster Pro, which made podcasting super simple by combining what otherwise required thousands of dollars in equipment to achieve, the Streamer X will make streaming more accessible than it has ever been."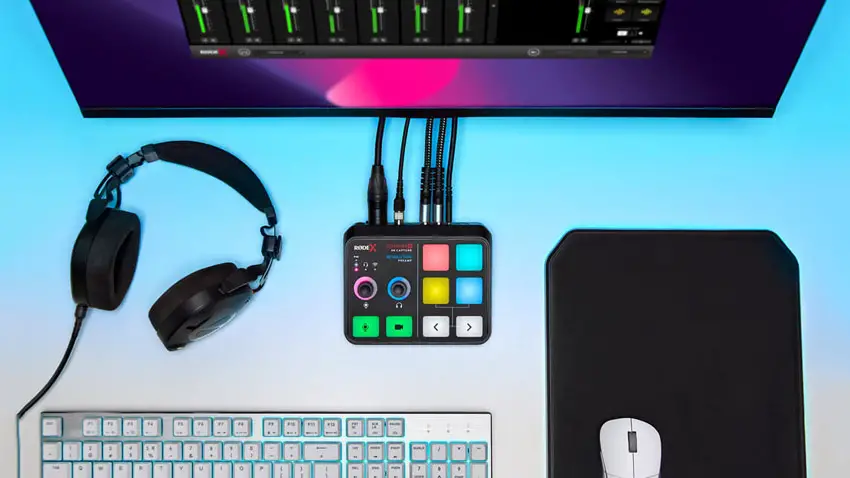 The streaming device comes packed with a host of features that includes a fully customizable control surface, with the ability to program sound and voice effects, keyboard shortcuts, and the playing of jingles from four fully customizable SMART PADS, very similar to how the RØDECaster Pro is designed.
Two bank switching buttons offer access to up to 16 banks of pads for a total of 64 unique actions for maximum creative control during a live stream.
Streamer X offers 4K30 video capture and 4K60 pass-through via HDMI It has a studio-grade Neutrik® combo jack for connecting microphones and instruments.
The device supports variable refresh rates for smooth video streaming without lag or screen tearing—a must for "Let'sPlay" gamer footage.
Moreover, the device has an internal digital signal processor for advanced audio processing through APHEX. Streamer X also has tools such as a compressor, noise gate, high-pass filter, and Aurel Exciter with Big Bottom effects support.
Connectivity can be expanded through an integrated wireless receiver for connecting RØDE Series IV wireless microphones, including the RØDE Wireless Go II and RØDE Wireless Me.
Streamer X also has dual USB-C interfaces for connecting computers and mobile devices. The device supports plug-and-play compatibility with both Mac and Windows operating systems and can be placed into just about any streaming software workflow with no setup or additional software required.
The Streamer X device can also be controlled through the RØDE Central desktop companion app and supports UNIFY streaming software for routing, mixing, and configuration.
Streamer X can also send MIDI commands to a computer to trigger keyboard shortcuts and other actions with a simple touch of a button.
Lastly, there is a 3.5mm TRRS input for connecting headsets and 1/4-inch headphone output for zero-latency monitoring.
Pricing and availability
The RØDE Streamer X is available now from RØDE Direct and its authorized retailers for a suggested retail price of $399, with free expedited shipping.
[source: RØDE]
Order Links:
RODE X Streamer X Audio Interface and Video Streaming Console (B&H)
Claim your copy of DAVINCI RESOLVE - SIMPLIFIED COURSE with 50% off! Get Instant Access!