It hasn't been a week and already iPhone 15 users are complaining that Apple's flagship mobile device is overheating to the point that it becomes too hot to handle.
Reports state that the main source of the increased temperatures may be the device's A17 Pro processor, but only when the charge is below 70 percent.
Apple's iPhone 15 overheating problems aren't affecting everyone. As Digital Trends reports, most of the complaints on Reddit stem from the phone setup function, where users would install their existing profiles, and apps, and even transfer photos and videos to the on-board storage.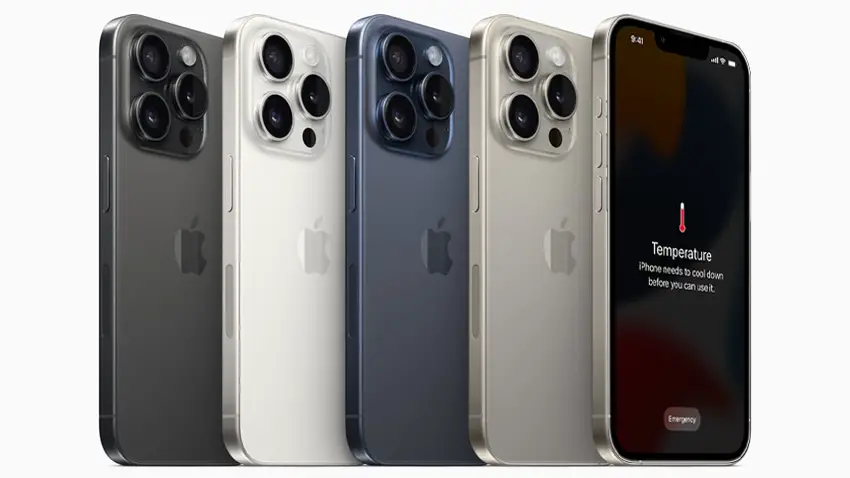 Once the setup was completed, however, many reported that the overheating had abated. Other users, however, are reporting noticeable overheating taking place beyond setup.
Reviewers at BoyGeniusReport.com state that the mobile device has become so hot while gaming, a major feature of the iPhone 15 Pro's presentation, that users can't hold the device.
"I brought this up in my review," tweeted Wall Street Journalist tech columnist Joanna Stern." Apple had no comment when I asked about it." Stern went on to say that the iPhone 15 Pro Max hit 106 degrees when charging. She also said the overheating problem also occurred in the 14 models.
I brought this up in my review. Apple had no comment when I asked about it. https://t.co/0giHI1jAj9 https://t.co/8iLeOnwBAB pic.twitter.com/QmuHiCKmzB

— Joanna Stern (@JoannaStern) September 23, 2023
9to5Google writer Max Winebach echoed this sentiment by stating that his 15 Pro Max got so hot around the frame while on chat, that he couldn't hold it without burning his hand. "Seriously, it's too hot to hold while charging," Winebach concluded.
9to5Mac contributor Ian Elbo also stated that the increase in temperature seems to be located around the left side rail, around the back side, which he states lines up perfectly with the phone's logic board and A17 Pro chip.
He did state that it was too comfortable to hold until the phone reached about 70% charge, after which it seemed to cool down significantly, or at least cool enough to hold. "25-60% was the worst by far," Zelbo stated.
The chief concern when a Phone overheats is that it will cause a serious drop in performance, and may even damage components on the logic board. The phone's battery performance may also be severely affected, and users could even get burned, as has happened in the past.
The issue may strangely be a feature, and not a bug. In the keynote presentation announcing the next-gen mobile phone, Apple stated that the iPhone 15 Pro's new Grade 5 titanium band frame is designed to help dissipate the heat.
However, being a mobile device it seems counter-productive to design the frame to absorb the heat when the hand is in direct contact with it.
Apple maintains a website dedicated to what to do if your mobile device begins to overheat. The company states that the normal operating temperature should be between 0º and 35ºC (32º to 95ºF). At temperatures outside this range, the phone may begin thermal throttling and in some cases, warn the user that the device needs to cool down.
If the device rises to 45C (113F), it may go into a low power state which includes dimming the display, stopping or slowing the charging process, or even weakening the phone's cellular signal. Graphics-intensive apps will also be throttled until the phone cools down.
Apple will likely address the overheating issue by recalibrating the hardware in a future firmware update. Until then, one way to avoid overheating is to turn down the phone's display brightness or set it to Auto-Brightness so that the phone can adjust the display based on the ambient light conditions in the room.
Users can also turn Bluetooth off when it isn't needed and close apps that rely heavily on location services.
And obviously, simply don't use the device while it's charging. In extreme conditions, to cool the device down as quickly as possible, it is recommended to turn it off and move it to a safe, cooler environment (away from direct sunlight).
[source: BGR, Digital Trends]
Disclaimer: As an Amazon Associate partner and participant in B&H and Adorama Affiliate programmes, we earn a small comission from each purchase made through the affiliate links listed above at no additional cost to you.
Claim your copy of DAVINCI RESOLVE - SIMPLIFIED COURSE with 50% off! Get Instant Access!