Beyond any doubt, silky smooth camera motion could be extremely efficient and powerful filmmaking asset for any of your productions. Unfortunately, it's really hard to pull off such a slide manually even with some of the most advanced slider systems available out there. The results can get even worse when you have to deal with heavier cameras and other bulky setups that generally can make the task even more challenging and overwhelming.
Luckily, the innovative filmmaking gear maker Edelkrone has come up with a simple, yet effective solution called the Steady Module. In essence, it's a completely mechanical add-on that perfectly fits on either side of the SliderPLUS thus allowing you to adjust the tension of your sliding camera movement on the fly. What's more, the module delivers seamless results even when you are moving your camera at ultra low speeds.
With its extremely compact and lightweight design, the Steady Module is fully compatible with the SliderPLUS X, SliderPLUS M and previous generation SliderPLUS and SliderPLUS Pro. Unlike other slider systems that use flywheels to improve the smoothness of the camera motion, the Steady Module utilizes fluid dynamics to dampen the movement to achieve smooth and stable manual slides every time.
Typically, you can get such precise and controlled sliding camera movement only by using a motorized system. In combination with the Edlekrone's SliderPLUS, however, this module can produce some fantastic results even when sliding manually just by utilizing the kinetic energy created by the push of your hand.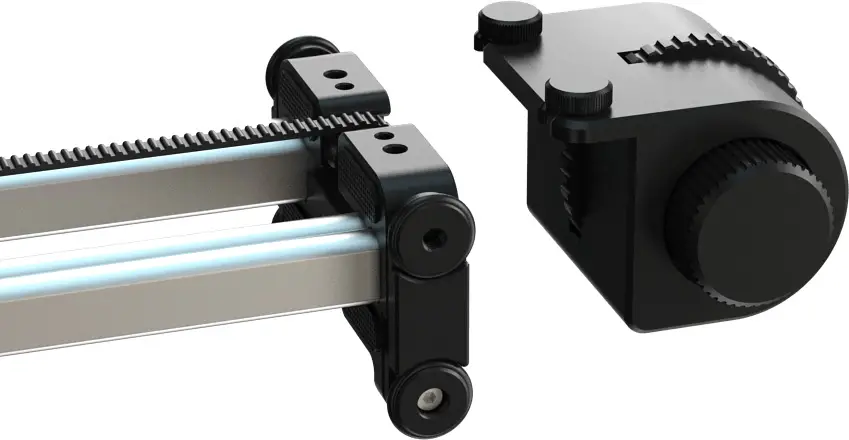 What's more, Edelkrone has announced that if you buy a SliderPLUS before July 31, you'll be able to get the Steady Module completely free of charge. For those of you who might not be aware, the innovative SliderPLUS rail system is designed to move with the camera, giving you twice the amount of camera travel and dolly in/out range compared to regular sliders of its size. Obviously, this is a huge benefit that makes the slider extremely flexible and easy to travel with filmmaking tool while still allowing users to take advantage of long camera slides in the field.
Edelkrone's Slider Module Specifications
Size: (L x W x H) 3.3 x 3.07 x 2.55 in (85 x 78 x 65 mm
Weight: 16.9 oz (480 gr)
Compatibility: Compatible with SliderPLUS X, SliderPLUS M and previous
generation SliderPLUS and SliderPLUS Pro
Materials: CNC machined aluminum construction with delrin components
and stainless steel screws.
In the Box: Steady Module and pair of motion belt
Considering the exceptional performance and precision of the SliderPLUS, I'm sure that with the Steady Module on board users will be able to pull off silky smooth camera motions even more easily and effortlessly on set. The new module sports CNC machined aluminum construction with Delrin components and stainless steel screws as it perfectly complements the SliderPLUS' excellent build quality and innovative design. If you want to learn more about the Steady Module or any of the other Edelkrone's products, head over to company's official website here.
[source: Edelkrone]
B&H Order Links:
Edelkrone SliderPLUS Medium (17.2″)
Edelkrone SliderPLUS Large (21.1″)
Claim your copy of DAVINCI RESOLVE 16 - SIMPLIFIED COURSE with 50% off! Get Instant Access!