Italian gear maker LockCircle do make so fine and very well crafted accessories for DSLRs and mirrorless cameras. Just look at their Sony a6500 cage for yourself here or their Bird Cage range for Sony A7sII style cameras. They even made a deserving high-end cage for the fancy Leica SL. They also make some pretty cool Zeiss cine lens conversions, and other bits and pieces.
Lately, they've been working on their latest accessory for the Canon 5D Mark IV – named 5DM4 DUAL. The LockCircle 5DM4 DUAL is an HDMI and USB 3.0 protector that also turns the Mini-HDMI into a full-sized HDMI type A, and the micro USB to a full-size USB 3.0 for a more robust and secure connection.
LockCircle has been making LockPort HDMI protectors for some time; they do them also Panasonic GH4, Sony A7sII/A7RII and other Canon cameras like the Canon 5D Mark II, Mark III, 6D and even the 1D X Mark II.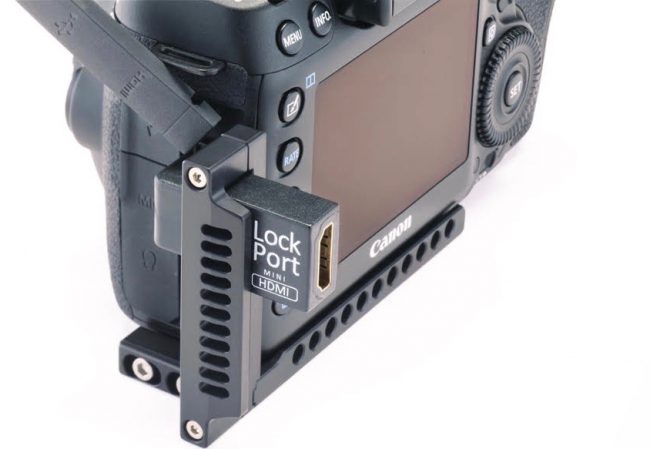 LockPort 5DM4 DUAL Features
Fully Compatible with Canon 5D Mark IV
Saves the "expensive to repair" mini HDMI and micro USB 3.0 ports.
Full-Size HDMI and USB 3.0 outputs allows you to use stronger standard cables.
Standard size HDMI/USB 3.0 plugs locks securely in the socket – no signal loose!
90° REAR output for better cable layout on your rig/studio set-up.
Gold plated contacts, high-speed transfer rate and 4K tested.
Rock solid UNIVERSAL ultra-thin base clamp, can work on every plate, head, sliding plate, rig, support out there.
Use all the camera screws already available.
No battery door interference.
Ready in a few seconds, Quick Setup
The LockPort 5DM4 plate features a quick setup and is designed to fit easily most, if not every baseplate and/or sliding plate.  The 90 degree HDMI/USB rear facing adapter is at the heart of the system protecting the precious, but brittle, HDMI/USB ports on your 5D Mark IV and also adding reliability to your field productions in the process.
The HDMI/USB 3.0 adapters has gold plated contacts and the full-size female outputs allows to use stronger standard full-size HDMI and USB 3.0 cables, that can be purchased everywhere and eliminate the chance of signal loss due to the cables coming loose.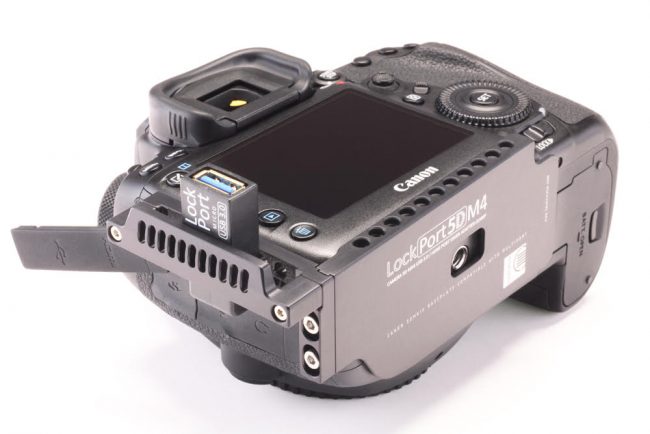 The HDMI Only or USB only kits are available to ship now from LockCircle for $139 + delivery/duties or €129. They also sell a kit with both the HDMI and USB 3.0 rear 90 degree adapter included for $169 / €149. It is worth to point out that you can't use both adapters at the same time, duh!
[via LockPort]
Claim your copy of DAVINCI RESOLVE - SIMPLIFIED COURSE with 50% off! Get Instant Access!