This seems to be a burgeoning question for many shooters today, who want to replace their old DSLR's, of for those who simply want to shoot 4K video for the least amount of money. I am in the market for a new DSLR (or Digital Mirrorless Camera to be more specific) and for me in terms of affordability the choice comes down to either the Panasonic GH4 or the new Sony Alpha 7S.
The GH4 from Panasonic, which has already hit the streets, and the soon to be released Sony A7s (July 2014, hopefully) are the two most viable options for 4K video. In the table below, I have compared the video features of both cameras.
| | | |
| --- | --- | --- |
| Feature  | Panasonic GH4 | Sony A7s |
| Sensor type/size  | 16 MP CMOS Micro 4/317.3 x 13.0 mm | 12 MP CMOS Full Frame(35.8 x 23.9 mm) |
| Lens mount  | Micro 4/3 | Sony E-mount |
| On-board 4K Video recording  External recording options | 4K 8 bit 4:2:0 at 100mpbs (C4K: 4096 x 2160p)(UHD: 3840 x 2160p)1080p 8/10 bit 4:2:2 via HDMI 4K 10 bit 4:2:2 via Quad SDI (requires add-on) | None – requires external recorder4K (UHD) 8 bit 4:2:2 via HDMI only |
| Frame rates Slow-motion frame rates | C4K 24p/UHD 30/25/23.98p1080/96p 1080/60p | UHD 24p/30p (external)1080/60p 720/120p |
| Audio outputs |  Dual XLR via Add-on box |  Dual XLR support via add-on |
| Picture ProfilesExposure controls | Cinelike-V, Cinelike-D, zebras and focus peaking; NO Log | S-log 2; zebras |
| Bit rate and colour sampling | 4K/1080p – 100Mbps IPB 1080p – 200Mbps ALL-I 8 bit 4:2:0 in camera;H.264 / AVCHD in .mov & .mp4 | XAVC S 1080/60p 50Mbps 8bit 4:2:2 in cameraAVCHD 60p (28Mbps), 60i (24Mbps/17Mbps), 24p (24Mbps/17Mbps) |
| Viewfinder | OLED Live View Finder 100% coverage; 0.67x magnification | OLED Electronic 100% Coverage0.71x magnification |
| LCD Screen |  3" OLED 1,036,000 dotsTouch screen 100% Field of viewFlip-out screen |  3" TFT-LCDNo touch screen100% FOVTilting ~90 Degrees |
| Media |  SDXC / SDHC UHS-I |  SD/SDHC/SDXC, Memory Stick Duo/Pro Duo/Pro-HG Duo |
| ISO Range |  ISO 100 – 6400 |  ISO 200 – 409,600 |
| Dedicated Video features | Free-Run/Rec-Run Time CodeMaster Pedestal function | Free-Run/Rec-Run Time CodeAPC-S/S35 Crop mode |
| Weight |  560 g (including battery) | 489 g (including battery) |
| Price | $1,699 (body only)$1,999 (YAGH add-on) | $2,499 (body only)$798 (XLR adapter unit) |
At first, when the GH4 pricing was announced, I was astonished Panasonic were able to offer it for less than $2,000. I am not too fussed about the more expensive YAGH add-on, as I usually use a double system for my audio and record it on my Tascam DR-100 Mark II external recorder. However, the Panasonic add-on box gives the GH4 – dual XLR audio inputs, audio metering and control dials, as quad HD-SDI out for 4K 10bit 4:2:2 capture to an appropriate external recorder such as the AJA Ki Pro Quad or the Convergent Design Odyssey 7Q.
I am not too keen on the Micro 4/3 sized chip, as I prefer the APS-C sensor size, as it approximates the S35 crop for most of my lenses. Also, from early tests circulating forums, Youtube and Vimeo, the dynamic range of the GH4 seems to be a bit underwhelming. In addition, as its predecessor the GH3 and the GH2 before it, the GH4 seems to not do so well in low light situations. Still, it may not be as sensitive as a full-frame 5D Mark II, but so are all Micro 4/3 based cameras. The size of the chip and the size of the pixels do play a big role in the low light capabilities of cameras.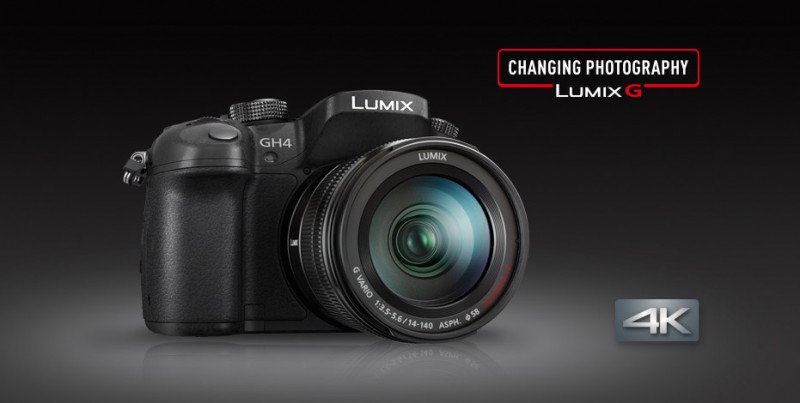 For me the benefits of the GH4 are:
Price – it is more affordable than the Sony A7s
On-board 4K recording in UHD and DCI 4K
Adaptability – you can adapt a wide range of 3rd party lenses
Better LCD screen – flip-out and articulating, vs. tilting
1080p 10-bit 4:2:2 via HDMI (does not require the YAGH box)
4096 x 2160 – Cinema compliant resolution for 4K
 and here are some of the downsides of the GH4:
Not great in low light situations
2x crop vs Full-frame – i.e. the smaller Micro 4/3 sensor
Limited dynamic range
Micro HDMI Out – this is a poor connection choice.
Expensive and bulky add-on box for XLR inputs, audio controls, and HD-SDI out – the YAGH unit costs more than the GH4?! 
HDMI currently own a Blackmagic Pocket Cinema camera so I have a couple of  Micro 4/3 lenses. However, as previous Canon DSLR owner,  I have some decent EF full-frame glass,  so in terms of lens adaptability for electronic Canon EF lenses, the GH4 currently does not have many options for a reliable and affordable electronic EF to M43 adapter capable of controlling the aperture of the Canon glass. Even with an EF to M43 adapter, there is still a massive 2x crop to Full-Frame.
Check out one of the GH4 Promo films below (make sure you select 2160p for max resolution on Youtube)


Strong images from the GH4 promo above for sure, but I think I would want to see more low-light tests before I can make a more informed decision. Hopefully, the folks at Metabones will finally release the Canon EF to M43 Speedbooster, which will make the GH4 Micro Four Thirds sensor into a S35 equivalent in terms of crop, and also offer the benefits of increased sharpness and sensitivity of the EF lenses due to the crazy technical voodoo inside the Speedbooster technology. However, as of June 2014, this adapter is still in the works. At least we hope it still is.
So, the SONY A7s on the other hand offers a Full-frame sensor and significant benefits that go along with it.
For me the benefits of the Sony A7s over the GH4 are:
Dynamic Range – Sony claims 14 stops, and this remains to be tested, but it is definitely more than the GH4. I'd say if it is around 12 stops, that would be amazing. 
S-log 2 Cine Gamma – taken out of the bigger and more expensive professional digital cinema camera the PMW-F5/F55, this function is vital for getting the most of the FF sensor in terms of DR.
Incredible Low Light Performance – ISO goes up to an ungodly 409,600, but really you should stick to 200 to around 6400. Incredibly clean images at high ISO's.
Adaptability – you can adapt a wide range of 3rd party lenses
Full-frame sensor – no crop, which means no need for expensive adapters.
Full pixel readout – no line skipping or pixel binning. This means no moire/aliasing. Let's hope so.
S35/APS-C Crop  mode – ideal for APS-C lenses
1080p XAVC-S 50mbps 4:2:2 on board. – strong HD codec for most of my work. 
 In summary the downsides of the Sony A7s:
Lack of internal 4K recording option. 
UHD 4K only (3840 x 2160p) no DCI 4K Cinema compliant 4096 x 2160p
Requires an external 4K recorder to get the most out of the camera. 
HDMI and 4K output is only 8 bit 4:2:2. – Having a 10 bit 4:2:2 HDMI out option would have been more nice.
Micro HDMI out – this is a really fragile connection. Having an SDI connection or some sort of an add-on would have been better.
Rolling shutter – according to some the A7s has a strong jello effect due to size of sensor and slow pixel readout.
After evaluating the pros and cons of both cameras, I am still on the fence. I am leaning more towards the Sony A7s – as for the Full-frame sensor, the DR and excellent low-light performance are key, as I do a lot of run-and-gun type of work, I love to shoot docu-style with a small rig and 90% of my work is hand-held or from a monopod. I can also easily adapt my Canon lenses to the E-mount of the A7s, (in addition to my EF glass, I own a Tokina 28-70mm f2.6-2.8 which is has a manual aperture ring making it super easy to adapt to any FF camera).
Having a Full-frame sensor means I don't have to use a Speedbooster, even though one for EF to E-mount is available from Metabones. And, I can also use my Canon EF-S (APS-C) lenses in APS-C/S35 crop mode on the A7s. However, the Sony A7s does not record internally in 4K, and is limited internally to 1080p. Sure, having a full-frame 1080p/60 is nice, but having some sort of an internal 4K option, would have been a clear winner for me. I guess the size of the sensor and the fact that it does no line-skipping prevents an internal 4K recording due to data rate, internal cooling or both. I don't know why, but it is clear that if you want to record 4K with the A7s, you need to get a HDMI external recorder capable of recording 4K. At the moment, none are available, and we only know of Atomos, who announced the Shogun (capable of a 4K ProRes recording from the HDMI micro feed of the GH4 and A7s) at NAB 2014. The awaited 4K recorder is due to ship in the Fall.
Here is the 4K Sony promotional A7s video shot with the A7s (for some reason it's presented in 1080p max res on YouTube)
The Sony A7s is certainly capable of incredible 4K imagery as evident in the video above. The GH4 on the other hand is nearly $800 less expensive, and I can also adapt my manual lenses to the M43 sensor relatively easy. The biggest plus of the GH4 of course is the on-board 4K recording in a 100Mbps codec, albeit it being only 8bit 4:2:0 early reviewers and testers have found the 4K footage from the GH4 to be surprisingly robust in the grade, and also beautifully scale down to a more robust 4:2:2 1080p for final delivery.
It is a difficult decision, and in the following days I will try and get my hands on a GH4 and see how it performs. I will post my findings here. Sony have announced the A7s will ship in July. I am curious to find out if any of you guys out there are in the same boat as me? What has your GH4 experience shooting 4K been so far? Or if you are one of the lucky few who've played with or shot with the A7s – let us know in the comments below what you thoughts are on the FF beast from Sony.
Claim your copy of DAVINCI RESOLVE - SIMPLIFIED COURSE with 50% off! Get Instant Access!