Shooting 4K or other digital formats always go hand in hand with a high demand for more and more storage space. In the past, only a terabyte or two of free hard drive space were more than enough for storing even the slightly compressed HD video files. Unfortunately, today we can't even say that they touch the bare minimum required for storing larger files surpassing HD resolution, not to mention carrying raw material in 2K, 4K and beyond.
Currently, there are some hardware solutions on the market such as the recently released high-capacity G-SPEED Studio XL eight-bay Thunderbolt 2 storage solution that can handle up to 64 TBs of data in different RAID configurations. However, these drives are more suitable for post-production workflows and studio work. They hardly could be used in the field due to ergonomics and physical size limitations. It was just a matter of time before we see fully functional and efficient portable hard drive solution. This is where the Drobo Mini 8TB Portable Storage Array comes in handy.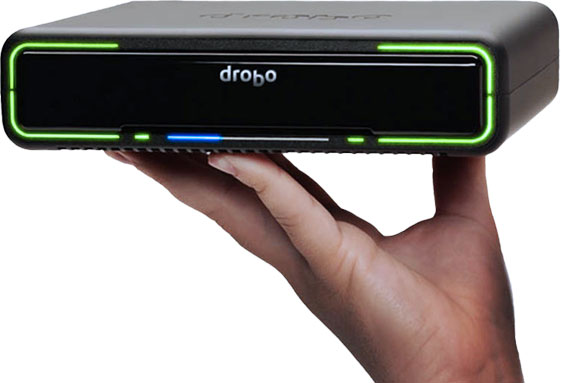 The 8TB bundle features four hot-swappable 2.5" drive bays pre-loaded with four Samsung Spinpoint M9T 2TB drives. Besides the additional hard space, the reliability and data protection are a top priority features. We also did an article on some the most reliable hard drives here.
Like all Drobo drives and RAID configurations, the Drobo Mini 8TB bundle is built on their award-winning BeyondRAID™ Technology to ensure that data is will be save even if two of the hard drives configured in the array fail simultaneously. If that happens, the Mini automatically repairs itself and returns to a protected state while providing full access to all data. Further, the damaged drives can be easily swapped on-the-fly with zero downtime, without affecting the ones that continue to operate.

The Drobo Mini connects via Thunderbolt or USB 3.0 providing flexible, high performance access to data while on the road with the confidence to know that data will be safe and protected against loss. All of these features and capabilities come in a sleek-looking package that weighs just 3 lbs and is small enough to easily fit into any travel bag. Now, you can save 8x more information in a single array, without the necessity of carrying other tools.
This combination of capacity and extreme durability makes the Drobo Mini ideal for photographers, filmmakers and other creative professionals who can quickly and easily transfer large multimedia files from their media cards to the Mini while still on location. Further, you can store roughly 25 hours of 4K ProRes files, for instance, which is quite impressive for a device that simply fits in your backpack.
This what the CEO of RHED Pixel Rich Harrington says about the new Drobo Mini Array:
Lugging 8TBs of storage to a photo or video shoot was a real challenge before now. While other companies may offer 8TB options, they tend to lack portability and data protection. This makes other solutions impractical for field use by creative pros. The new Drobo Mini 8TB bundle makes it easy to bring a tremendous amount of storage capacity anywhere we need it while still providing the peace-of-mind that comes with Drobo's unique approach against drive failure.
The Drobo Mini 8TB bundle is available today at a retail price of $999 through www.drobostore.com and select channel partners.
[via blog.planet5d.com]
Disclaimer: As an Amazon Associate partner and participant in B&H and Adorama Affiliate programmes, we earn a small comission from each purchase made through the affiliate links listed above at no additional cost to you.
Claim your copy of DAVINCI RESOLVE - SIMPLIFIED COURSE with 50% off! Get Instant Access!