In April 2014 at NAB in Las Vegas, Blackmagic Design announced a lot of new gadgets, including some pretty exciting cameras, in addition to the highly anticipated updated version of their leading colour correction and finishing post-production software DaVinci Resolve.
A beta version of Resolve 11 was made available for download from BMD earlier this week.
Although they touched upon some of the planned new features at NAB, there were plenty of speculations that Resolve 11 will be a full fledged Non-Linear Editing tool to rival FCP and Adobe's Premiere Pro. A full list of them has been finally revealed by Blackmagic Design earlier this week, and from the looks of the added features, Resolve 11 is getting closer, and closer to bridging the gap between the traditional NLE and grading/finishing solutions.
The full release of DaVinci Resolve 11 is expected in the coming months.
DaVinci Resolve 11 bridges the gap between an non-linear editing software and a powerful colour correction and finishing tool.
It makes sense that BMD would want to go this route, as up until now, you had to round-trip your footage from FCP or Adobe Premiere Pro to refine your edit and then go back to DaVinci Resolve for grading and finishing. See a summary of the major new features in the paragraphs below.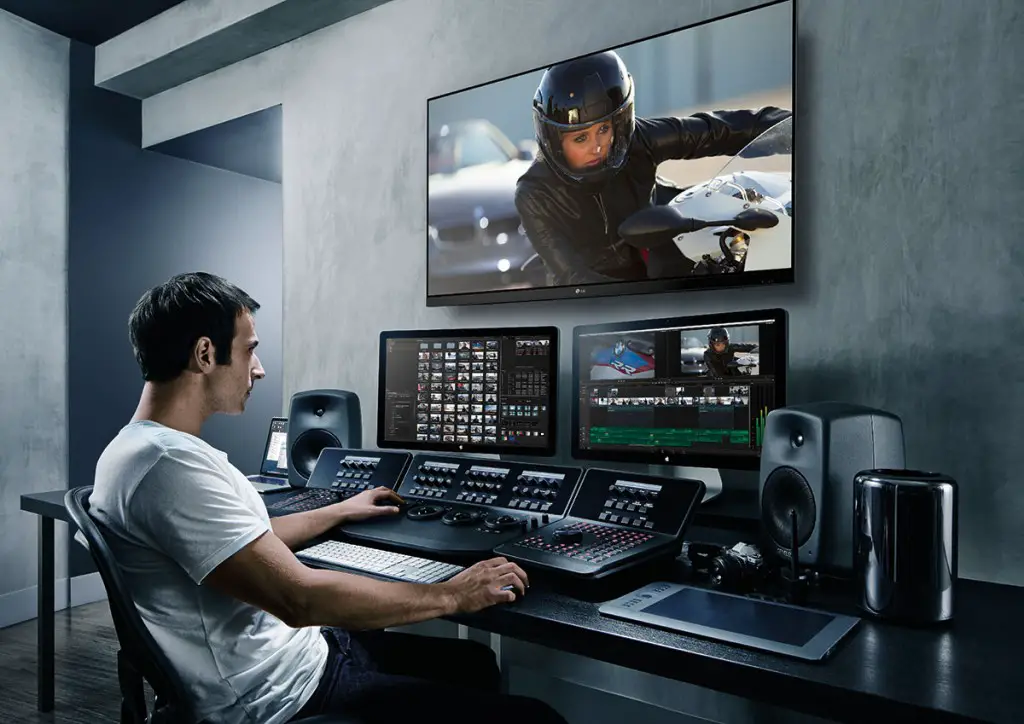 [New Features from the official press release from Blackmagic Design]
DaVinci Resolve 11 is a major upgrade with over 100 new editing and colour grading features major improvements including:
sensitive trimming,
onset file cloning,
photographer style colour grading tools
new collaborative workflow for multiple users to work simultaneously on the same timeline.
new and improved FCP X round-trip integration for grading and finishing
optimisations to OpenCL image processing which allows improved rendering speeds on the new Apple MacPro systems.
a new spline curve keyframe editor integrated into the edit timeline that positions keyframes directly under each clip and in context with the clip.
add and animate open FX plugins directly in the timeline as well as use plug-ins for transitions.
dual monitor support
dynamic JKL trimming, audio crossfades and fully customisable keyboard shortcuts for faster editing.

Trimming tools are context sensitive, which means DaVinci Resolve automatically knows whether editors want to ripple, roll, slip, slide, extend or shorten edits, based on the position of the mouse. This makes editing super fast because time is not wasted switching tools and clips can be trimmed on multiple tracks simultaneously in the same direction, or asymmetrically.
Color correction features have also been upgraded in DaVinci Resolve 11, including all new RAW image and color grading controls that are designed for photographers who are moving into cinematography. The new camera RAW palette features highlight and shadow recovery, mid tone detail, color boost, saturation, lift, gain and contrast. DaVinci Resolve 11 solves the single frame limitations of photo enhancement systems and gives photographers advanced control over RAW images so they can pull the maximum detail from high dynamic range footage in real time.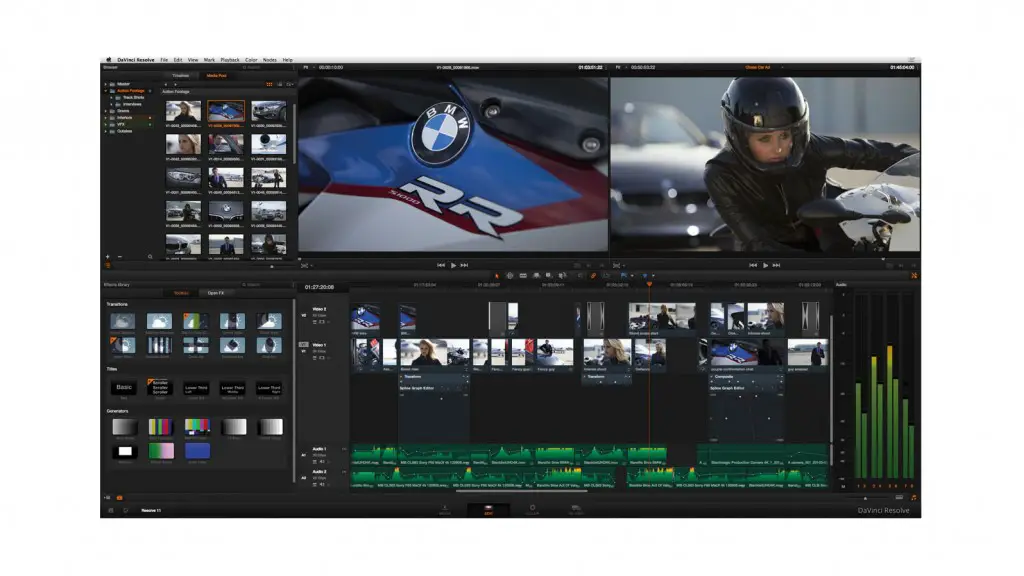 Adding to DaVinci Resolve's powerful on set tools, DaVinci Resolve 11 can now securely back up and save digital camera files. The new DaVinci Resolve clone tool copies media drives, memory cards and camera packs to multiple destinations simultaneously. All copies are checksum verified, that means users get exact bit for bit digital copies of their source media. The new clone tool is included in the free DaVinci Resolve Lite and can be installed on a laptop for on set use.
DaVinci Resolve 11 also features a unique and powerful automatic color chart color balancing tool that works on all types of footage including video, RAW and even film. The new color match tool automatically gives a primary base grade by analyzing shots containing standard color chip charts even if they were shot in different lighting conditions with different exposure and color temperatures.
The MacPro features dual GPU's so is the ideal solution for customers looking for an "off the shelf" solution that easily handles the high processing speeds when working on Ultra HD work in the deepest YRGB 32 bit float processing quality.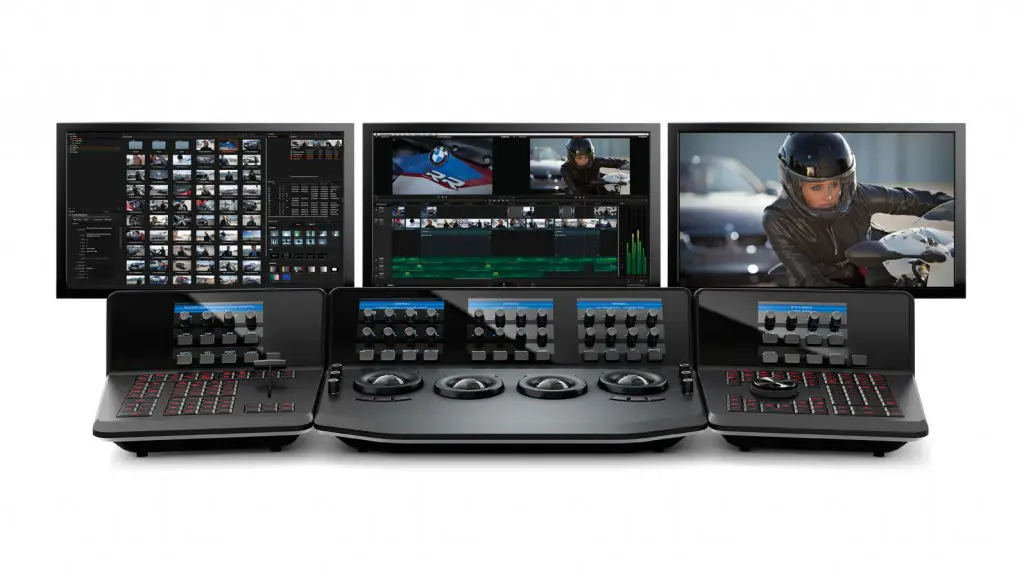 "This is a massive update and we are really excited about DaVinci Resolve 11", said Grant Petty, CEO, Blackmagic Design, "Since we added the new editing tools into DaVinci Resolve we have had some great feedback from editors working on high end feature film and television programming jobs. We have rolled this great advice into DaVinci Resolve and now it's a fantastic full featured online editor. Of course we continue to add wonderful color correction and on set tools into this release as well. This is the best version of DaVinci Resolve we have ever released and we are going to provide this update to all DaVinci Resolve customers free of charge. This means the cost of switching to the worlds most exciting online editor will be zero!"
We here at 4KShooters are very excited to try out the new Resolve 11 and have a play around with the added functionality. What's your thoughts on the whole NLE/Grading software "merger", is this a trend you think we'll start seeing from other software makers? Let us know in the comments below.
[Link: Blackmagic DaVinci Resolve 11 Beta Version – Download]
Disclaimer: As an Amazon Associate partner and participant in B&H and Adorama Affiliate programmes, we earn a small comission from each purchase made through the affiliate links listed above at no additional cost to you.
Claim your copy of DAVINCI RESOLVE - SIMPLIFIED COURSE with 50% off! Get Instant Access!