Filmmaking is a collaborative effort. As such, it is so important for filmmakers to have the creative freedom and the ability to access their own content remotely without physical constraints and limitations.
No matter where your team members are physically located, it would be great if  all of them could have access to project files online and work simultaneously with those in full resolution from any location in the world.
Now, Adobe might have a working solution for us. In this post, we'll take a closer look at their platform Adobe Anywhere.
What is Adobe Anywhere?
Adobe Anywhere for video is a breakthrough collaborative workflow platform that empowers teams using Adobe professional video tools—including Adobe Premiere® Pro, Prelude®, and expected in late 2013, After Effects®—to work together with centralized media and assets across any standard network, regardless of their location.
According to Adobe we can use Adobe Anywhere via our existing infrastructure. Team members collaborate using standard open systems, networks, and processes to log, edit, share, and finish professional video productions.  With a scalable architecture and proxy-free workflow, Adobe Anywhere brings new efficiencies to all video production work.
How Does It Work?
Adobe Anywhere creates a private cloud environment that enables your production team to collaborate smoothly and securely. It uses centralized storage and computing resources that reside within your physical facility so you can create a secure and efficient workflow custom-tailored to your needs. Adobe Anywhere allows a great amount of flexibility for setup within your local area network, and remote team members can access the same cloud environment across the Internet via VPN.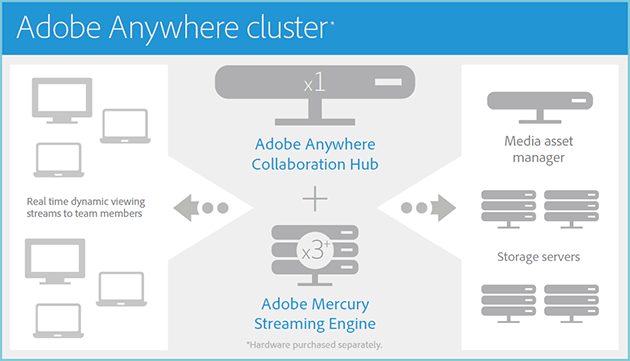 Source media files used by Adobe Anywhere are kept on a storage server connected to the cluster via a high-bandwidth OS-level file system mount. Local and remote users can upload source files to the storage server and can even work on the files while upload is in progress. Once the files finish uploading, they can be immediately used by other editors.

The core component in the Adobe Anywhere cluster is the Collaboration Hub. It contains the database of project information and metadata, manages user access, coordinates the other nodes in the cluster, and provides an API for integration into other Adobe Anywhere clusters.
A minimum of three Mercury Streaming Engines is required for a small workgroup. But the system can easily be scaled to support larger groups or more complex use cases, simply by adding more Mercury Streaming Engines. The exact number required depends on use-case details such as the number of simultaneous users and media formats.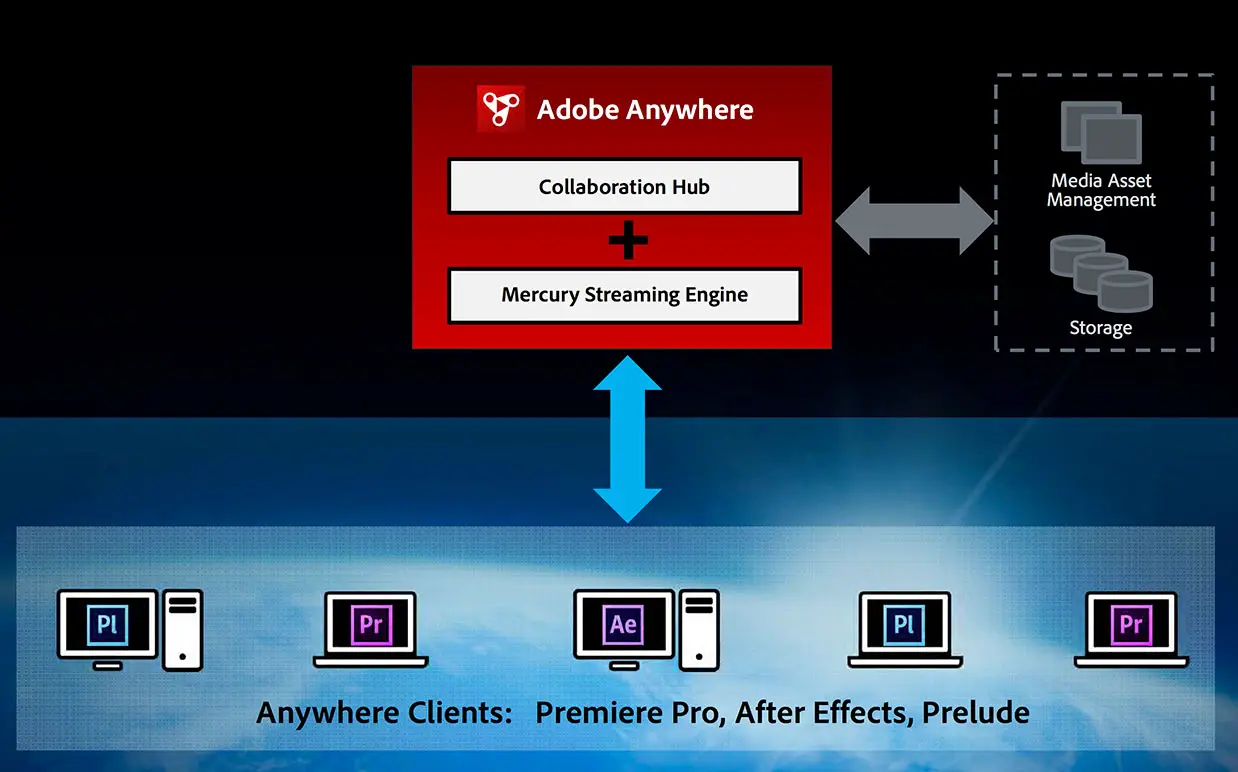 The viewing streams Adobe Anywhere delivers to individual team members are small and light enough to fit on shared, standard LAN/WAN networks. Adobe Anywhere does not edit, move, or delete the original media on the storage server. These functions are reserved for your media asset management system. And there are no proxy files in the Adobe Anywhere system. The server accesses the full resolution files and uses the power of the Mercury Streaming Engine to deliver exactly what is needed, given the bandwidth available.
As a result, you get less complexity, lower workflow costs, and speedier production. We have a great presentation that features the real-time workflow and Adobe Anywhere in action.
If you are interesting to see how you can edit flawlessly on Premiere Pro 4K timeline an original 5K .r3d file (not a proxy) from remote server on a Macbook Pro via WiFi connection without dropping a single frame in real-time take a look at the video below:
For many filmmakers and video shooters the dream of remote editing is just around the corner. However, it is clear that Adobe Anywhere is aimed at the enterprise players and the big production houses for now at least. However, it's only a matter of time when such platforms will become an inexpensive mainstream solution for most of us.
[via www.adobe.com]
Claim your copy of DAVINCI RESOLVE - SIMPLIFIED COURSE with 50% off! Get Instant Access!