It seems as Sony are really taking that whole 4K thing to heart, aren't they? I've lost count how many new 4K cameras they've announced just this year alone, but who are we to complain.
Prices on 4K cameras have dropped substantially, which is good for those of us in the market for a new camera.
Combined with the rate of advancement in the relatively new market for camera manufacturers, everything is possible at the moment. The volatility and fast pace of the current 4K acquisition marketplace is driving manufacturers to offer better cameras at lower prices, and new entrants to market such as Blackmagic Design and AJA add even more fuel to the fire.
The more the merrier, right? The Japanese electronics behemoth have clearly outlined their strategy to get 4K cameras into the hands of as many people as possible, both professionals and hobbyists. After all, they've are making a lot of 4K TV and sooner or later they'd want people to have 4K content to watch on their 4K TVs.
Still, at the moment, the transition to 4K TV's from HD ones has been a slow one, as consumers are a bit more hesitant to throw out their HD TV after the 3D TV debacle of a couple of years back. The failure of 3D at home has had its effects on 4K adoption for home entertainment.
As it happens, broadcasters and home entertainment vendors are seriously lacking behind and playing catch-up in delivering the 4K content, so the good folks at Sony want to make sure you start shooting in 4K even if you don't have a 4K TV or a monitor to watch it on yet.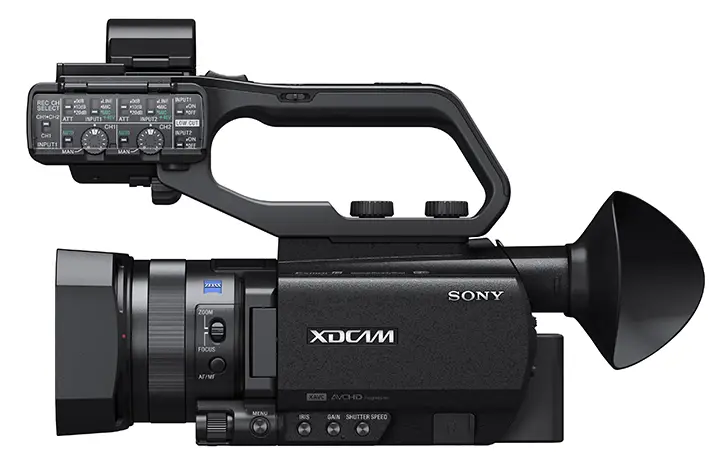 Earlier today, Sony announced their latest addition to their XDCAM line-up: the Sony PXW-X70. It is an interesting camera, just on specs alone.
First off, it has a 1.0″ EXMOR CMOS sensor with a resolution of 20 megapixels and a fixed 12x zoom lens, which from what we understand, can be expanded to 24x and 48x zoom with some form of a digital zoom, which Sony refer to as "Clear Image Zoom" and a "digital extender".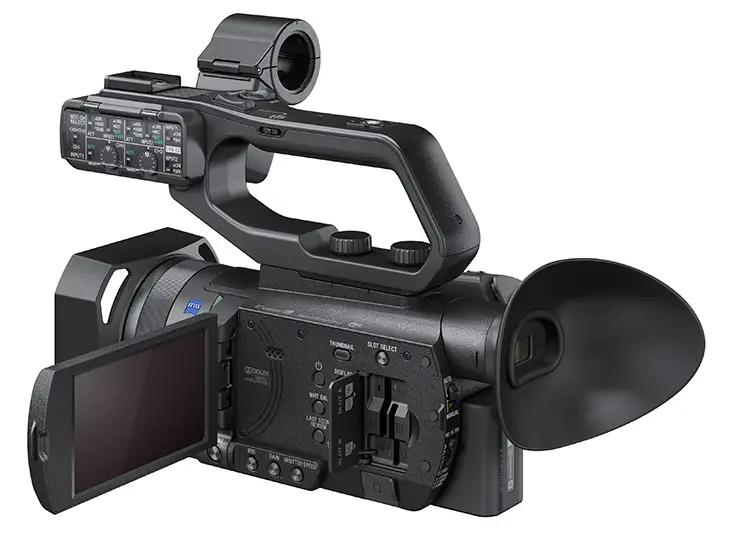 A 1″ inch sensor size means that the chip is about the size of a Super 16mm film gate, or about the size of the sensor in the BMPCC, so with some skills you can probably pull some nice DOF shots, but don't hope for crazy "5D Mark II/III" full-frame "bokeh" here.
Another appealing feature of the tiny camcorder is the choice of internal codecs:
a broadcast "friendly" a 10bit 4:2:2 XAVC Long-GOP in an MXF wrapper using MPEG-4 AVC/H.264 compression at 50 Mbps, 35 Mbps or 25 Mbps.
AVCHD and DV (Proxy)

Sony have confirmed the camera is "4K Ready" just as the FS700 was, and there will be a future planned firmware upgrade, which will enable 4K recording. The upgrade will NOT be free, and it is rumoured to be released in early 2015.
The camera has 2 SDHC/SDXC slots for simultaneous (backup recording) or continuous recording. Combined with the compact size, the XLR audio unit, HDMI and 3G-SDI outputs, as well as Wi-fi capabilities, the PXW-X70 makes for a nice surprise package from Sony, which should be of interest to videographers, live event shooters, and video journalists alike.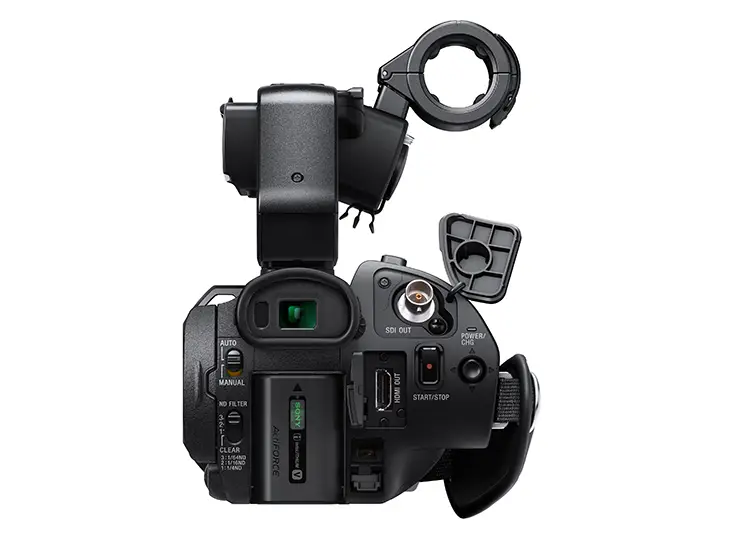 The Sony PXW-X70 is expected to start shipping in mid-September and is rumoured to be priced around 2,300 Euros. Once more details on pricing and availability, as well as image samples are revealed we will cover those on the blog here. In the meantime, check out the official press release from Sony below.
Here is the official release from Sony:
Basingstoke, July 29, 2014: Sony has today launched the 4K-ready PXW-X70, the first compact XDCAM professional camcorder ever produced. Expanding the popular file-based XDCAM family to a new smaller form factor and lower price point, Sony has combined stunning picture quality, speed of shooting and robust performance into a package which is ideal for a wide range of applications from news gathering and documentary to events work.
The PXW-X70 features a 1.0 type Exmor® R CMOS Sensor with a resolution of 20 megapixels. The sensor, which is even larger than the Super 16mm film frame, delivers high resolution and fantastic low light performance, as well as offering more depth of field control as demanded by today's diverse shooting requirements. The new camcorder has the ability to record High Definition in XAVC Long GOP, enabling 422 10-bit sampling at 50 Mbit/s. This in-turn supports a broadcast-quality workflow, increasingly adopted by productions in many different professional applications.
This addition to the expanding next generation XDCAM family follows the recently announced PXW-X180 and PXW-X160 and builds upon Sony's successful heritage of compact professional camcorders. The PXW-X70 is the first professional compact camcorder from Sony to include Wi-Fi-enabled control via Smart Phone or Tablet using the Content Browser Mobile application. An upcoming release will also provide customers with the ability to upgrade the PXW-X70 to record in 4K Ultra High Definition, with file transferring, and live video streaming capabilities.
"This first compact member of the XDCAM family brings the performance and workflow benefits associated with XAVC to an even wider range of shooting scenarios," said Robbie Fleming, Product Marketing Manager, at Sony Professional Solutions Europe. "Over the past couple of years we've seen the broadcast industry really embrace the picture quality benefits associated with large sensors; the one-inch sensor at the heart of the PXW-X70 sets a new standard for colour, depth and texture in a professional compact camcorder. Coupled with the ability to upgrade to 4K, this represents a multipurpose, future-proof option for customers looking for a tough camcorder which doesn't compromise on image."
Key features of the PXW-X70
1.0 type Exmor® R CMOS Sensor and Carl Zeiss Vario Sonnar T* lens for stunning picture quality. High sensitivity and fantastic resolution with 14.2 million effective pixels delivers striking detail and colours, even in low light conditions. The lens offers a 12x Optical Zoom, which can be increased to 24x with Clear Image Zoom while retaining full resolution thanks to Super Resolution Technology. Zoom performance can be doubled at any point with a Digital Extender by up to 48x.
Compact, lightweight XDCAM camcorder packed with adaptable professional functions. The PXW-X70 weighs less than 1.4kg, including the XLR handle unit, battery (NP-FV70), lens hood and large eye-cup. It offers professional interfaces such as 3G-SDI and HDMI output connectors plus an XLR x 2 handle unit with zoom lever. Other professional features include a manual lens ring that can intuitively control zoom and focus, ergonomic palm grip with large zoom lever, two SD memory card slots for backup, simultaneous and relay recording, and a three-level switchable ND filter.
Breadth of recording format capabilities. Provides multiple choices depending on application required, including XAVC, AVCHD and DV® file-based recording. When recording in XAVC, the PXW-X70 uses the MXF file format, efficiently compressing full HD (1920 x 1080) resolution using the MPEG-4 AVC/H.264 CODEC. Image sampling is 4:2:2 10-bit with high-efficiency Long-GOP compression at 50 Mbps, 35 Mbps or 25 Mbps.


Built-in Wi-Fi control functionality for monitoring and remote control versatility. Near Field Communication functions enable easy, one-touch wireless LAN connection to a smartphone or tablet, while the Content Browser Mobile application allows confirmation of shot angles and operation of the camcorder by remote, including field angle setting, spot focus and iris adjustment.
Upcoming announcements to add even greater, future-proof functionality. Sony is set to make upgrades to 4K and file transfer and streaming by Wi-Fi function available for the PXW-X70 in the coming months.
[via Newsshooter.com & Cinescopophilia]
Claim your copy of DAVINCI RESOLVE 16 - SIMPLIFIED COURSE with 50% off! Get Instant Access!