4K is the new standard imposed by some major camera manufacturers and embraced by many filmmakers around the world. However, on the post production side the approved workflows still need to catch up in a way. Undoubtedly, there is a great demand for more affordable professional 4K monitors, faster and cheaper workstations, and faster drives in order to keep up with the data rates provided by current 4K cameras.
US based OWC, who are known to manufacture mostly affordable Mac hardware, just announced that they managed to break the speed record for affordable external thunderbolt RAID storage.
The OWC Thunderbay IV is a 4-drive external RAID storage device has a thunderbolt 2 connection. Two weeks ago we had an extended post about the advantages and the high-speed workflow thunderbolt 2 gives to users. While several of the drives can be chained together using a combination of the two thunderbolt ports it has, optimal speeds can be achieved using a Mac Pro that sports 6 separate thunderbolt connections. This is how OWC achieved speeds of nearly 4,000MB/s.
The benchmark testing showed 3,990MB/s read and 3,802MB/s write speeds, running an HDD array of 3 x 12TB OWC Thunderbay IV drives. They achieved similar numbers running SSD drives.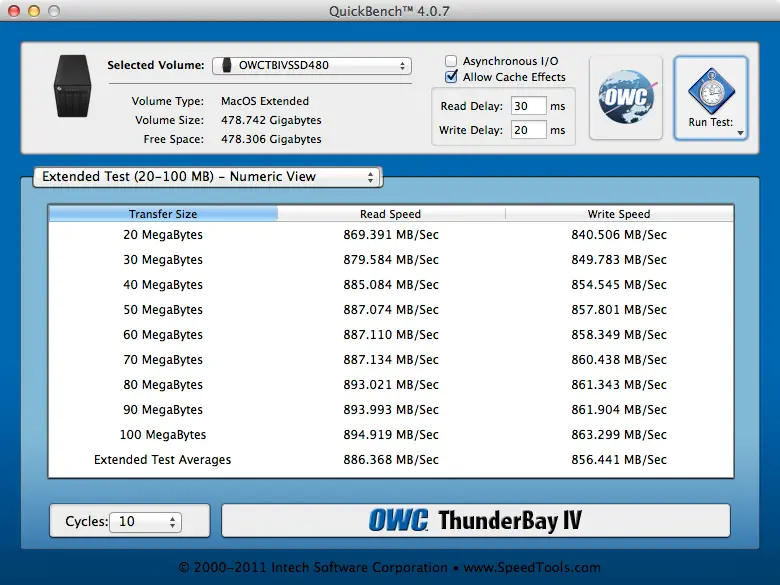 The ThunderBay IV has a durable aluminum enclosure that protects the four internal drives while keeping them cool thanks to its superior heat dissipation. For now, it's the most affordable super speed raid storage solution on the market. OWC / Other World Computing ThunderBay IV 4-Bay Thunderbolt Drive (Diskless) costs $429 only on B&H.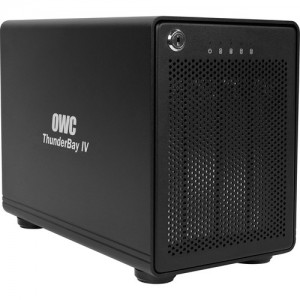 OWC Thunderbay 4 Highlights
4-Bay Enclosure

Thunderbolt Connectivity

RAID & JBOD Support

10 Gb/s Max Data Transfer Rate

Daisy-Chain Capable

Aluminum Enclosure with Fan

Real-Time Editing

Included Drive Guide Software will format drive for either Mac OS X, or Windows

Works with any Mac, PC, or device that supports a Thunderbolt drive
The four storage bays are capable of housing a combination of both hard disc drives and solid state drives. Those drives can then be configured into a variety of RAID configurations with the use of dedicated RAID software along with the ability to leave specific drives out of the RAID in independent mode.
ThunderBay IV is compatible with any Mac or PC workstation equipped with a Thunderbolt 2 port. Now the owners of BMPC 4K for instance, can store and edit in real-time more than 25 hours of 4K ProRes (HQ) footage on the 8TB Raid configuration by OWC for $759 only.  This is a great bargain and definitely a cost-efficient solution for any indie filmmaker. 
I'm sure we'll continue to see more and more affordable and reliable storage solutions in the near future. Editing 4K in real-time will soon become a mainstream workflow, not only for the big post production houses and facilities, but also for the majority of independent filmmakers and editors around the world.
What do you guys think? What is your current 4K workflow? Do you edit your 4K material in real-time or do you use proxies instead? Let us know what your experience editing 4K in the comments section below.
[via cinema5d, macsales and B&H]
Disclaimer: As an Amazon Associate partner and participant in B&H and Adorama Affiliate programmes, we earn a small comission from each purchase made through the affiliate links listed above at no additional cost to you.
Claim your copy of DAVINCI RESOLVE - SIMPLIFIED COURSE with 50% off! Get Instant Access!