Korean lens manufacturer Samyang has just announced their latest addition to their Cine lens line-up – the long-awaited Samyang 50mm T1.5 AS UMC lens.
The lens completes their cine  lens set of the most popular focal lengths (24mm, 35mm, 50mm, 85mm) and fills the gap between their 35mm T1.5 Cine lens and their 85mm T1.5 lens.
The 50mm lens will be released in still version as well with an aperture of f1.4.
The lens features 9 optical elements in 6 groups covered with multi-layered anti-reflective UMC coatings. The lens offers full-frame as well as crop sensor coverage and will be available in a multitude of mounts – Micro Four Thirds, Canon, Nikon, and Sony Alpha and E-mounts. In North America the lens will be sold under the Rokinon brand.
This addition is very much appreciated by the the indie filmmaking community as Samyang's cine lenses are a very popular budget solution. They already come with a de-clicked aperture ring, and a geared focus ring saving a lot of people the hassle of modifying/cine-vising still lenses such as older Nikon AI/AIS, Canon FD, and Zeiss Contax for shooting video. Price has not been set officially, but it is rumoured to be in the range of $550-$600.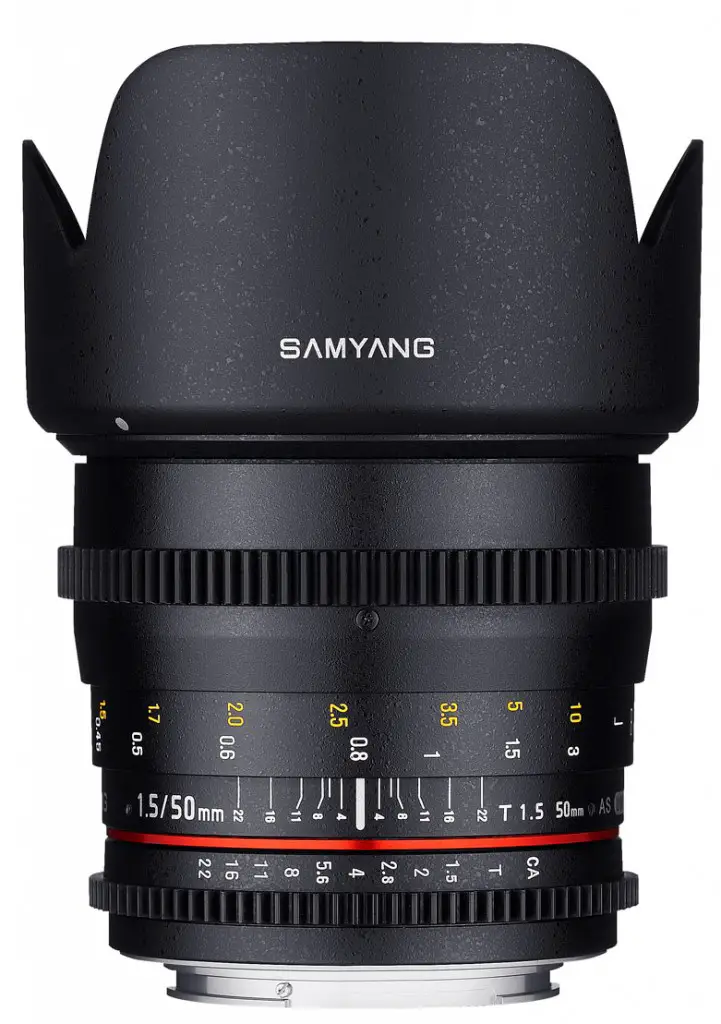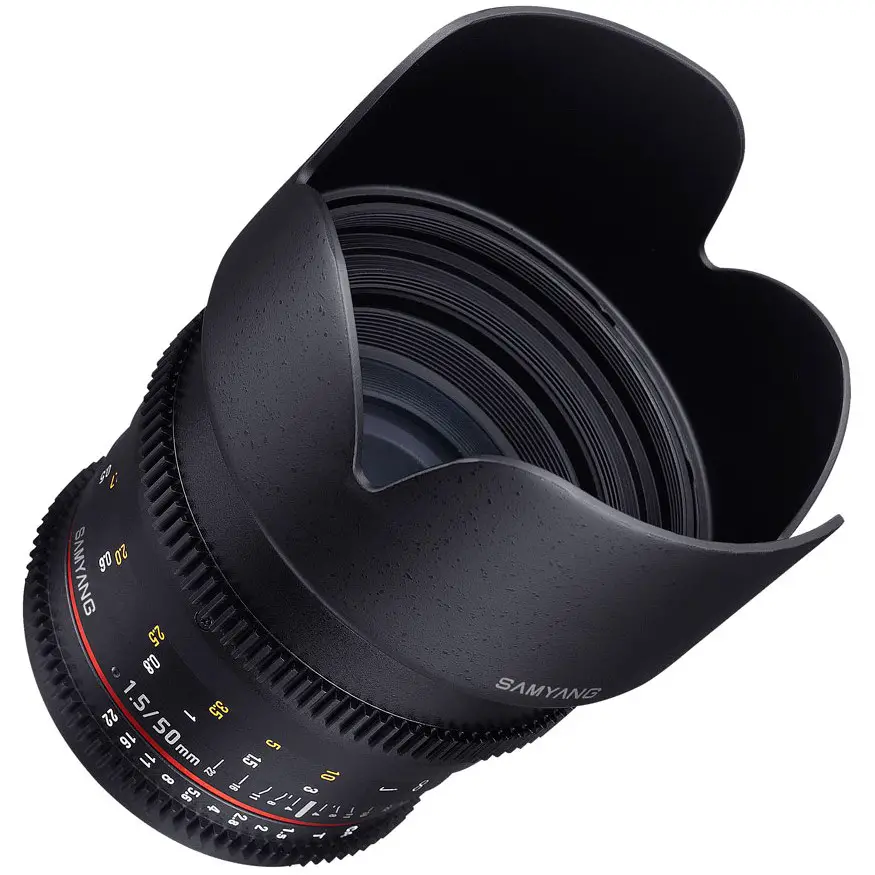 PRESS RELEASE
Samyang announces the release of a new Cine lens V-DSLR 50mm T1.5 AS UMC. The product will be officially introduced during upcoming Photokina 2014 photographic fairs in Cologne.
The presented lens with the focal length of 50mm is yet another product released by the Korean manufacturer. And it will perfectly fill the gap between Samyang 35mm and 85mm models. Cine version will be introduced along with the photographic version of the lens. As a result, Samyang brand will now be selling a complete set of bright lenses with exceptionally wide and useful focus ranges to meet expectation of both filmmakers and photographers.

Samyang 50 mm T1.5 AS UMC has been designed for cameras and camcorders fitted with photosensitive 24x36mm or smaller sensor. It gives 46.2 degrees field of view, and thanks to high brightness value of T1.5 (f/1.4) it comes as a great tool in poor lighting conditions, ensuring splendid image quality and small depth of field. Optics of the lens consists of nine lens elements arranged in six groups (including one aspherical and one hybrid aspherical lens element). To ensure high contrast and faithful colour reproduction, all lens elements have been covered with multi-layered UMC anti-reflective coatings.
Samyang 50mm T1.5 VDSLR ensures exceptionally smooth and aesthetic mapping for out of focus areas beyond the focal plain, producing the so called bokeh effect. Thanks to the eight-bladed aperture, the subjects located outside the depth of field are shown with extremely smooth features. This feature will be appreciated by professional filmmakers and photographers taking portrait photos.

New Samyang 50mm T1.5 VDSLR will be first presented at Photokina 2014 photographic fairs. Samyang company invites all guests to visit the company's stand (No. A-025, hall 2.1) during the fairs which are to be held in Cologne from 16th to 21st of September 2014. For all those who want to visit Photokina 2014 fairs, Samyang has prepared free guest passes. Please, visit our official website www.samyang-europe.com or the company's fan pages in social networking services to view the upcoming information about our free guest passes: facebook.com/samyangeurope.
Here are the 50mm T1.5 Cine lens specs: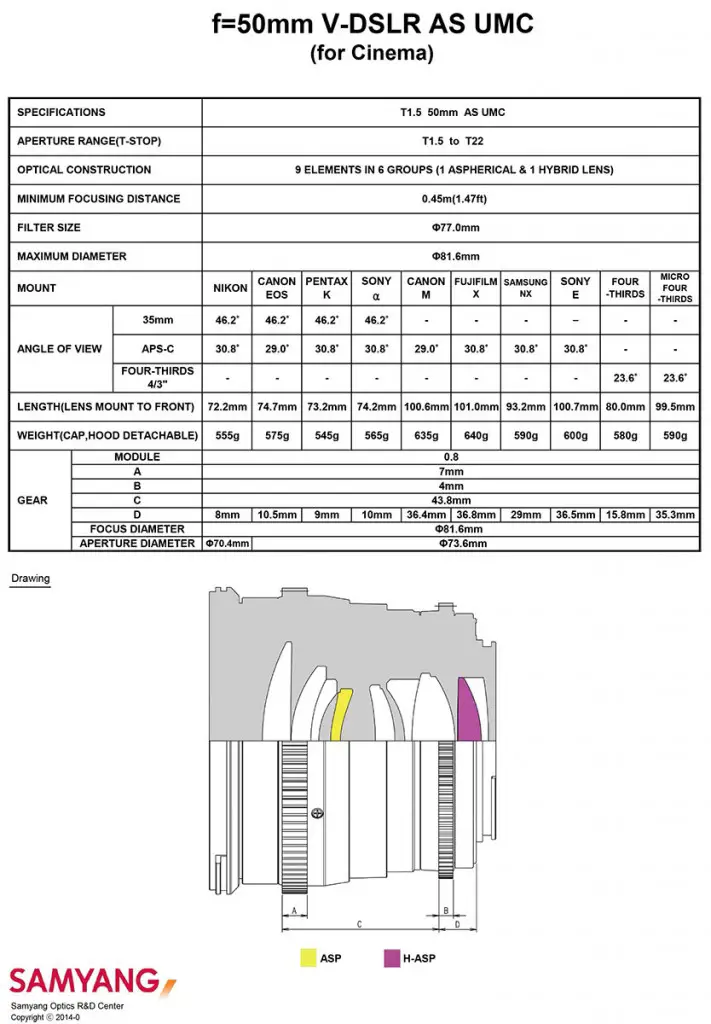 And this is the still version of the lens – the 50mm f1.4: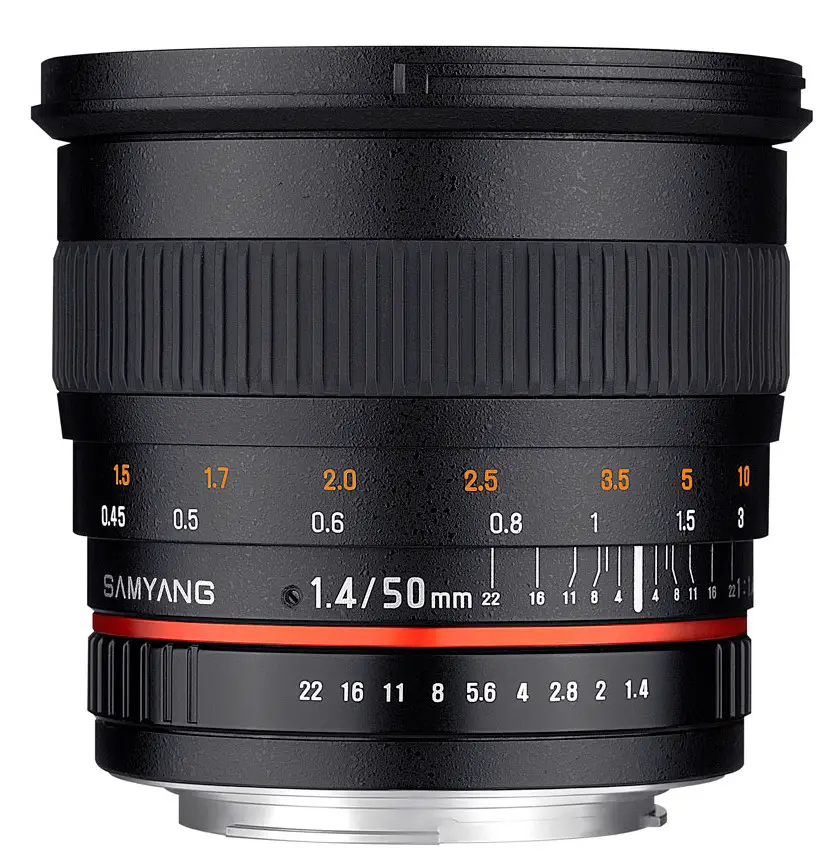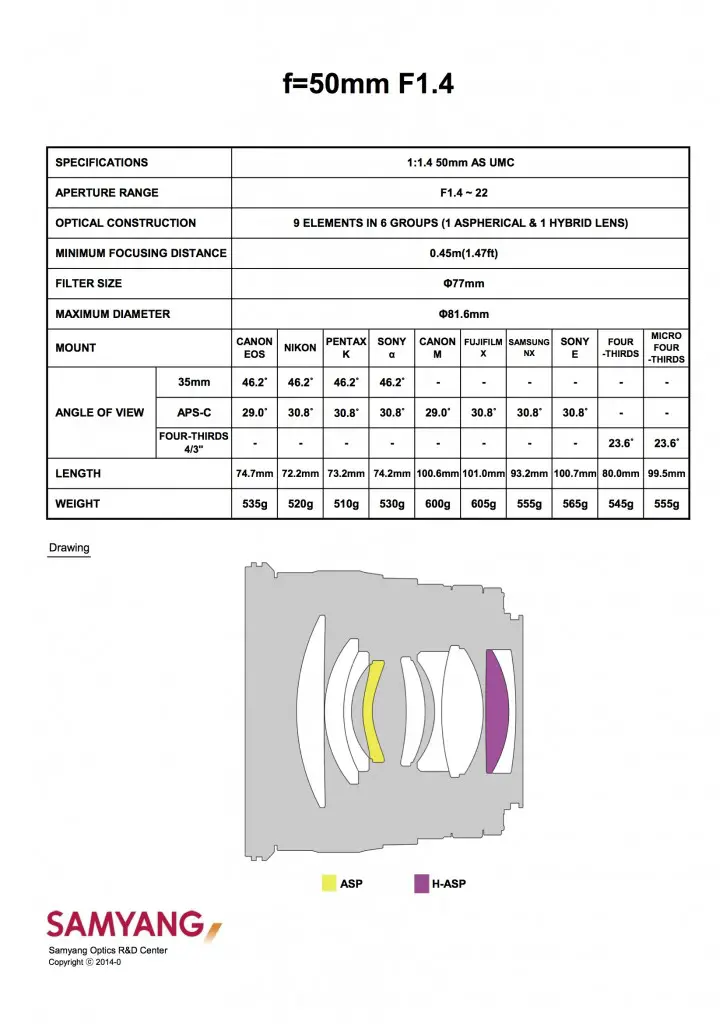 With their recently released 10mm T3.1 and 12mm T2.2 wide angle lenses, the 50mm T1.5 complete the set for any filmmaker who's after decent glass at a price that's not going to break the bank.
[via Cinema5D & M43Rumours]
Disclaimer: As an Amazon Associate partner and participant in B&H and Adorama Affiliate programmes, we earn a small comission from each purchase made through the affiliate links listed above at no additional cost to you.
Claim your copy of DAVINCI RESOLVE - SIMPLIFIED COURSE with 50% off! Get Instant Access!