Besides big recent 4K camera announcements and the leap in the consumer market towards 4K acquisition in general (or at least manufacturers pushing 4K like there's no tomorrow), audio is advancing in a way as well. And that's a good thing for all of us.
We are all quite familiar with how important sound is to our video work, so as filmmakers and video professionals we should always pay special attention to it.
Previously we have covered the Zoom H6 – the first compact field recorder with 4 x XLR inputs (at the time of its release), the successor of the very popular Zoom H4n.
Today we'll take a brief look at another recorder that was announced recently – the TASCAM DR-44WL.
The DR-44WL is the updated version of Tascam's flagship handheld recorder the DR-40. While the new model features a handful set of improvements, its most significant new feature is the integrated Wi-Fi compatibility, and the possibilities that brings to its functionality.
This feature allows for wireless transport control via users laptop, iOS, or Android device and a free app as well. Further, it provides the ability to wirelessly transfer files from the DR-44WL to any computer or mobile device. This wireless transfer lets users move files without moving the mic placement, which will be a great time saver on a shoot and will speed up the process of creating an instant backups of recordings on set.
For the video shooters, the recorder includes also a hot shoe mount and a stable internal clock to avoid drifting out of sync with your camera.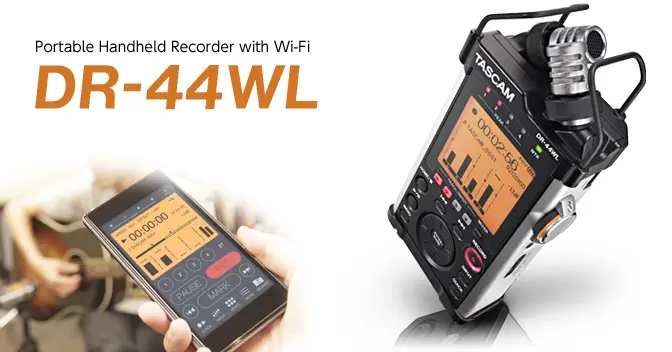 Here are the higlights of the features set of DR-44WL:
WiFi transport control for remote start
File transfer and streaming to smartphones or computers over WiFi (Streaming feature will be added in upcoming software update)
Free control and transfer app for iOS and Android
Free transfer software for Mac and Windows
Improved stereo condenser microphones with shock mounting arranged in close XY pattern
New mic preamp and A/D converters for better sound quality and longer battery life
High volume recording – up to 132dB SPL
Record stereo, four channel, or dual recording mode for a safety track in case of overload
Multitrack mode with reverb for 4-track recordings on the go
Up to 96kHz/24-bit recording (WAV/BWF) or MP3 recording
Simultaneous WAV and MP3 recording
XLR inputs with phantom power
128×128 graphic LCD with backlight
Built-in WiFi network – connects directly to your smart phone without an existing network
Supports up to 512GB SDXC card (4GB SDHC card included)
Includes SD card, AC adapter, camera hot shoe adapter, soft case, hand grip, windscreen, and Micro USB cable

DR-44WL features also a redesigned stereo XY microphone, and like its predecessor DR-40, has an additional 2 XLR inputs for up to 4 tracks of 24-bit/96kHz recording, which undoubtedly makes it a direct competitor of Zoom H6 as well. However, the big advantage of the DR-44WL compared to Zoom H6 is the Wi-Fi capabilities.
For those of you who want to have access to Wi-Fi functionality of the DR-44WL at a cheaper price and don't need to track four channels at once, Tascam has announced a little-brother model, the DR-22WL.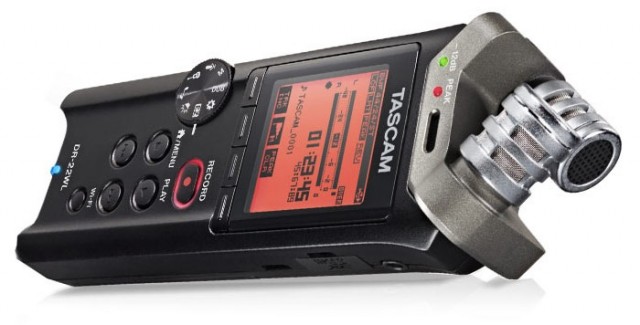 Giving you the same Wi-Fi control and file-transfer capabilities, the DR-22WL has a stereo XY condenser mic built-in, but does not have the DR-44WL's two extra XLR inputs. Also unique to the DR-22WL is its 8 positions scene dial, which helps you dial settings for typical recording scenarios.
The DR-44WL and DR-22WL can be pre-ordered from B&H as availability is expected towards the last part of October.
[via cinescopophilia.com]
Claim your copy of DAVINCI RESOLVE - SIMPLIFIED COURSE with 50% off! Get Instant Access!