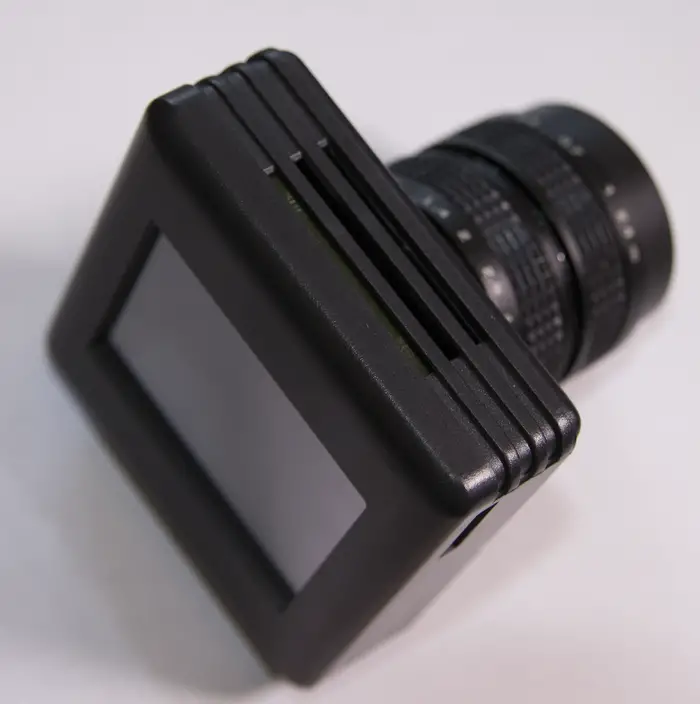 Now that we have really affordable 4K cameras and capture devices for under $2,000 and even smart phones which shoot video at 4K resolution, high-speed seems to be the next frontier. Just look at the new GoPro Hero4 Black, which can do 1080/120p or even the iPhone 6/+ which crunches out some spectacular looking 240fps in HD.
In the world of professional filmmaking (which has also largely adopted GoPro's as the go-to action cams on everything from "The Hobbit" to "The Walking Dead") and broadcast video – high-speed is a bit of a specialist area with camera such as the Phantom Flex 4K, which can crank out up to 1,000fps at 4K and around 2,000fps at 2K/1080p. But that comes at a staggering cost in excess of tens of thousands of dollars.
However, now there is a low-cost slow solution for those on a budget. It's simply called the fps1000 and it fits in the palm of your hand.
UK-based Graham Rowan, creator of the fps1000 Super-Slow Motion mini Camera, is raising funds for his slo-mo wonder on Kickstarter. Launched just 48 hours ago, his initial goal of £20,000 has already been surpassed, and as of the writing of this article his campaign has raised over £31,000.
The palm-sized fps1000 camera features a low cost and easily adaptable C-mount, up to 32GB flash memory, a USB port, a micro-SD slot, and a touch-screen LCD. The camera comes with a 50mm 1.4 C-mount lens, will come in 3 different models – SILVER, GOLD, and PLATINUM.
The fps1000 SILVER for example can shoot at the incredible 840fps at 640 x 480 resolution, and even go as high as 16,500fps at a thumbnail sized 64 x 64 resolution. The early bird pricing for campaign backers starts at £299.
The fps1000 GOLD gets a max frame rate of 200fps at a very usable 1280 x 1024 resolution, and the top end fps1000 PLATINUM does 200fps at full 1920 x 1080p, as well as a maximum of 75 frames per second at 2K (2560 x 2048).
See the table below for maximum frame rates and resolutions for the fps1000: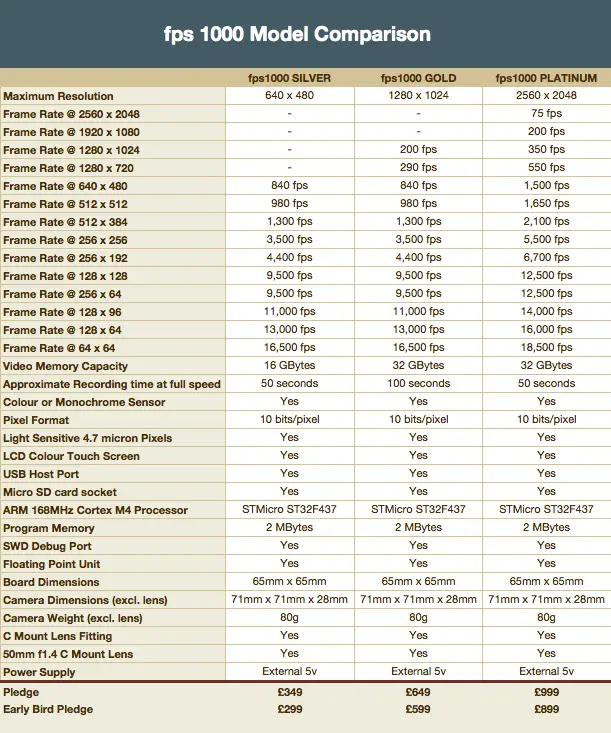 Weighing in at only 80 grams, the mini slow-motion camera can be powered by inexpensive 5v power supply such as popular ones for smart phones. The C-mount allows for different adapters to be used such as those for Canon EF/Nikon F/Contax/M42 for example and any other lens systems with flange distances greater than C-mount (around 17.52mm).
Some more images of the camera, LCD and board.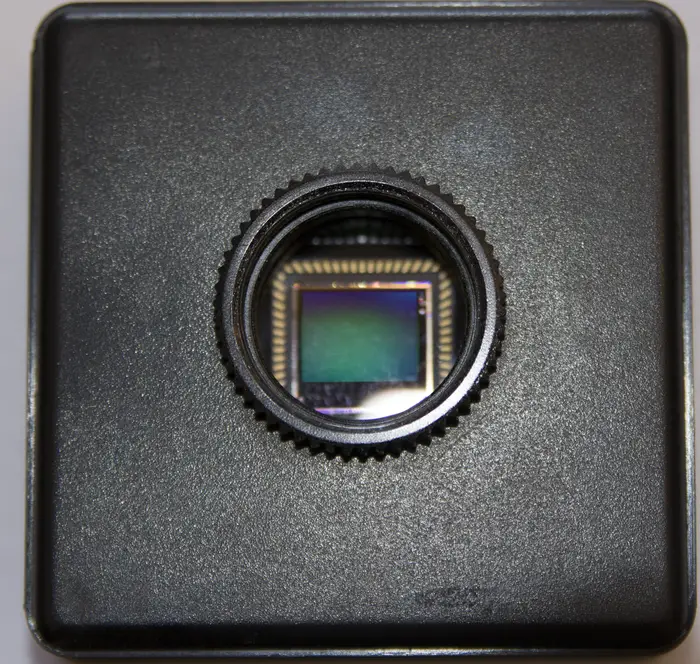 To claim your fps1000 head over to Kickstarter and get yours.
[via Cinescopophilia]
Claim your copy of DAVINCI RESOLVE 16 - SIMPLIFIED COURSE with 50% off! Get Instant Access!