Well this is big news for RED and their legion of followers. The next great space documentary or space mission can be shot in 6K and beyond on the might RED Dragons or some variation of. As digital cameras are getting smaller and at the same time more powerful, it is not surprising to see RED Dragons in space very soon.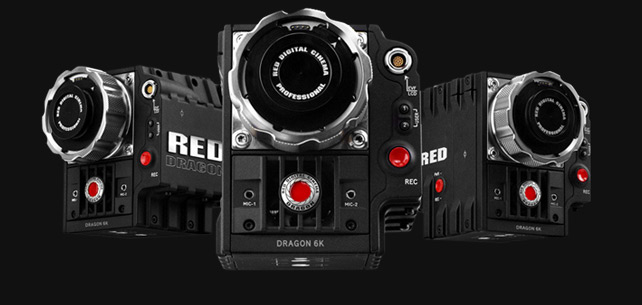 RED Digital cinema have always been at the forefront of image acquisition technology and by packing their wide dynamic range new Dragon sensor inside the relatively small form factor Epic camera body, the next space footage my just look beyond epic!
Canon had a go recently by sending some C500's to space for a new IMAX documentary, however the lack of 4K internal recording seems to be their Achilles heel. The C500 requires an external recorder to capture 4K, so the additional bulk and rigging, may not be the most ideal solution. So to see a small form factor powerhouse like the RED Dragon in space is a logical step forward for NASA.

After all, NASA now offers HD live streaming of Earth from space, so why not bump up the resolution too while they are at it, not that they'll be using the RED Dragons for that, but hey, maybe someday.
Here's the official announcement from RED.
RED Digital Cinema is pleased to announce it has entered a Space Act Agreement with NASA. A NASA Space Act Agreement is the primary vehicle for NASA to partner with third-parties that allows them to have access to wider range of technologies than is currently available within NASA.
The mutual interest between RED and NASA first began shortly after RED began shipping its first camera, the 4K RED ONE®, back in 2007. Since that time, RED has participated with NASA capturing a variety of rocket and shuttle launches in 4K and above.
But now, the relationship is entering a whole new stratosphere. Literally.
After months of being subjected to some of the world's strictest testing and qualification standards, the REDEPIC® with the RED DRAGON® 6K sensor will be loaded onto a space cargo vehicle and travel to the International Space Station (ISS) in late 2014 or early 2015. While at the ISS, astronauts will be using the EPIC DRAGON to capture critical footage.
"Since day one, RED has always pushed the boundaries at every level of our company. Our cameras have been to the bottom of the Atlantic Ocean, to the top of frigid Mount Everest all the way to the Marum volcano. But going to outer space takes things to a whole new level," says Jarred Land, President of RED Digital Cinema. "We are incredibly honored that NASA has chosen RED to be part of its mission on the International Space Station."
Disclaimer: As an Amazon Associate partner and participant in B&H and Adorama Affiliate programmes, we earn a small comission from each purchase made through the affiliate links listed above at no additional cost to you.
Claim your copy of DAVINCI RESOLVE - SIMPLIFIED COURSE with 50% off! Get Instant Access!