The Odyssey7Q started shipping less than a year ago, and since then it has become massively popular with cinematographers and videographers alike serving as both an awesome OLED monitor featuring countless image control functions and a solid external recorder offering 10bit broadcast quality recording and Raw support for cameras such as the Canon C500, ARRI Alexa, Sony FS700 and others.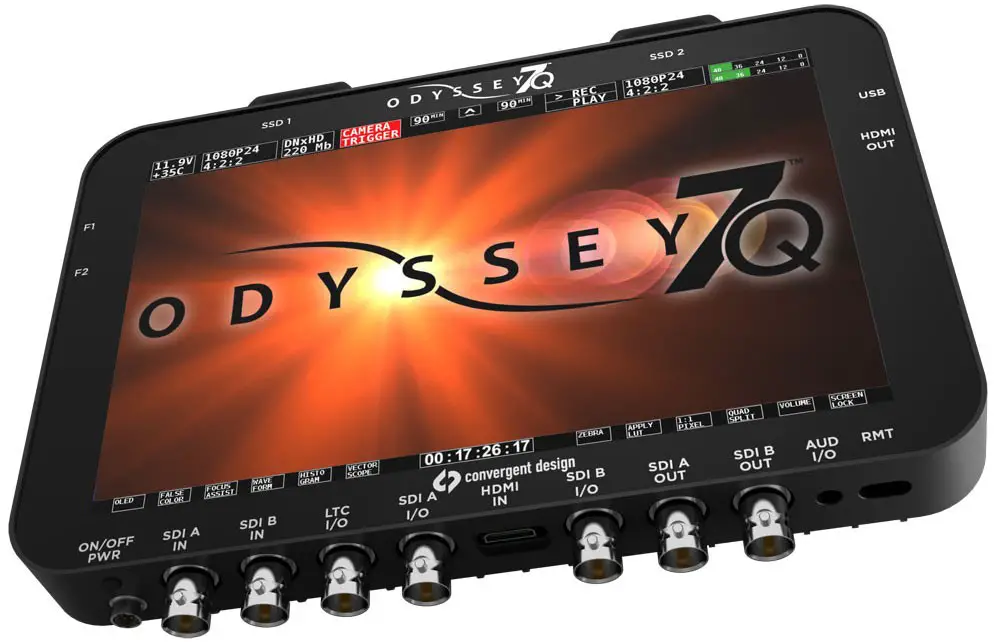 After announcing that the Odyssey7Q will be able to record 4K ProRes last month at IBC, today Convergent Design releases firmware update v3.10.100 for the Odyssey7 and Odyssey7Q Monitor/Recorders which among many things adds 4K & UHD ProRes recording up to 30fps, FS700 4K Raw to UHD ProRes, HDMI Timecode and Record trigger for the A7s, Canon C10o, 5D Mark III and others.
The latest firmware update also adds new functionality and improves current functions and fixes some previous issues. The following is a summary of new features, fixes and improvements in the new firmware.
NEW FEATURES
Refreshed User Interface
Newly simplified menus with easier, intuitive access to all functions.
HDMI Record Trigger
Start/stop Odyssey7 or Odyssey7Q on cameras supporting a trigger pulse over HDMI (Sony: FS700, FS100, a7S, etc., Canon: C100, 1DC, 5D mk3, etc.)
HDMI Timecode Support
Feed timecode to Odyssey7 or Odyssey7Q on cameras supporting timecode over HDMI (Sony: FS700, FS100, a7S, etc., Canon: C100, 1DC, 5D mk3, etc.)
Analog Audio Input
Record analog audio on Odyssey7 or Odyssey7Q via 3.5mm AUD IN port. Two-channel unbalanced or one-channel balanced input with gain adjustment from -99 to +44dB.
Headphone Mute
On/Off control for AUD OUT port.
Selectable Project Rate for HD Apple ProRes Recordings
In 1080p, Project Rate can now be set from 23.98 – 60fps or FOLLOWS INPUT.
Playback Markers
In PLAY mode, reference up to 16 In & 16 Out points per clip. Used in conjunction with the new Convergent Design APPLE PRORES TRANSFER UTILITY 1.4.4, a Final Cut Pro XML can transfer Markers to FCPX, FCP7, Adobe Premier and Resolve 10 & 11.

NEW FEATURES (Odyssey7Q Only)
4K/UHD Apple ProRes Recording
4K (4096×2160) Apple ProRes 422(HQ) at 23.98, 25 and 29.97 fps
UHD (3840×2160) Apple ProRes 422(HQ) at 23.98, 25 and 29.97 fps
Input via 4x SDI with full playback & scrubbing
2K Apple ProRes Recording
2K (2048×1080) Apple ProRes 422(HQ) at 23.98, 24, 25, 29.97, 50, 59.94 fps
FS700 4K RAW to UHD Apple ProRes
With SONY FS RAW Record Option, input 4K RAW from FS7/FS700 and record UHD (3840×2160) video in Apple ProRes 422(HQ) at 23.98, 25 and 29.97 fps.
Capture in S-Log2, REC709 or REC709(800%).
Here's an awesome video with puppets in which Mitch Gross from Convergent Design explains the new additions and improvements to the Odyssey7/7Q in the latest firmware:
October Odyssey 7Q Firmware Update from Ross Gerbasi on Vimeo.
In the above video we learn that at the moment the Odyssey7Q can accept only a 1080/30 signal from the Sony A7s via HDMI and that 4K recording via HDMI for the likes of A7s and GH4 shooters out there is in the works and coming to the Odyssey7Q in the near future.
Mitch also mentioned that the Odyssey7Q will have many more additional features and functionality added as time goes by as it has been design from the ground up as an upgradable monitor/recorder solution and at the moment one of the best on the market.
Here's a couple of 4K ProRes quick shots by Olof Ekbergh which are available for download as well and downloading and viewing the original files is recommended as Vimeo adds its own compression to the uploaded files.
Due to the incredible popularity of the Odyssey7Q, Convergent Design are discounting the price on their flagship monitor/recorder by $500, which is more than 20% from the $2,295 list price for a limited time only. The Odyssey7Q is on sale at the moment for $1,795 at B&H and if you're in the market for a 4K recorder and a stunning monitor at the same time you might want to jump on that offer.
For more information head over to Convergent Design.
Disclaimer: As an Amazon Associate partner and participant in B&H and Adorama Affiliate programmes, we earn a small comission from each purchase made through the affiliate links listed above at no additional cost to you.
Claim your copy of DAVINCI RESOLVE - SIMPLIFIED COURSE with 50% off! Get Instant Access!