In today's video production environment freelance videographers are often asked to record sound in addition to their video duties. Capturing clean and high-quality audio is a must for every professional job, so in some situations having to do both can be a challenge.
Especially in live event situations such as weddings or ENG type of productions, one would often need to mic-up more than one subject and frankly having to deal with multiple wireless radio mics can be cumbersome.
There are numerous wireless radio mic systems available today such as some from Sony (their UWP-D11 system is quite good) as well as from dedicated audio manufacturers such as Sennheiser with their excellent EW-100 G3 series.
On camera XLR's are an additional capture method for straight-to-camera interviews, but they are far from ideal in large spaces or in situations where the subject is more than 3 feet away from the camera. DSLR's in general lack professional audio inputs, hence why most video professionals revert to using external audio recorders to do the job.
We've covered a few external audio recorders such as the Tascam DR-60D Mark II here and the Zoom H6 here.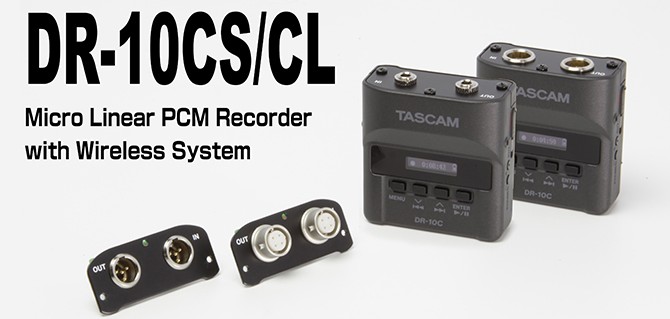 However, Tascam has recently come out with standalone belt pack recorders for lavaliere microphones without the need for a receiver – the DR-10C series. Just plug your lavaliere mic into the recorder, and clip it to your subject as you would any belt pack from a wireless radio mic system and you are done.
There are a few versions are available depending on the microphones used:
DR-10CL for Lectrosonics mics and
DR-10CS for Sennheiser microphones.
AK-DR10CH – Shure
AK-DR10CR – Sony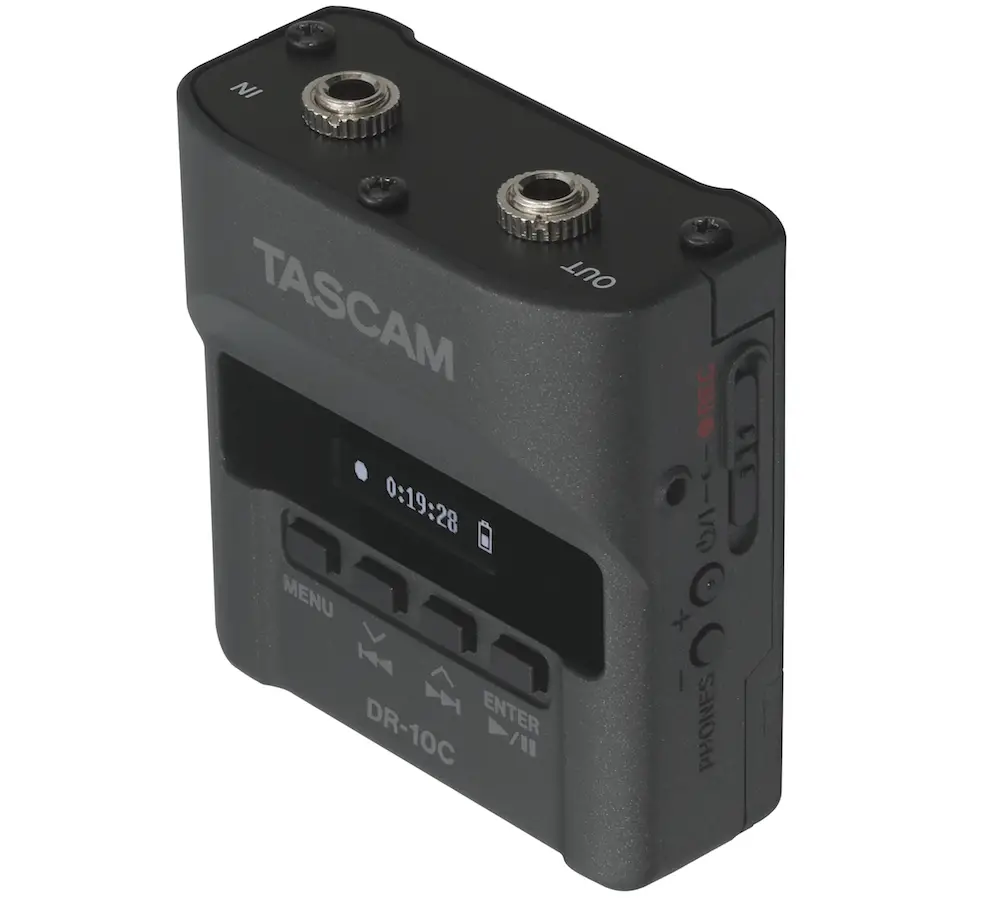 Both the DR-10CL & CS recorders have both inputs and outputs, so they can either be used as stand-alone recorders or with a wireless transmitter. One really neat feature of the DR-10C series is that when used with a transmitter, the DR-10C actually serves as a backup recording to protect against wireless dropouts during transmission of the recording.

FEATURES
Micro Linear PCM Recorder for Wireless Belt packs
48kHz/24-bit mono digital recording
Uses standard microSD/microSDHC card media (up to 32GB)
Dual Recording feature captures a safety track in case of distortion
Two models for Lectrosonics and Sennheiser mics, option packs for Shure, Sony, and RAMSA
Hold function prevents accidentally switching off the recorder
Limiter and low-cut filter on input
Auto gain control
Records BWF files timestamped with time of day clock
Time Track increment function writes new track after 15 minutes
OEL display for easy visibility in any light condition
More than 8 hours of recording on a single AAA battery
Settings can be created with text file on PC and transferred to DR-10C via USB connection
Infrared data communication for transferring setting information among DR-10C
The compact sized Tascam DR-10C recorders can run for a full day on set on just a single AAA battery. Audio is captured onto affordable standard microSD media cards, just like the media for the GoPro Hero4, although for audio you won't need to use the fastest and more expensive cards.
Auto-gain control (AGC) and a low-cut filter are also featured in the unit. A safety track can be generated thanks to the dual track recording feature which allows for the audio to be recorded at a lower level on one track to be used as backup in case of any distortion or clipping on the master audio track.
The Tascam DR-10C series seems like a really useful tool in any cameraman's bag or sound recordist's kit as having additional recorders that can work directly with lavaliere microphones without the need for an additional transmitter and receiver can save you both money and time on set. Wedding videographers, live event shooters will find this device useful.
The DR-10C is expected to retail for about $200 and will be available in November.
Claim your copy of DAVINCI RESOLVE - SIMPLIFIED COURSE with 50% off! Get Instant Access!