Using a dedicated audio recorder with two or four XLR inputs, quality preamps, 48V Phantom Power, proper metering indicators and manual controls is essential for every professional video production. The market is already over saturated with some cheap and much more expensive solutions at the same time. However, many of us prefer the well-known and trusted "workhorse" recorders such as Zoom H4n, Tascam DR100 MarkII, Sony PCM D50, Tascam DR60, Sound Devices 702, Marantz PMD 661, Roland R-26, etc. We recently covered another recorder from Tascam – the DR-44WL.
Recently, Tascam announced the successor to their award-winning DR60, the Tascam DR60 Mark II.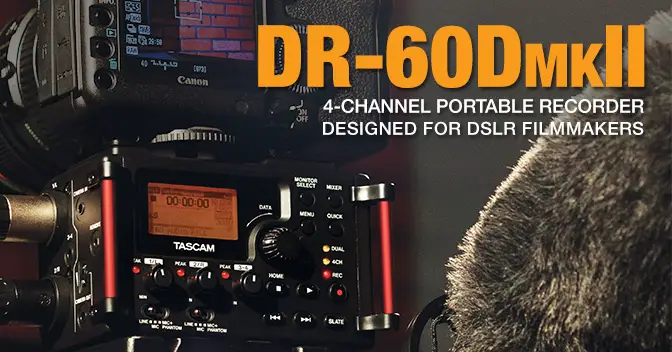 As its predecessor DR60, the new recorder fits perfectly under a DSLR camera rig, without relying on bulky rigging or the limited audio quality of the camera's built-in microphone. The DR-60D Mark II is the next generation of 4-track solid-state recording and features upgraded HDDA microphone pre-amps that provide up to 64dB of gain, capturing every nuance of a performance. Up to 4 x channels at a time can be recorded on the internal SD Card, at up to 96kHz/24-bit WAV file audio resolution. Two of the mic inputs utilize locking XLR connectors with 48V phantom power, the other two use an 1/8" stereo connector for wireless and lav microphones.
One of the features that definitely attracts my attention is the ability to record simultaneously two separate audio tracks from a single input. This is extremely powerful option, especially in situations where your talent's performance takes place in an unpredictable sound environment. Capturing a copy of your audio at a lower level in a recording mode called Dual Recording is an alternate setting that provides a distortion-free safety track which is crucial for capturing clean and high quality audio.
Multiple recording modes are available on the DR-60DmkII as well. Four-Channel Mode records all 4 x microphone inputs. If you want to really simplify your editors workflow you can use the Camera Out connector that sends the mix from the DR-60D Mark II to your camera. An adjustable level control is provided, as many DSLR's and compact mirrorless cameras lack an input control. The camera audio gets a clean mix from the DR-60D MKII to assist syncing tracks in editorial. There is even a dedicated internal slate tone generator that produces various tones for easy track making and recognition. Slate tones can be manually and automatically generated during each recording session.

Check out some of the highlights of the new Tascam DR60 mark II below:
Four-track WAV or BWAV recording up to 96kHz/24-bit
Two XLR/1/4" combination jacks plus stereo 1/8" mini jack
Recording levels can be adjusted independently for the 1/L, 2/R and 3-4 inputs
Easy-to-use interface with switches instead of menus
Dual record mode captures a safety track so there's a backup in case of overload
High-quality microphone pre-amps, analog/digital converters, and recording format (BWAV) – much better than the camera audio specs
Improved microphone preamp with up to 64dB of gain
Camera output pads down to mic level so it doesn't overload the camera
Records to SD/SDHC card (Up to 32GB)
Individual headphone and line outputs
Slate function plays a tone for easier syncronization with camera audio
CAMERA OUT connector for output from the DR-60DmkII mixer (adjustable gain)
Independent adjustable LINE OUT and HEADPHONE jacks for high-quality sound output
With these features and tones received by the previous model, the DR60 mark II instantly turns into the next favorite external audio recorder for filmmakers on a budget. For less than $200 its only a matter of time before it outperforms its predecessor in terms of sales share and popularity among the professional sound recordists and the filmmakers community as well.
[via cinescopophilia.com]
Claim your copy of DAVINCI RESOLVE - SIMPLIFIED COURSE with 50% off! Get Instant Access!