As we get closer to the end of the year most manufacturers are trying to make sure they get their products they announced in the Spring at NAB get out the door and into customer's hands. Not only that, but in general things in our industry are moving so fast and due to the sheer number of gear it seems that companies are rolling out firmware updates almost every week. The GH4 recently had a firmware update, which enables 4:3 Anamorphic 4K recording (albeit at 30p or 25p and only).
Earlier today, San Diego based broadcast DP, Erik Naso is reporting that the GH4 is getting another firmware update, which will add both Timecode Out and Trigger record via HDMI for Atomos recorders such as the upcoming 4K Shogun (more news on this unit later on in this article) and Convergent Design's Odyssey7 and 7Q recorders.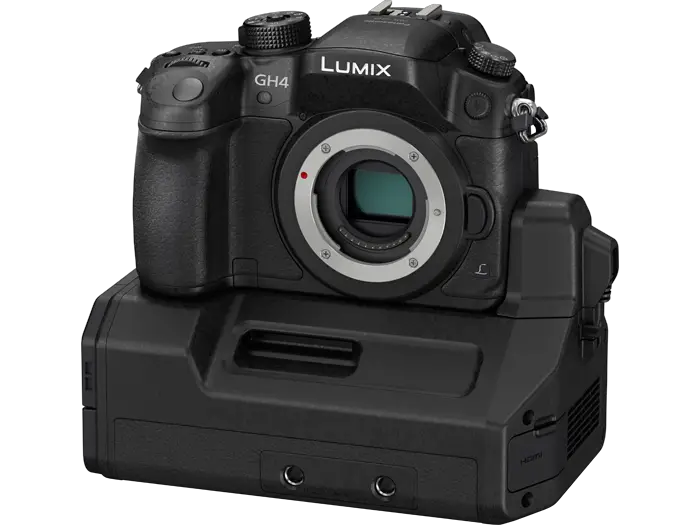 Here's what is included in the new GH4 firmware update, scheduled for December 2014:
With this firmware, time code and RSS(Recording Start/Stop) signal can be embedded to the HDMI output signal*.

* Available when DMC-GH4 or DMW-YAGH are connected with the products of Atomos Global Pty. Ltd. or the products complying with the extended specifications of Atomos Global Pty. Ltd..

FHD at 30p/25p native output via HDMI is available while recording video in FHD at 30p/25p.
FHD at 30PsF(Over 60i) / 25PsF(Over 50i) output via SDI is available while recording video in FHD at 30p/25p.

* When DMW-YAGH is used for SDI output.
This is very good news for shooters using Atomos external recorders, as they can trigger recording on the external recorded by pressing your camera's record button, which saves time and hassle and is a good practice to ensure that you always record on the external recorded when you're camera is recording, as by not using record triggers it is possible to forget to turn Record on the external device.

In other news from the Inter BEE 2014 trade show in Japan, a photo showing a V-Log option on the GH4 showed up on a GH4 Users Facebook Group earlier today prompting speculations as to whether this highly demanded feature will make an appearance in an imminent firmware upgrade.
You can spot the V-Log option in the top left corner above. As to whether this is the same V-Log gamma curve present on the flagship 4K Panasonic Varicam 35 or a flat picture profile similar to Cine-D or Cine-V currently present on the GH4 is yet to be determined. The are major differences between a true Log curve and a picture profile, despite both being tools to enable shooters achive a more grade-able image, a Log curve maximises dynamic range, by evenly distributing spreading the 14+ stops DR in the case of the Varicam 35 across the entire image scale. This is something that a simple flat picture profile cannot really do.
As to whether this will be a true Log curve in 8bit 422 internally or 10bit 422 externally via HDMI or (HD-SDI via the add-on YAGH box) is currently not yet confirmed by Panasonic and only subject to speculation, although the photograph was supposedly taken from GH4 demo unit at the Panasonic booth at InterBee 2014.
In a much more official report from the same show, the crew at NewsShooter.com have an update on the shipping schedule for the Atomos Shogun 4K HDMI recorder from the company's CEO Jeromy Young.
After some delays due to production issues (due to a counterfeit part by a distributor) a new operating system, and further testing required combined with the sheer volume of units required to fulfil initial orders, Atomos are ready to start shipping the Shogun to the masses starting next week on November 24/25th. Despite the delays, Atomos are committed to deliver a properly working unit and a very confident the Shogun will be just as amazing as everyone expects it to be.
The Shogun is their first 4K recorder, so developing and ensuring it delivers on its features is a major hurdle for any company. Atomos are known for having very reliable and stable recorders and converters, and we're hoping the Shogun would be the same – affordable and stable unit that does what it says on the tin.
This is the date the first batch of units will ship to their global distribution network effectively meaning that end users will probably see their Shogun recorders in the first or second week of December. This will make a really nice Christmas present for some folks out there.
For more news from the floor at Inter Bee 2014 in Japan head over to NewsShooter.com who as usual are doing excellent coverage of every major trade show around the world.
Claim your copy of DAVINCI RESOLVE - SIMPLIFIED COURSE with 50% off! Get Instant Access!