We hope you guys have had a chance to enter our previous giveaway we did around Halloween for the 14mm Lumix pancake lens.
We'd like to thank all of you who entered the giveaway, shared with friends and tweeted about our last giveaway! Christmas is only a month away, and as promised, today we're getting into the Christmas spirit and announcing another giveaway.
A few weeks ago on our Facebook page, we asked if you'd rather have us giveaway a DSLR Cage or a Scorpion Rig. We asked, you decided.
So here's the new 4K Shooters Giveaway: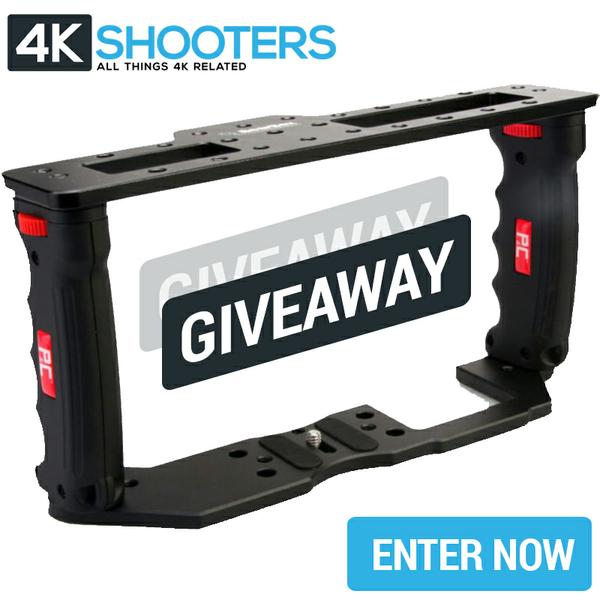 We're giving away a PNC GB-2 Gearbox Video Cage for almost any DSLR and Mirrorless Camera on the market today!
Whether you have a GH4, or a 5D Mark II/III, a Nikon DSLR, or any other DSLR you use for video, this cage will get the job done.
This cage is very versatile as it can take almost any DSLR or mirrorless camera out there from GH4, Sony A7s, Canon DSLR's and basically any camera that would fit. I have 2 of these, and bought this new from PnC a few months ago for a project that was going to involve multiple cameras going hand held in a crazy action-packed environment, but that project has been delayed, so this cage has been sitting on the shelf ever since.
The cage comes with 2 x 15mm carbon fibre rods (30 cm) non-threaded at the ends (rods not pictured, but included) and a 15mm rod adapter (not pictured) sitting underneath the cage so you can mount a follow focus or a lightweight mattebox on the front if you're into that. the side handles are very useful for run-n-gun situations. This cage is virtually new. We want to see it in the hands of someone who can create amazing stories with it. Hence why we decided to give it away to one of you.
The Giveaway ends on Monday, December 8th, 2014 at 10:00 GMT.
Over the last few months we've been working on a few really cool projects for the blog, which we can't tell you about just yet, but will do soon on 4KShooters.net, however we do need your help.
Here's what you MUST to do to enter the new 4K Shooters Giveaway:
Signup for our Weekly Updates email (those already on it are also eligible)
Like us on Facebook
Follow us on Twitter
Answer the following question:
"I want to learn more about…" by choosing ONE of the options below:
1. How to shoot, edit, and direct awesome music videos with a DSLR/Mirrorless camera with no crew (or a very small team) and very little money!
2. How to be an Unstoppable One-Man Event / Corporate Promo Shooter
3. How to Write, Shoot, Edit & Direct My Debut Feature Film with Very Little to No Money and get it on the Big Screen in Cinemas & on DVD.
You can also get extra points to increase your chance of winning by:
Referring friends via a unique URL provided by the app below
Tweet about the Giveaway
Follow us on Pinterest
All of the above is done via the Giveaway app below. More info on the PNC Gearbox cage can be found here.
Important Note:
Only entrants, who have fulfilled the 4 mandatory requirements listed above will be eligible for the prize drawing.
Only ONE Winner will be announced within 24 hours of Giveaway end. 
Everyone is eligible – shipping Worldwide at no cost to you. 
Thank you everyone for your continuous support and for checking out our latest Giveaway. Your answers are helping us out greatly with our next project for the blog. We hope this cage will make a nice Christmas present for one of you. Good luck!
Claim your copy of DAVINCI RESOLVE - SIMPLIFIED COURSE with 50% off! Get Instant Access!