The Sony FS7 took me by surprise, as I believe many others. Packing an impressive "features-to-dollars" ratio rivalling cameras costing 2x certainly raised a few eyebrows, it was the start of IBC 2014.
It got some people at competitors (Canon *ahem*…) sweating bullets along with thousands of video professional salivating over the fact they don't have to re-mortgage their house to buy it. The FS7 came out of the Sony shop prancing a solid 4K internal codec, Super-Slow motion up to 180fps in Full HD (continuous) and all sorts of "grande" pro features (Slog3) in a familiar form factor.
We've covered some tests and short pieces shot on the FS7 on the blog before, and today we have another one of our readers, Ed David a NY-based DP, who shared some interesting technical info about his latest piece shot on the FS7 called "Charlie Chicken, Canine Artist"
Charlie Chicken, Canine Artist – [1080p Shot on Sony FS7 + Slog 3 + S Gamut.Cine Filmconvert + Grain] Camera Nerd Version from Ed David on Vimeo.
Charlie Chicken is a world-renowned canine artist. Originally a rescue from Puerto Rico, he works out of Brooklyn, NY, where his art has been featured in MOMA, the Louvre, and the Getty. This is his story.
TRT: 3 min. [Official selection] Puppy Pound International Film Festival.
Shot on the new Sony FS7 with Leica-R 50 and 24mm 3-cam lenses.
Camera provided by my friend Bart McNeil at Omega Broadcast. I love these guys. Bart is very handsome and has a love for enchiladas! omegabroadcast.com
We got Charlie from AARF arfhamptons.org/ – they are an amazing shelter.
Director/Editor/Colorist/Screenwriter/Voiceover: ED DAVID kittyguerrilla.com
Camera Operators: ADAM WELZ, ED DAVID, JOHN LARSON adamwelz.net
Concept by: LILY HENDERSON + ED DAVID lilyfranceshenderson.com
Special thanks to: LILY HENDERSON + FRIENDS. Bart McNeil at Omega Broadcast. And of course AARF for letting us to adopt Charlie!! arfhamptons.org/ PLEASE ADOPT A RESCUE! There are so many of them that need homes!
Executive Producer: LARS VON TRIER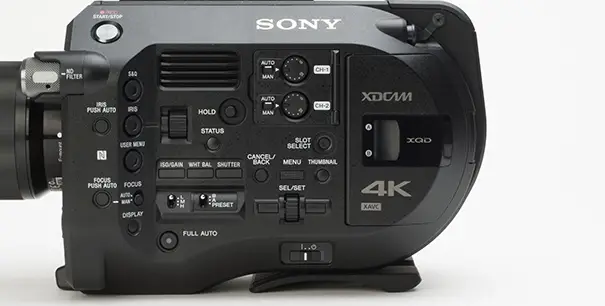 Technical aspects:
Charlie Chicken was shot on the Sony FS7 in 1080p XAVC-Intra on-board on 32GB XQD media cards. The camera was donated by Omega Broadcast, and Ed used Shot S-log3 with S Gamut.Cine gamma. The piece includes some scenes shot in 4K in 60 fps again internally, plus slow-motion at 180fps in Full HD.
Ed used 2 lenses primarily throughout the shoot – Leica-R 50mm f1.4 and Leica 24mm f2.0. The FS7 was set at ISO 1600 for the 4K/60p and normal speed 1080p, and for the 180 fps slow-motion, he used ISO 800. Charlie Chicken was graded in DaVinci Resolve with FilmConvert Kodak LUT with some minor colour correction.
Here's some of his positive notes he took away from his FS7 experience on this shoot:
Camera is incredibly ergonomic, small, and intuitive. the viewfinder – the weight – the balance – everything feels great. This camera is nothing short of a miracle for doc work.
The not so good:
I couldn't find out if it had a waveform – so I was just protecting for the highlights.
Zebras – not very intuitive or perfect -hard to see blow out – also hard to make sure it was working okay. hope there is a future firmware upgrade to fix this.
Rolling Shutter – there is some jello – not too bad, but not as good as the Alexa.
The menu system is crazy hard to figure out like the F5 and F55. Super slo-mo had some pretty blocky noise – maybe going to an external recorder will be better. I have so much faith especially seeing FS700 internal slow motion vs. FS700 to Odyssey7Q slow motion.
But overall – can you really complain with a camera that costs 9k and basically a Sony F5.
To check out more of Ed David's work head over to KittyGuerilla.com
Claim your copy of DAVINCI RESOLVE - SIMPLIFIED COURSE with 50% off! Get Instant Access!