Shooting in highly compressed 8bit 4:2:0 H.264 on most DSLR's and some lower-end large sensor camcorders can save you time in the edit and space on your backup drive, but at the expense of limited colour correction and the ability to fully manipulate the footage in post.
The last three years have seen the release of affordable and very capable digital cinema cameras like the BMCC 2.5K, BMPC 4K, and Pocket Cinema camera from Blackmagic Design, the D16 Digital Bolex and others, which can shoot in Raw in various resolutions.
Raw in the form of CinemaDNG or DNG files are unfortunately not very edit friendly, the footage comes in individual frames, and despite the fact that it provides the ultimate control over the image in post it will eat up your hard drive space very quickly.
Raw workflow can be quite cumbursome and intimidating to some, so there fore the folks at Raw 4 Pro offer a solution, which gives you the ability to convert your Raw footage into a much more manageable and still raw format – Cineform Raw (which is about 10:1 file size compared to CinemaDNG Raw, while still letting you control your white balance, colour, exposure etc.) as well as popular editing codec DNxHD and H.264 proxies for editing.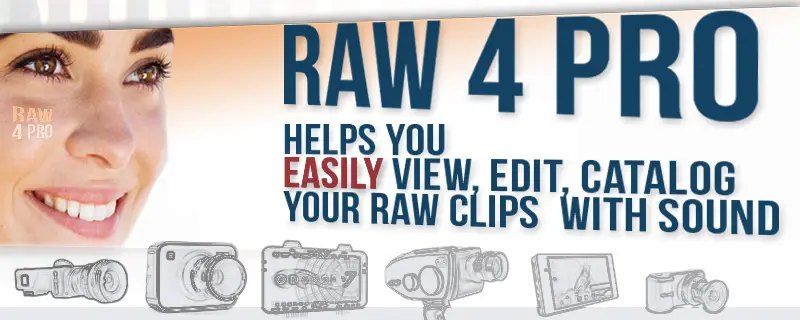 RAW 4 PRO Features
RAW HD, 2K, 4K to video converter – for real-time playback and edit, with audio merged automatically
RAW 4 PRO proxies let you:
PLAY content of your RAW clips on any computer
CATALOG your footage with any DAM
EDIT and synchronize in any NLE, real-time
ONLINE back to RAW for perfect quality output
SAVE tons of storage space with small proxies
OFFLOAD the whole drive or a single clip, free up your media on location
RAW 4 PRO quickly converts your RAW sequences to video for real-time playback and edit
You choose proxy or full quality conversion settings (no worries – original RAW is untouched, so you can always change your mind later)
Audio merged automatically, while the original file also preserved
Save on disk space! Makes raw videos at a fraction of the original size with CineformRAW; or debayer in H264 or DNxHD (just like ProRes) – both included for free.
Very small size video preview files with H264 option, great for cataloging your current project or all the archived RAW footage
Proper white balance: already provided with DNxHD/H264, or use our LUT with CineformRAW directly in RAW 4 PRO
Output resolution: HD 1080p with H264, DNxHD options; or full source resolution with CineformRAW option.
Time code properly transferred from the original RAW clip to all formats of the video, making it easy to online back to DNG sequences for rendering.
Frame rate detected and set automatically to match the original (or override it with your manual settings if you wish)
Offloads and organizes your footage – individual clips, or your entire SD card / SSD drive in batch mode!
Works on older/slower computers, too – no stringent hardware requirements
Easy to use, intuitive interface. Makes video files for use on both Win and Mac
DNxHD codec (like ProRes) included free!
Tested and works great with RAW camera footage from: Blackmagic BM4K, BMCC 2.5K, BMPCC Pocket, Digital Bolex DB16, Ikonoskop (sans audio), 5D converted to DNGs, Sony FS700 RAW + Odyssey 7Q recorder.
Runs on Windows natively, or on Apple Mac under VMware Fusion Virtual Machine
Created by filmmaker, for filmmakers! Won Kickstarter funding. Now you too can use RAW 4 PRO.
Practical use of RAW 4 PRO – how this video was done: Shot on BMPCC, clips Batch-offloaded and converted to small H264 proxies by RAW 4 PRO. Proxies edited with Premiere Pro in real-time. Finished and rendered from After Effects. You can use any editor, of course.
Here's a few tutorials:
RAW 4 PRO quick start tutorial: your Input, Output, and Settings from RAW 4 PRO on Vimeo.
RAW 4 PRO quick start tutorial: your Input, Output, and Settings from RAW 4 PRO on Vimeo.
System Requirements:
Windows OS with Microsoft .NET Framework 4 or higher.
RAW 4 PRO works natively on Windows 8, Windows 7 x64 bit.  (Mac users: RAW 4 PRO also works fine under VMware Fusion – Windows Virtual Machine on Apple Mac. Also, some Mac users also reported success running RAW 4 PRO using Parallels with Win 8.1 x64 – we personally cannot confirm that.) Screen resolution recommended: 1280×720 and up (but will also work on 1024×768.)
H.264 video output (proxy): encoder comes free with RAW 4 PRO – no separate installation needed.
DNxHD video output (same as ProRes): encoder comes free with RAW 4 PRO – no separate installation needed. Decoder is free as well, download link included with RAW 4 PRO in case you don't have it installed yet.
Cineform video output (optional, if you need this codec): requires Cineform/GoPro Studio Pro, which comes with dpx2cf utility. (Older versions are just fine too) Only a requirement if you wish to render to Cineform. Not required for H264 or DNxHD output.
Version 3.0 of RAW 4 PRO is available for download and licenses start at $59.
Claim your copy of DAVINCI RESOLVE - SIMPLIFIED COURSE with 50% off! Get Instant Access!