The Canon 5D Mark II changed everything. It spawned the current crop of large sensor cameras. This was more than five years ago. The successor – the 5D Mark III was an improvement in image quality, but not revolutionary one. MagicLantern did that for the Canon DSLR's as it gave the 5D Mark II and III the ability to record a 14bit Raw video stream captured on the internal CF cards, thus greatly improving image quality, increasing dynamic range, and minimising moire and aliasing artefacts.
ML turned the Canon DSLRs into completely new cameras. Despite a somewhat of a tricky post production workflow for 5D raw video, some folks out there produce lovely videos with the 5D3 and 5D Mark II.
One of our readers, music video director Jake Brusha recently shot a music video for Griffin Peterson on the Canon 5D Mark III using MagicLantern Raw.
Griffin Peterson – Set Me Free (Official Video) from Jake Brusha on Vimeo.
Buy the song here: itunes.apple.com/us/album/set-me-free-single/id941872143?uo=4&at=1l3vtbm

Music: Griffin Peterson
Directed: Jake Brusha, Marc Mellens
Concept: Marc Mellens, Jake Brusha
DP: Jake Brusha
Edit: Jake Brusha, Marc Mellens
Color: Paul Galati CO3 Chicago
And here's what Jake had to share about the shoot and post-production of the music video:
"Griffin Peterson, the musician, reached out to me in hope of creating a new music video for his new single "Set Me Free." However, we had a few limitations: he was going to be in town for only 1 week and had a small budget to work with of less than a $1,000.
I contacted my good friend, Marc Mellens, to be an extra set of eyes and brains on the project. With such little timing and hands it was imperative to have him onboard. The two of us began to rattle off ideas and searched for inspiration to come up with a simple, but unique and compelling story to flow with the song. Since we had no budget, we really wanted to utilize the landscape of Griffin's hometown of Oconomowoc, WI, and at least one or two unique, yet affordable, props. We came up with the doors as props because putting a door in the middle of the woods, we thought, might be strange enough to work.
Knowing our limitations, I knew we'd be shooting Magic Lantern raw on my Canon 5D Mark III because it was the most practical, cheapest, and portable solution. I had used it plenty of times before for both personal and professional work and trusted it could deliver what we needed. It is truly the barebones way to get an incredible image. However, I had not shot 48fps on ML Raw and was super curious as to how that would turn out.
The gear we used was a small 3 foot slider, a Manfrotto tripod, a shoulder rig with a follow focus system, and we only used 2 Canon L Series lenses: the 50mm 1.2 and the 24-70mm 2.8. Like I said: pretty barebones.
We shot for three days with a crew of two people, two actors, natural lighting and a bounce. Griffin was a super star and also helped out as our PA whenever we needed anything. He even bought the doors from a farmer off of craigslist and framed them! Everything went extremely well for being on such a tight schedule and shooting in cold conditions (20°-30° fahrenheit). We had 2 x Lexar 64GB 1066x cards and were constantly live dumping to keep to schedule. In total we shot about 500 gb of raw footage; everything but the live performances were shot at 48fps.
After the shoot, I converted everything with RawMagic Lite to DNG files. Then I imported those DNG files to DaVinci Resolve to create the ProRes 4444 video files. I wanted to make the coloring process as easy as possible so I figured ProRes 4444 (12 bit) files would be more than sufficient for the colorist. Once in DaVinci, I only stretched the Raw files from 1920 x 506 to 1920 x 818 (since that's the un-stretched resolution that ML raw shoots at 48fps), and flattened everything to a BlackMagic super flat profile setting.
I did all my editing in Premiere Pro and when I was done I exported one final ProRes 4444 file for colour correction. Normally that's not how I would have liked it to be done, but for timing's sake we wanted to make it as simple as possible. Not to mention, I have had problems before linking and relinking files from Premiere to DaVinci, so this was the easiest/safest bet.

A friend of mine is a professional colourist at CO3 in Chicago and cut us a decent deal to have it coloured. So he brought our master file into his DaVinci studio and worked his magic. I was once again extremely pleased at how well the Magic Lantern footage held up in post. It retained so much detail even in the ProRes 4444 file. Marc and I an idea of how we wanted it to look and the colourist was able to achieve it and help bring the whole piece more cohesively together."
We bounced the final ProRes 4444 and uploaded a high bit rate h.264 to youtube for easier streaming. In total we stayed under budget and only took 4 weeks from start to finish on the project."
The 5D Mark III as evident above, is still a very potent camera capable of producing lovely cinematic images especially with MagicLantern raw. It may have been overshadowed as of recently with the latest generation of mirrorless cameras from Sony and Panasonic, but it still has its own look, and rumour is we may see a successor announcement sometime in Spring 2015.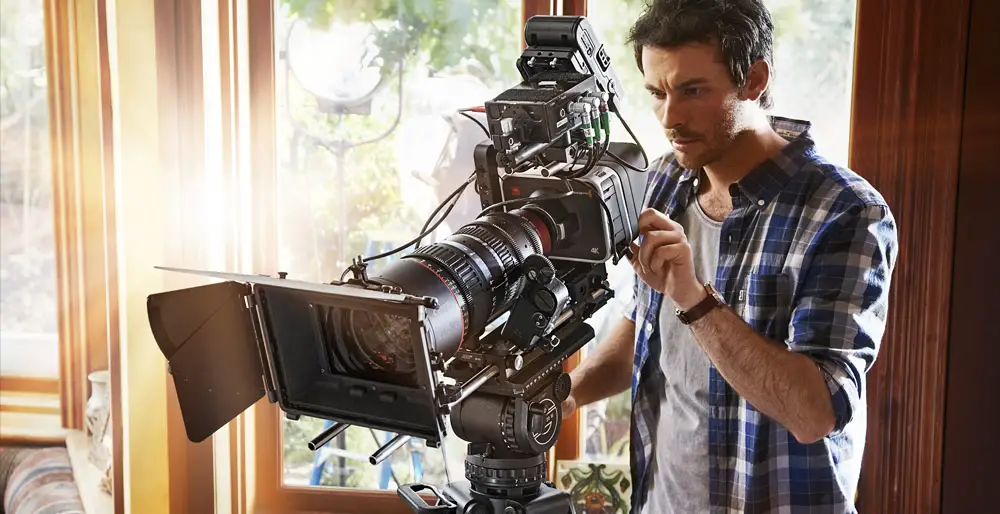 While most of us are eagerly awaiting the 2.0 firmware update, earlier in the week, Blackmagic Design released a new firmware update – Camera Utility 1.9.10 for the URSA, BMCC, Pocket Cinema camera, and the Production Camera 4K. The Studio Camera 4K and HD are not affected by this update. The  latest firmware update from Blackmagic Design does not add any new features to any of the cameras, but fixes the following bugs & issues:
Blackmagic URSA
Fixed error reading timecode input
Improved in-camera format reliability when formatting in HFS+
Blackmagic Pocket Cinema Camera
Improved in-camera format reliability when formatting in HFS+
Blackmagic Cinema Camera
Improved in-camera format reliability when formatting in HFS+
Fixing camera bugs is just as important in some cases as adding new features and it is help ensure the smooth running of the cameras.
Claim your copy of DAVINCI RESOLVE - SIMPLIFIED COURSE with 50% off! Get Instant Access!