ShareGrid, the popular peer-to-peer camera rental marketplace, today launches a new service called ShareGrid Buy & Sell. The company has also partnered with leading equipment provider AbelCine to offer exclusive flash deals. Many of use have bought or sold used equipment on platforms such as eBay or Amazon, or even more recently Facebook groups where you could sell to like-minded individuals, but as with any of these platforms there is always that chance of getting ripped-off or straight up scammed by malicious users. ShareGrid is aiming to change all that for filmmakers with their new marketplace service. 
ShareGrid, the peer-to-peer marketplace that is often referred to as the Airbnb for cameras, is now providing filmmakers and photographers with an alternative to selling gear on eBay, Amazon, and other online marketplaces.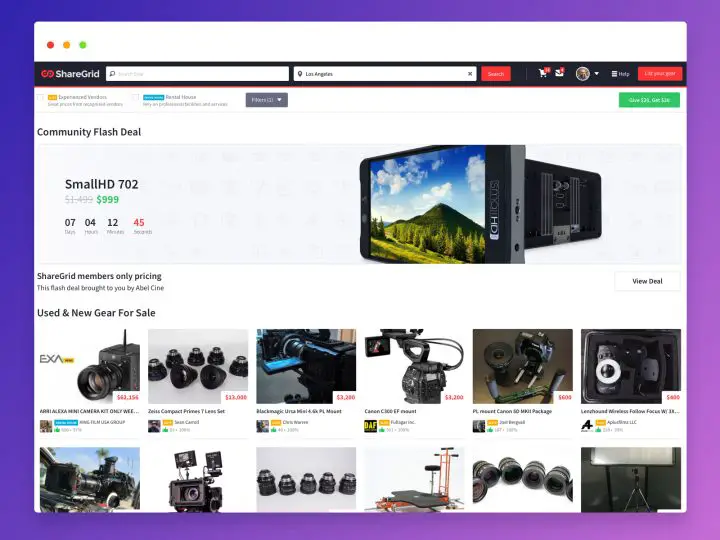 Over the last four years, ShareGrid has gained the trust of over 55,000 creative professionals, who have listed over half a billion dollars worth of gear on ShareGrid, making it the largest peer-to-peer rental marketplace for everything one would need for a shoot: cameras, lenses, lights, audio, grip, trucks, and even props.
Unlike eBay and Amazon, which focus on a variety of verticals and thousands of different products spread over what appears to be an infinite category catalog, ShareGrid Buy & Sell is designed specifically for the photo/film industry, thus saving you time and giving you a more closely targeted pool of potential buyers/sellers.
"We believe that in addition to helping creatives rent from each other, we can also help them sell to each other faster, cheaper, and more safely," says CEO and Co-Founder Marius Ciocirlan. "Currently, filmmakers and photographers use eBay and Amazon, which lack product focus and charge expensive fees that push creatives to sell on free marketplaces with no seller protection, exposing them to costly payment scams."
"If you search 'RED Helium' on eBay, you will have to scroll past the helium balloons to hopefully find the high-end camera you're looking for; that will never happen on ShareGrid," says Ciocirlan.
ShareGrid will be available for individuals and retailers to safely sell used or new gear, and they will undercut Amazon and eBay's typical 10-15% seller fee by only charging 5%, while still offering similar seller and buyer protections.
"ShareGrid Buy & Sell offers our members a safe, quick, and efficient way to buy and sell creative gear. We offer secure payment processing, exposure to a thriving community of verified creatives, and built-in fraud protections. Our dedicated customer service team is here to help make every transaction seamless.

Best of all, we are able to do this at a price point that makes it a no-brainer for those looking to get the most from their gear purchase or sale," says Arash Shiva, Co-founder and Chief Product Officer of ShareGrid.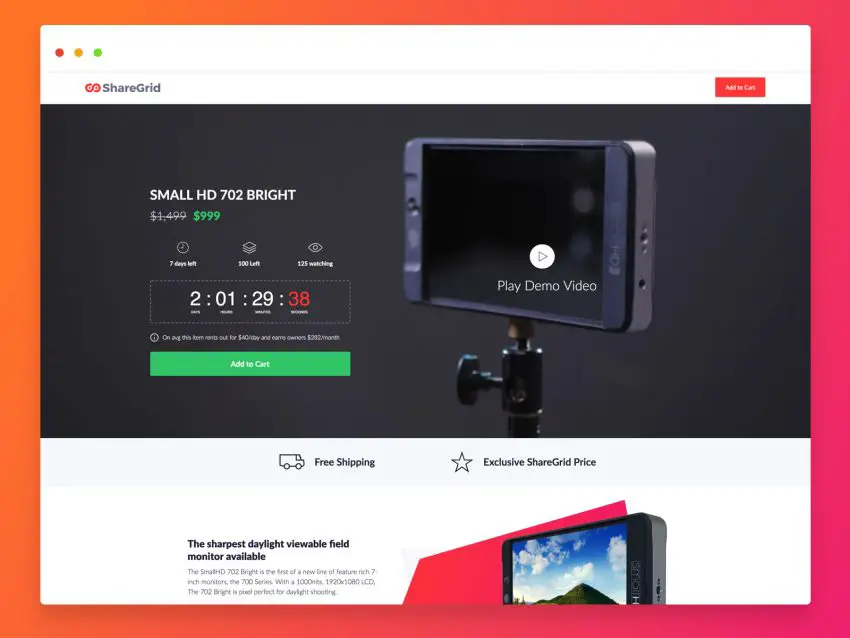 Additionally, ShareGrid has forged a partnership with AbelCine, a leading camera equipment retailer and service provider, to serve as ShareGrid's exclusive fulfillment partner on the new Buy & Sell platform.
Bringing together AbelCine's long-standing relationships with top manufacturers, and the focused audience of filmmakers and photographers who use ShareGrid, this partnership will provide the ShareGrid community with unique and relevant product offers at attractive, volume-negotiated prices.
AbelCine will put their expertise in technology and industry trends to use in creating exclusive bundles that fit the production needs of ShareGrid members.
The 1st flash deal launch will be a $500 discount on a new SmallHD 702 Bright monitor. This monitor, which has never been available at such a low price, will be available on ShareGrid for a limited time starting October 23rd (US only).
SmallHD 702 Bright Features
7-inch Daylight Viewable Display
1920 x 1080p / 323ppi display
Aircraft Aluminium Unibody Construction
1000 nit Brightness
Bonded Glass & Anti-Reflective Coating
Image Control Functions:

Waveform
Custom 3D LUTs
De-Squeeze & loads more

HD-SDI and HDMI Inputs and Outputs
Dual L-Series and LP-E6 Battery Support
Headphone Jack
179 degrees Viewing Angle
Lightweight – 7 oz or 482 grams
Besides Abel Cine fulfilling exclusive deals for the community, other camera retailers like Deals All Year and 17th street Photo have also jumped onboard to sell directly to ShareGrid Members.
All this is very exciting for those of you reading this from the US, and I hope ShareGrid makes an appearance around UK shores soon. We have similar services here, but I don't think any of them are on the level of ShareGrid, speaking from experience. The Buy & Sell marketplace functionality seems like a natural and logical extension of their service and it will be only a matter of time before competitor platforms adopt similar services.
Claim your copy of DAVINCI RESOLVE - SIMPLIFIED COURSE with 50% off! Get Instant Access!