After we picked-up our jaws form the floor after the 5K iMac Retina announcement earlier in the Fall, some of has were left wondering if Apple would ever release a standalone 5K display without a computer inside for us to use with other computers such as the Mac Pro or any PC. Alas, we haven't heard of such thing, and chances are it may not ever happen, but if there's plenty of other options. If there is one segment of the market where 4K/UltraHD has taken off – it's in the monitor/display section.
A year or two ago 4K displays were either too ungodly expensive, or just not that many, but with one foot over in 2015, the past year has brought us a wide selection of 4K monitors for creatives on both sides of the budget spectrum. Jordan Kahn over at 9to5 Mac, has been testing the best 4K/UHD monitors for the Mac Pro, and you can see his picks in the list below.
In his testing, he rated the 32″ Dell UP3214Q UHD monitor "Best Overall" as it "offered the fewest compromises with most shortcomings being OS X related and often much more pronounced in other 4K displays" at a reasonable price considering the colour accuracy, refresh rate, a high-quality IGZO panel, and the sturdy physical design.
OS X allows for 60Hz support on this monitor via manually enabling DisplayPort 1.2. He opted for using a mini DisplayPort 1.2 cable into the Thunderbolt port on the Mac Pro and the mini DisplayPort on the monitor. The same connection scheme works with MacBook Pro (Retina, 15-inch, Late 2013), Mac Pro (Late 2013), and the newest 27 inch 5K iMac Retina.
The monitor includes 1 HDMI, 1 DisplayPort, 1 mini-DisplayPort, 4 USB 3.0 and a 6-in-1 media card reader, and the stand has adjustable height, swivel and tilting.
With the introduction of scaling options in OS X 10.9.3 a lot of the initial complaints about 4K displays with Macs were satisfied as the update allowed the higher resolution displays usable. The monitor supports full UHD (3840 x 2160) resolution, however you may opt for the next preset down – 3008 x 1692 which keeps everything on the display incredibly sharp and easy to read, as Full UHD may make things a bit too small to read.
One thing to note though, is unlike Apple's Retina displays, this Dell monitor has a much lower pixel density of only 140 PPI.
This LG is his "Runner Up" to the Dell above, and it's not really a 4K display, but nevertheless, LG's new 21:9 Thunderbolt display "gives the 4K displays a run for their money by offering one of the most attractive so-called UHD displays that, apart from resolution, beats out most displays on this list in just about every other aspect" according to Jordan. 
It offers a super-wide resolution of 3440 x 1440 (some may call that Half-UHD), which may prove quite useful to editors and audio professionals who use timeline-based editing solutions like Final Cut X, Adobe Premiere Pro CC, or Logic Pro. The added real estate may come at a the price of a resolution drop, but for the price it may be the right monitor for many Mac Pro users.
This LG display is completely Mac Pro compatible via the Thunderbolt ports at the rear. You can connect your Mac Pro using a Thunderbolt cable at full 3440 x 1440 resolution with a 60Hz refresh rate, while you can daisy chain up to six Thunderbolt devices or additional displays using the second Thunderbolt port. The LG 34″ 21:9 UltraWide 34UM95 UHD monitor includes 2 HDMI ports, headphone out, 1 Display Port, and 2 Thunderbolt ports.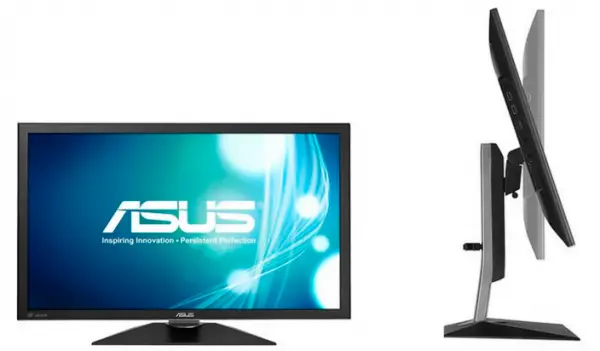 The PQ321Q 31.5" 4K UHD Monitor from ASUS is a 31.5″ 4K display with an ultra-high definition (UHD) 3840 x 2160 resolution and 140 pixels per inch PPI. Very similar in performance and spec to the Dell UltraSharp above, and within the same price bracket. For Asus fans, this is a good solution to add to your Mac Pro.
Key features include:
10-bit colour / 800:1 Contrast ratio
UHD 3840 x 2160 resolution support
Premium IGZO anti-glare display
Slim profile – height and swivel adjustment
Picture-by-picture
Gamma adjustment
HDCP support
2 x HDMI, and Display Port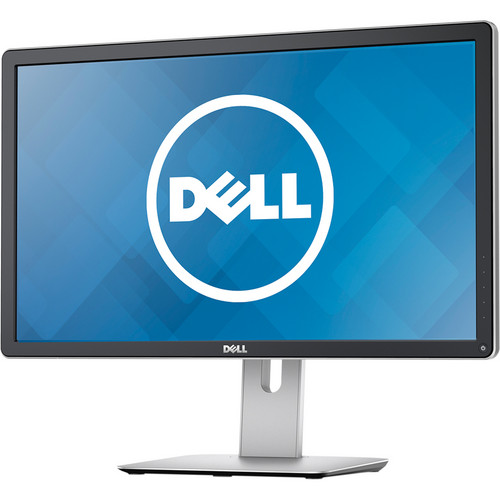 Dell's UP2414Q can be viewed as a miniaturised version of the 31.5" UltraSharp UP3214Q, however, it's major minus is that includes an "LG panel of lesser quality that leaves much to be desired when it comparing it to the 31.5-inch version's IGZO panel from Sharp". Still, at $600, it's an officially supported option by Apple that is probably your safest bet if money is really tight.
Apple also supports this display with a refresh rate of 60 Hz, you won't be able to find any other supporting this feature in this price range. 60Hz support is achieved via a DisplayPort 1.2 cable and manually enabling the setting for Retina MacBook Pro 15-inch, Mac Pro (Late 2013), and 5K iMac Retina.
The latest LG 31″ Cinema 4K display is an interesting option for the Mac Pro. We did run a piece on this monitor a while back on 4K Shooters, and we were quite pleased to see it supports the Digital Cinema (DCI) compliant 4K resolution at 4096 x 2160 pixels packed in a 17:9 aspect ratio 31" LED ISP display. And the good news for Mac Pro users is that Apple recently added this new monitor to their list of officially supported 4K and UHD displays for OS X.
LG 31MU97 4K monitor Features
In-Plane Switching (IPS) Technology
HDMI / DisplayPort / Mini DisplayPort
4096 x 2160 Resolution
1,000,000:1 Contrast Ratio
320 cd/m² Brightness
178°/178° Viewing Angles
17:9 Aspect Ratio
AdobeRGB 99.5% / DCI-P3 97% Gamut
Near 100% RGB support and DCI-P3 Gamut are welcomed features for those filmmakers planning on delivering assets for cinema exhibition. Native 4K editing is a always a welcomed and much desired option, and PC/Mac compatibility is ensured via DisplayPort/Mini DisplayPort support. The I/O is also amply complimented by 4 x USB 3.0, 2 x HDMI ports, and a headphone output.
[via 9to5 Mac]
Disclaimer: As an Amazon Associate partner and participant in B&H and Adorama Affiliate programmes, we earn a small comission from each purchase made through the affiliate links listed above at no additional cost to you.
Claim your copy of DAVINCI RESOLVE - SIMPLIFIED COURSE with 50% off! Get Instant Access!