It's January 6th, so naturally the tech gadget world is completely consumed by latest technologies in mobile communication devices, TV's, cameras and just about anything that is powered by electricity (or via alternative means) currently paraded at the annual CES 2015 show in Sin City. Big and small players alike have been preparing for the big week for quite some time and are eager to let the world know of their latest gadgets and breakthrough technologies. 4K is certainly the talk in town this year, as there is not a single inch of floor space not occupied by some sort of a 4K device, be it a 4K TV, camera, or even a mobile phone, or as Panasonic put it "a Communication Camera" of course referring to their 4K DMC-CM1.
Panasonic is no small player and as one of the pillars of the Consumer Electronics Show the electronics giant unleashed their latest TV, mobile, and camera technologies in due fashion, placing a particular emphasis on 4K/UHD, thus once again re-affirming the company's commitment of taking moving images to new heights and beyond HD.
The new addition to the Panasonic prosumer lineup is the HC-WX970 4K UltraHD camcorder sporting innovative features such as HDR Video Recording, and 5-axis Hybrid Image Stabilisation. The Panasonic HC-WX970 is available to pre-order for $999 from B&H.
Panasonic HC-WX970 Features & Highlights
4K Ultra HD Video and 8MP Still Photos
1/2.3″ Back-Illuminated MOS Sensor
Articulating 5.27MP Secondary Camera
20x Optical Zoom / 50x Intelligent Zoom
HYBRID OIS 5-Axis Image Stabilization
1080p Slow Motion Video up to 240 fps
HDR (High Dynamic Range) Video Recording
Capture 4K Frame Grabs from Video
Wi-Fi for Remote Operation and Live View
IR Night Mode
Those are certainly very impressive features for a consumer camcorder, and looking at specs such as 1080p/240fps for example – this is easily enough to make most professional camcorders blush, but let's get real here – this is a consumer/prosumer gadget. However, it looks like a very solid one, and quite possibly the next camera I'd pickup for my vacation if I was in the market for a new camera for next Summer.
The only other 4K prosumer camcorder Panasonic have is the HC-X1000, which is a hand held unit priced at the 3,500 mark and geared towards videographers/and or event shooters. This new one here, and its also newly announced sibling – the HC-VX870 (priced at $899) are more for the casual shooter. The VX870 is basically the same camera, but minus the Twin Camera – or the ability to shoot picture-in picture. Both models also lack an electronic viewfinder.
However, you've got great slow-motion at 1080p (120fps more like, as the camera uses interpolation to get to 240fps by making up frames, not ideal, but it can work in certain conditions) and 5-Axis Image Stabilisation, not to mention 4K UHD at 30p for added sharpness and enhanced detail if this is what you're after. Currently, availability is estimated at late Feb/early March 2015.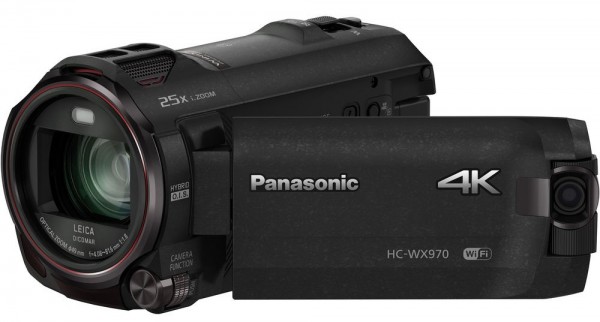 Check out the full specs and features of the HC-WX970 4K camcorder from B&H below.
This camcorder can capture video at 4K UHD (3840 x 2160) resolution at 30 frames-per-second, four times the resolution of full-HD video. With that resolution, you can us the 4K Photo Mode to extract individual frames from your videos and create high-quality photographs. Panasonic's CrystalEngine 4K chipset reduces rolling shutter artifacts from the sensor by increasing readout speed. When stepping down to full HD resolution, the CrystalEngine 4K can record slow-motion video at up to 120 frames-per-second, with frame interpolation it can slow the video even further by emulating a 240 fps recording.
In order for a 4K camera to perform at its best, a sharp, high-quality lens is needed. Through their lens design partnership with Leica, Panasonic incorporated a Leica Dicomar 20x optical zoom lens with four separate optical groups and a maximum aperture of f/1.8. To keep excessive image vibration to a minimum, Panasonic included its HYBRID OIS system into this camcorder. The HYBRID OIS system is capable of compensating for five directions of vibration using both optical and electronic stabilization.
The WX970 camcorder is capable of recording two video streams simultaneously with its picture-in-picture mode. On the side of the articulating screen, there is a rotatable secondary camera to capture a self-portrait or another angle while recording 4K video with the main camera. The picture-in-picture mode is expandable using the built-in Wi-Fi. Instead of using the integrated secondary camera, you can use the camera on your smartphone for more flexibility.
Twin Camera Operation
The HC-WX970 features a secondary camera built into the edge of the LCD monitor. This additional camera provides 270° panning and ±20° tilting for recording two angles simultaneously. The twin camera operation also features a narration mode to record ongoing commentary while shooting. For more versatility, you can connect your smartphone via Wi-Fi and use that instead of the built-in secondary camera. With this functionality you can shoot from alternate distances or angles for a variety of picture-in-picture images.
HDR (High Dynamic Range) Movie Mode
By combining two images taken with different exposure times, the HDR Movie function suppresses blown highlights and blocked shadows for crisper, clearer videos. With HDR you can maintain gradation in your images in difficult shooting situations, like when your subject is back-lit. 
Baby Calendar / Stop-Motion Animation Assist
Set the baby's name and birthday to display thumbnail images of scenes recorded on and around that date, making it easy to find the scenes you want. By moving the subject slightly and shooting still images, you can create a unique animated slideshow. Previously taken photos are displayed with an onion skin effect for easy layering.
Creative Control
Built-in filter effects including Miniature, 8mm Movie, Silent Movie, and Time Lapse Recording let you match your video recordings to the shooting situation.
Full-HD Slow Motion Video
The HC-WX970 records Full-HD (1920 x 1080) video at 120 fps. For a more dramatic slow motion effect the of the Crystal Engine's Intelligent Frame Creation interpolates frames to achieve an equivalent of 240 fps. You can easily switch to slow motion while recording with a simple touch on the LCD screen. 
High-Speed Precision Autofocus
The image sensor has a 60 fps readout enabling quick focusing speed, stability, and tracking performance.
Level Shot Function
Level Shot automatically detects and corrects tilting in images. It can be adjusted to three different levels-OFF, Normal or Strong-depending on shooting conditions.
5-Axis HYBRID OIS
Stabilized on 5 axes (pan, tilt, and roll axes, plus horizontal and vertical directions), the HYBRID OIS suppresses blurring in your videos when not using a tripod or other stabilizer.
Multi-Manual Dial
Several in-camera functions can be controlled by the Multi-Manual Dial these features include:
Focus
White Balance
Shutter Speed
Iris
Sharpness
Color Saturation
Brightness
Wi-Fi Functionality
One-touch Connection – NFC lets you instantly connect a smartphone or tablet to the camcorder with just one touch. Even without an NFC phone, QR codes are provided to make Wi-Fi settings.
Remote Shooting / Remote View – The "Panasonic Image App" lets you use a smartphone or tablet as a real-time remote to control the camcorder from a distance. View photos and video directly from the camcorder on a smartphone or tablet, and upload to a social networking site.
Real-Time Broadcasting – You can live-stream events on USTREAM as they are being recorded in Full-HD resolution (requires a wireless access point).
Baby Monitor – Check on the baby anytime from anywhere with a smartphone or tablet. Push Notification sends an instant alert when the audio sensor detects the baby waking or crying (requires a wireless access point).
Home Monitoring – When you are away from home, your camcorder can record high-quality live video and you monitor and speak to your family or pets at home from your smartphone or tablet.
Auto Transfer (Wireless PC Copy) – Images are transferred from your camcorder to your PC via the wireless access point at home.
Highlight Playback and Easy Share – You can enjoy Highlight Playback with a smartphone or tablet right after shooting. Favorite scenes can be shared on SNS with simple drag and drop operation.
Wireless TV Playback – An access point at home can be used to transfer data wirelessly to the TV or a tablet in the living room, or other rooms in the house (requires a wireless access point).
Claim your copy of DAVINCI RESOLVE - SIMPLIFIED COURSE with 50% off! Get Instant Access!