3-axis stabiliser gimbals come in all shapes and sizes and for the past two years this has been a burgeoning market for video professionals. As these stabiliser devices grow in popularity, and more and more manufacturers enter the market, naturally prices go down as the technology evolves, and in the end we reap the benefits of increased production values to our videos. Whether it's a music video or just a video for fun, using small cameras or even smartphones can be a bit challenging when it comes to getting steady fluid shots, despite the fact that some smartphones for example like the iPhone 6 can produce impressive slow-motion shots. In the past, we've covered some rigging options for smart phones, and micro gimbals for GoPro's, compact cameras like the LX-100 and the BMPCC, and mirrorless ones like the GH4 and A7s. Check out also the pistol-grip style Nebula 4000 Lite, which is great for compact mirrorless cameras or GoPro's too, as well as the interesting offering from Shape.
A couple of companies such as Lanparte, and Big Balance have some gimbals for GoPro Hero4 and smart phones to help with that.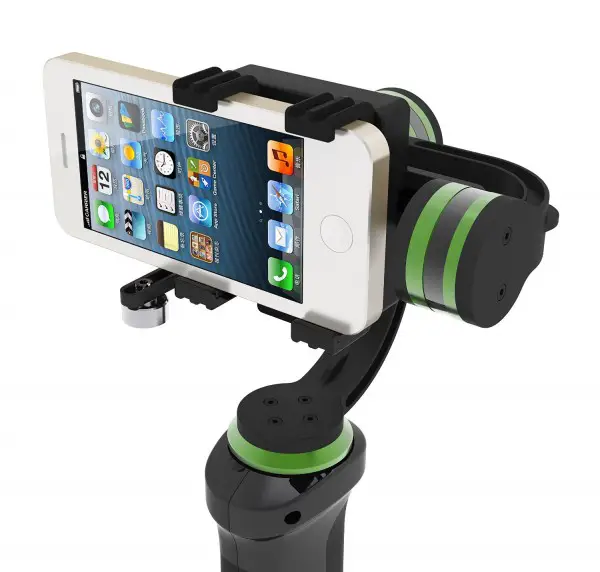 Check out the video review below by filmmaker Tom Antos, who recently used the Lanparte 3-Axis Gimbal to shoot a music video.
The Lanparte Handheld Brushless Gimbal for Smartphone and GoPro is a Plug-and-play gimbal that provides 3-axis active stabilization and designed especially for smartphones and GoPro cameras.
The gimbal from Lanparte uses a rechargeable battery plugs in to the comfortable ergonomic rubber grip, which can be easily removed. The battery lasts around 80 minutes and feature a battery life indicator at the bottom according to the manufacturer, although Tom reports in the video above that it can last a lot longer.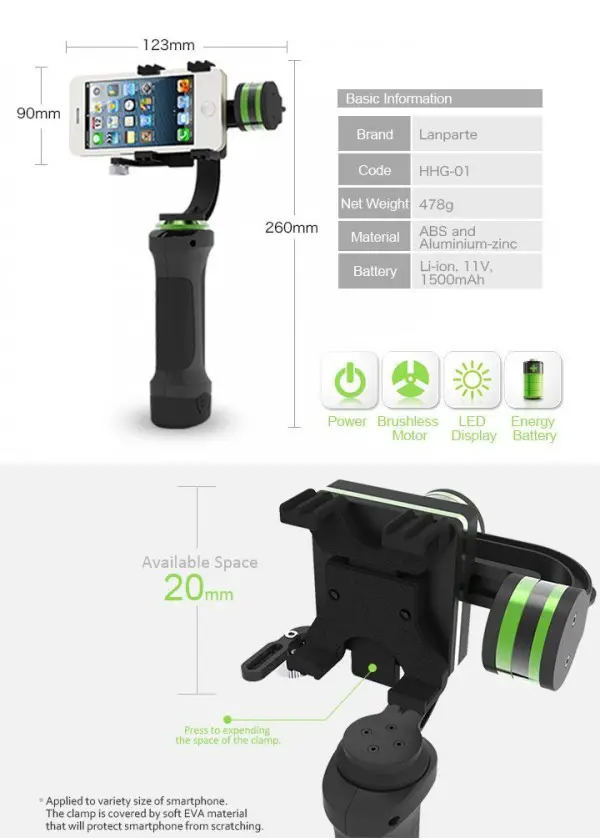 3-Axis stabilization for Pan, tilt and Roll is provided also. A smartphone clamp and a GoPro camera clamp are included. The smartphone clamp provides compatibility with smartphones under 5″ regardless of brand – iPhone, Samsung Galaxy S, etc. and the GoPro clamp supports all GoPro models available. In addition, the Gimbal kit includes a battery charger with plugs, and a foam lined, custom fit protective carrying case.
Kit Includes:
1 X Gimbal
1 X Cellphone Clamp
1 X GoPro Clamp
1 X Battery Grip
1 X Charger & Plugs
1 X Counterweight
1 X Foam Lined Protective Carrying Case
The Lanparte 3-axis gimbal looks like a solid build, pre-balanced, and ready to use out of the box, however it is a bit on the pricey side. Also you need to budget for an extra battery, those are around $80.
Compared to the similarly designed, but more capable Nebula 400 Lite, which is about $700 and a more robust unit, which offers more control and support for bigger cameras, for those interested in flying GoPro's or smart phones only, the Lanparte may be the better option, although a limited one at that, as it won't support something like a GH4 for example.
I've been researching small gimbals for a while, and I remember seeing a video from NAB last year, about a company called Big Balance – they make 2 and 3-axis gimbals and other stabilisers, and I came across a similar gimbal that they make for the GoPro Hero4 or 3+, and smartphones.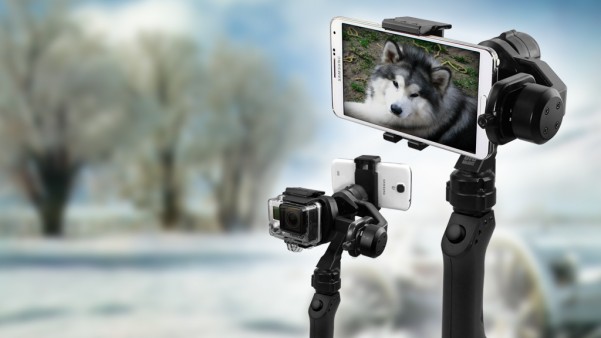 The 3-axis gimbal from Big Balance is called the Husky HY3, and at the moment information about it is rather limited, at least in terms of price and availability. Here are some specs I found on their website:
The Husky HY3 is a motorized gimbal stabilizer can helps user to eliminate unwanted shake while shooting. The 3-axis system can offer active motion cancellation. It enhances steadiness during footage shooting.

The Husky HY3 is equipped with brushless motor and sensor. It helps increase the battery efficiency, durability, and auto leveling accuracy. The easy clip and play camera/phone holder can let you to ready to shoot in no time.
Specs:
Operating Voltage: 11.1V
Battery Capacity: 800mAH
Dimensions: 130 mm (L) x 170 mm (W) x 285 mm(H)
Weight: 500g
Payload: 110g – 210g
Check out more of their gimbals in the video from NAB below via Cheesycam.
[via Tom Antos]
Claim your copy of DAVINCI RESOLVE - SIMPLIFIED COURSE with 50% off! Get Instant Access!