Just a little bit over a month after they announced a new flagship 4K ProRes/Raw recorder/monitor – the Odyssey7Q+, and a new firmware allowing 4K recording in 10bit 422 over HDMI for the GH4 and Sony A7s, Colorado based Convergent Design is yet again making a very tempting offer to all shooters considering a purchase of an Odyssey7Q+. Similar to the original Odyssey7Q price drop to $1,795 a few months back, now for a limited time only, every purchase of an Odyssey7Q+ from an authorised reseller, (B&H has the recorder currently priced at $2,295) will come with 2 Free 256GB SSDs in the box, which translates to instant massive savings of $800. Prior to the promotion, all Odyssey family recorders came without SSDs and one needed to purchase the media separately in order to be able to recorder onto the unit. Unlike competitor recorders like the Atomos Shogun, the Odyssey7Q+, alongside the Odyssey7Q and Odyssey7, require proprietary SSDs to record, which are more expensive than off-the-shelf SSD drives from third party manufacturers.
This is a terrific deal for anyone looking to get a monitor/recorder for their camera, and the Odyssey7Q+ pretty much supports any HDMI camera out there, however for Raw and 4K/2K recording options – please visit Convergent Design's website for supported models and Raw recording licenses, which are extra. Sony FS7 and FS700 shooters, who do not have a 4K Raw recorder have a great deal in front of them as the savings of $800 can be put towards the purchase of lenses, or extra media, batteries, whatever. You save $800 by not having to by 2 x SSDs. Period. And that doesn't happen often.
Despite the restriction on what media one can use with the Odyssey7Q+, there are some significant benefits the Convergent Design proprietary media offers over cheaper alternatives from 3rd party manufacturers usually found in other recorders. Such benefits include low power draw, high sustained read/write speeds, Power-Loss protection preventing file corruption, and robust durability amongst others. Read more about the Convergent Design solid state drives in the update below:

From Convergent Design:
Any recorder is only as good as the media it records to.  Convergent Design believes that the only safe and proper way to capture professional video and RAW data from today's modern motion picture cameras is to use media that one can absolutely trust.  All Odyssey SSDs are tested, certified and warrantied to work with our Odyssey monitor/recorders.
Odyssey SSDs are available in 256GB, 512GB and 1TB.  All Odyssey SSDs are compatible with all of the files the Odyssey monitor/recorders can capture, no matter the resolution, frame rate, codec, format, RAW data structure, or bit rate.  Odyssey SSDs are the most reliable media available for any monitor/recorder.
For a limited time, the Odyssey7Q+ monitor/recorder will ship with two free 256GB Odyssey SSDs included.  With two 256GB SSDs, the Odyssey7Q+ can record more than an hour of 4K Apple ProRes and more than five hours of HD Apple ProRes.  Additionally, two 256GB Odyssey SSDs allow for enough data capture speed to record 4K60p RAW from the FS7, FS700, and C500 as well as 2K240p RAW from the FS7 and FS700.
All of the other formats the Odyssey7Q+ can capture are also supported.  With two SSDs, one can be downloading files while the other is used to record more material, eliminating downtime and delays at the end of the shooting day. Learn more about "The Unparalleled Strengths of the Odyssey7Q+".
This limited time deal is for the Odyssey7Q+ only.  The two 256GB Odyssey SSDs (a $790 value) will ship in the box with the Odyssey7Q+.
For more information about the impressive Odyssey SSDs, please refer to our white paper, "Why to Trust Your Footage to Odyssey SSD's".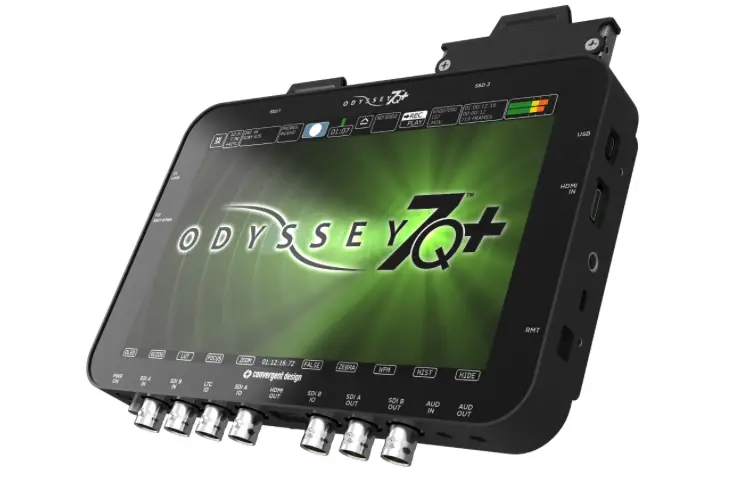 Odyssey SSD Three-Year Warranty
"Odyssey SSDs are the most reliable media available for any monitor/recorder.  They have high sustained read & write speeds to capture high data loads without error and offload them quickly.  Odyssey SSDs are rated for long life with high performance throughout, and include Power-Loss Protection so that files are not corrupted or lost if the recorder loses power.  They are built to robust and consistent standards set and maintained by Convergent Design.
With the confidence of the performance and reliability of the Odyssey SSDs, Convergent Design has extended the warranty period to three full years.  All new Odyssey SSDs will ship with the three-year warranty.  For the thousands of Odyssey SSDs currently in use, the next firmware release for the Odyssey monitor/recorders will include an update of the warranty end date that is stored on the Odyssey SSDs.
Our next firmware release will automatically update the SSDs when they are inserted into an Odyssey monitor/recorder.
Convergent Design warrants Odyssey SSDs to maintain full read/write performance and stated capacity for a period of 3 years. Physical and/or electrical damage to the SSDs are excluded from this warranty.
 Odyssey7Q+ Includes HDMI Cable
Many Odyssey7Q+ owners wish to use their monitor/recorders on small cameras such as the Panasonic GH4 and the Sony A7S.  Using thick, heavy HDMI cables can prove difficult, so beginning today Convergent Design will include an HDMI cable solution with every Odyssey7Q+.  This cable is three feet long and thin enough to be able to coil up any excess behind the Odyssey monitor/recorder.
Convergent Design has produced a short video explaining some of the many virtues of the Odyssey SSDs."
B&H Link: Odyssey7Q+ OLED Monitor/Recorder – $2,295
Claim your copy of DAVINCI RESOLVE - SIMPLIFIED COURSE with 50% off! Get Instant Access!