I just love the concept of the GoPro cameras! So small, yet capable of yielding incredible pictures and video in a size I still cannot fully fathom. Pick it up, stick it anywhere, whether it's a fixed surface, car mount, harness, helmet or drone and capture your stories. No wonder it's taken the world by storm and can just as easily be spotted capturing super-low or impossible angles on Hollywood films, TV drama's as well as capture your next door neighbours morning bike ride. In 2014, the GoPro Hero4 Black made 4K capture a reality for everyone, and now Polar Pro has a neat accessory to take your adventure to a new level, by giving you enough power to last a whole day of skiing.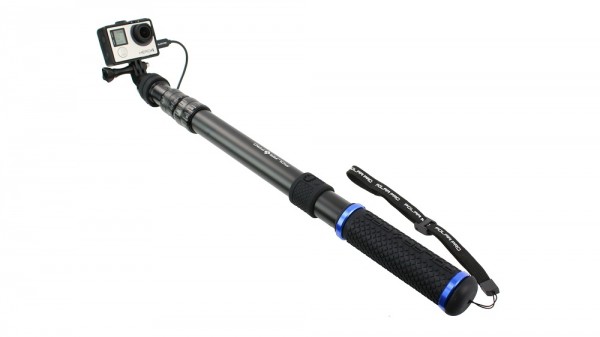 The PowerPole from Polar Pro is a telescopic extension pole for GoPro Hero cameras with an integrated 5200mAh battery that allows you to film for up to 10 hours on a single charge. It extends from 17 to 30″ and has an all-aluminium construction, making the pole is both durable and lightweight at only 13 ounces. The pole features a three-prong GoPro mounting interface and two full size USB power outputs for charging multiple devices at once. The PowerPole's battery is recharged via micro-USB port right above the grip.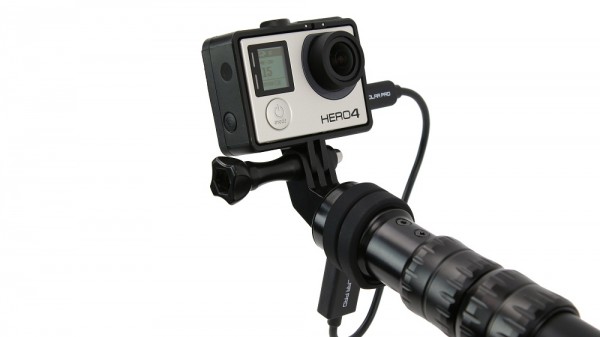 In order to charge/power your GoPro HERO camera while filming, you will need to use a frame or housing that allows access to camera's the mini USB port. Included with the PowerPole is a thumbscrew, micro-USB cable, 6″ mini USB cable, and a wrist lanyard come included.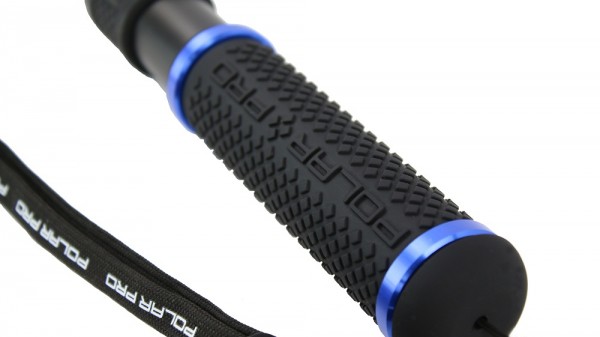 When filming in cold conditions the battery of the GoPro suffers dramatically. The PowerPole provides up to 8 hours of extended film time, making it the perfect solution for all day ski and snowboard trips. The pole is splash resistant against falls, light snow, and light rain (NOTE: it's not waterproof). However, exposure to heavy rain and snow is not recommended. The dual USB ports make it perfect for charging other devices, such as your phone, while skiing or in the lodge for lunch.
Highlights
Compatible with all GoPro Cameras
Ultra-durable contrustion
180 day warranty on manufacture defects
5200 mAh battery built into pole
100% aluminum construction from tip to base
Extends from 17 to 30 inches
Weighs only 13 ounces
Splash-proof port covers
Extends film time up to 10 Hours
Included in the box:
PowerPole
Leash
Thumbscrew and nut
GoPro Tip
Micro-usb PowerPole charge cable
6 inch Mini-usb GoPro charge cable
Instruction Manual
The PowerPole definitely solves one of the main headaches with using cameras of this caliber – and that is power. I used to own a GoPro Hero3 and do recall stacking up on lots of batteries. Not that you shouldn't be doing this anyway just in case for situations where having the GoPro mounted to a stick/pole is not feasible, as in a car mount scenario for example, but having a PowerPole for those action "selfie" shots can be quite useful.
The PowerPole is on sale at B&H for a $100 minus a penny.
For more info on the PowerPole head over to Polar Pro.
Claim your copy of DAVINCI RESOLVE - SIMPLIFIED COURSE with 50% off! Get Instant Access!