The Atomos Shogun 4K HDMI recorder/monitor made for a great Christmas present for those who pre-ordered shortly after the NAB announcement as the highly anticipated recorder/monitor started shipping. Sony A7s shooters in particular were able to finally get 4K (UHD) out of their mirrorless camera and we've seen some incredible 4K footage captured with the A7s/Shogun combo already. However, there's a few features yet left for Atomos to implement, mainly playback, DNxHD, and 3D LUT support. Those key features has sadly been delayed (playback is coming in Late January) due to some difficulties, which I am sure the team at Atomos are working hard to resolve soon. See the details of the latest 6.02 firmware for the Atomos Shogun, which was recently released: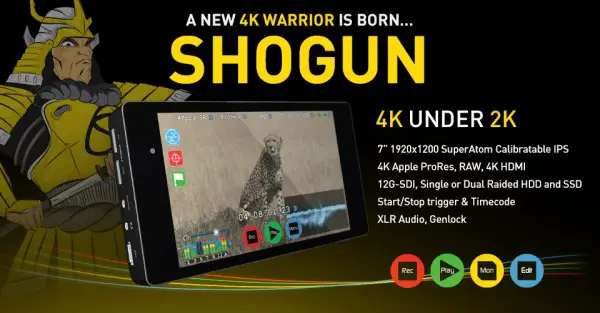 Atomos Shogun Firmware 6.02 / Download
This update contains all the features of the previously released updates.
Enhancements and Fixes:
* Fixed occasional 1/2 blue frame chroma swap (Yr Yb) when recording 4K 30p on A7s and GH4.
* Implemented user feature request. WFM to automatically minimise from full screen or bottom 3rd to mini in order to monitor the display.
Delayed Features:
* Playback – Unfortunately we have experienced some difficult issues, which are being solved now. We now estimate end of January for this release. It could be sooner if solving these problems goes well. We apologise once again for these delays and appreciate your patience.
* DNxHD – We expect Avid DNxHD to be available mid February
* 3D LUT's – Expected March
* Cinema DNG – Due to the delays in releasing playback and DNxHD, Cinema DNG will also be delayed until March. However we can let you know that the following are planned to be implemented for RAW support: FS-RAW (FS700, FS7), C500, Arri RAW, Panasonic V-RAW
Known Issues (Atomos):
* Rolling timecode trigger does not work at 1080p50/60.
* RED & C500 SDI 1080p50/60 bug found.
Known Issues (3rd party):
* Transcend media only works if inserted with unit already turned on
* OCZ media not recommended
* BMD 6G-SDI products not compatible in UHD4Kp60. Shogun is compliant with the current SMPTE 6G-SDI standard, the Hyperdeck Studio tested was not compliant. Until BMD update to the current SMPTE provisional 6G standard ST 2081-1:201x (Version 4, 2014-06-04) on their 6G products, Shogun will not work with these devices.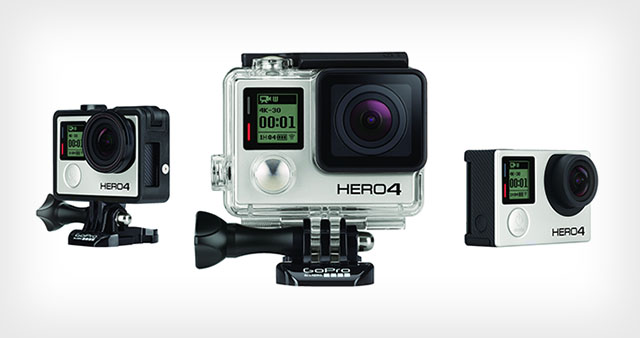 The GoPro Hero4 Black and Silver are also getting a firmware update next month. The GoPro Hero4 Black gets even higher frame rates at 240fps in 720p mode, as well as 2.7K/60p, both very welcomed options for more creative shots, while the Silver version gets some time lapse and burst photo updates. The firmware update will be available for download in February.
Here's what GoPro's blog says about the new firmware update:
Next month GoPro will release some awesome new updates for the HERO4 Black and HERO4 Silver that will amp the camera's performance, capabilities and convenience even higher. Stay tuned to this News page for details on when the new firmware is available, but in the mean time, here's a sneak peek at what features the updates will unlock:
HERO4 Black and HERO4 Silver
Time lapse video mode – Capture Time Lapse videos automatically—no post-production needed. Showcase a sunrise, road trip or family gathering as a short, sharable video.
30/6 burst photo – Introducing a new way to never miss a moment. Capture 30 photos in 6 seconds—perfect for longer duration fast-action activities like surfing and snowboarding.
Auto rotate – Automatically adjusts capture orientation to right-side up when the camera is mounted upside down.
HERO4 Black
720p240 fps video – Record ultra high frame rate video at a staggering 240 frames per second for liquid smooth slow-motion playback
2.7K60 fps video – Capture cinematic, high-resolution 2.7K footage at an impressive 60 frames per second
HERO4 Silver
Add HiLight Tags during playback – Now you can mark key moments both while recording video and playing back content on the built-in touch display to quickly find highlights for easy editing and sharing.
[via Newsshooter]
Claim your copy of DAVINCI RESOLVE - SIMPLIFIED COURSE with 50% off! Get Instant Access!