Each year towards the end of January, thousands of cinephiles, filmmakers and film biz heavyweights descend on snowy Park City, Utah for what is arguably the most important film festival in the world – the Sundance Film Festival. Each year, more and more films compete, new sidebars and events are introduced to such extent that it is becoming more of a film market and a non-stop, 10 day long boozefest for celebrities and sponsor brands than it is for the films in the festival and the filmmakers behind them.
However, despite that fact, there's still some fascinating independent films among the litany of "independent" films with multi-million dollar budgets and Hollywood stars like Keanu Reeves. Even though I am a fan of Eli Roth's early work (Cabin Fever), and his new flick "Knock, Knock" apparently was shot on the Canon 1DC, what gets me is that he's an established filmmaker making a film with a very well known Hollywood actor… I guess the days of films like Kevin Smith's "Clerks" getting into Sundance and wowing audiences and distributors alike are long gone. But there's still hope.
Photo: REUTERS/Jim Urquhart
Such are the films in the list below, and each year, not only at Sundance, but at all big festivals, there's low-budget and nano-budget (not sure if that's an official term…) films that utilise powerful and affordable tools to tell their stories. A few years ago, those movies would have probably been shot on the 5D mark II – the camera of choice for filmmakers on a shoe string budget. Nowadays, we see and will continue to see more and more independent films shot on Blackmagic Design cameras, due to their low-budget "friendly-ness" in the money department and very potent visuals.
It's fantastic to see feature films that may have even had the budget to use "bigger cinema" cameras like EPICs, Sony F55s or Alexas, but stuck with using Pocket cinema cameras, whether versatility or price, one thing is certain – the Sundance selection committee probably didn't care what they shot on as long as the story was captivating and worthy of their stature of a festival.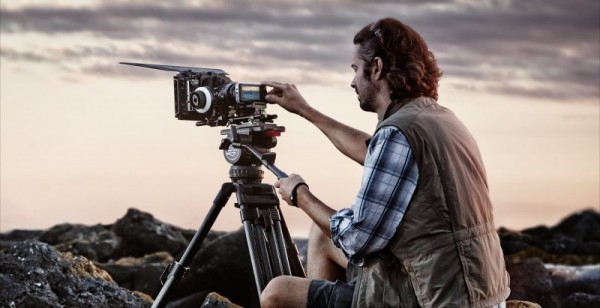 So if you're having doubts what to shoot your feature film on, read on. It doesn't even have to be a dedicated camera – these guys shot a Sundance film on an iPhone 5 and got a distribution deal with a major distributor. Just some food for thought.
Blackmagic Design Press Release (plus some posters and clips)
Blackmagic Design would like to congratulate the large number of films in the 2015 Sundance Film Festival competition that were shot and finished using Blackmagic Design products. Some of the most anticipated movies at the upcoming festival were shot using Blackmagic Design cameras, including Oscar winner Daniel Junge and Johnny Knoxville's "Being Evel," while more than 20 films at this year's festival were color graded using DaVinci Resolve.
The Sundance Film Festival has introduced global audiences to some of the most groundbreaking films of the past three decades. This year's festival will be held in Park City, Utah from January 22 – February 1. Inclusion in the festival's competition is one of the most prestigious honors an independent film can achieve, and Blackmagic Design products continue to be used by a huge number of independent filmmakers creating amazing films.
The Sundance films that used Blackmagic cameras include:
Being Evel, Director and DP Daniel Junge: Blackmagic Cinema Cameras as well as Blackmagic Design's Teranex 2D Processor and DaVinci Resolve;
Bob and the Trees, co DPs Chris Teague and Danny Vecchione: Pocket Cinema Cameras and DaVinci Resolve, Colorist Nat Jencks of Outlier Post;
The Strongest Man, DP Tom Garner: Production Camera 4K and DaVinci Resolve, Colorist TJ Nelson;
Things of the Aimless Wanderer, DP Kivu Ruhorahoza: Blackmagic Cinema Camera and DaVinci Resolve; Colorist Joseph Bicknell.
Things of the Aimless Wanderer [TRAILER] from Moon Road Films on Vimeo.
Sundance films graded using DaVinci Resolve:
3 ½ Minutes, Colorist Greg Fisher of Company 3;
Best of Enemies, Colorist Andrew Balis at Different by Design, with Blackmagic Design's Teranex 2D Processor also used on the film;
Call Me Lucky and The Overnight, Colorist Aaron Peak of Tool + Dye;
City of Gold, Finders Keepers** and The Hunting Ground, Colorist Brian Hutchings at Different by Design;
Chorus, Colorist François Delisle of FILMS 53/12;
Christmas, Again, Colorist Jason Crump of Metropolis Post;
Don Verdeen and Z for Zachariah, Colorist Alex Bickel of Color Collective;
End of the Tour, Colorist Bryan McMahan of Modern VideoFilm;
Entertainment, Freelance Colorist Joe Malina, Colorist Lynette Duensing of CINELICIOUS;
Every Day and People, Places, Things, Colorist Nat Jencks of Outlier Post;
Glasslands, Colorist Eugene McCarthy of EMC Post;
Homesick, Colorist Dylan Hopkin;
I Am Michael, Colorist Tyler Fagerstrom of CINELICIOUS;
I Smile Back, Colorist Roman Hankewycz of Harbor Picture Company;
Kurt Cobain: Montage of Heck, Colorist Shane Harris of Company 3;
Nasty Baby, Colorist Jeff Altman of Color Collective;
Paris is Burning, Colorist Gregg Garvin of Modern VideoFilm;
Slow West, Colorist Rob Pizzey of Goldcrest Post;
Strangerland, Freelance Colorist Deidre McClelland at Soundfirm;
Tangerine, Colorist Luke Cahill at Different By Design;
The Nightmare, Colorist Andrew Balis of Tool + Dye;
The Diary of a Teenage Girl and True Story, Colorist Tom Poole of Company 3;
Umrika, Colorist Stefan King;
Welcome to Leith, Colorist Ken Sirulnick of Glue Editing & Design NYC.
Claim your copy of DAVINCI RESOLVE - SIMPLIFIED COURSE with 50% off! Get Instant Access!