Quality and affordability when it comes to lenses, especially to cine primes is a rare occurence. Simply not many options exist. Samyang/Rokinon do make very nice cine-vized lenses, but they are based on their stills variants and certain focal lengths have their quirks. For GH4 and BMPCC shooters there's a new option from Veydra, which ticks all the boxes – quality glass, proper housing, design and ergonomics, and very affordable for a cine prime lens class glass.
The Vedyra Mini Primes recently successfully completed their crowdfunding campaign and are getting ready to ship the 4 and 5 lens sets to Kickstarter campaign backers. Slight quality control issues delayed the 25mm and the 50mm lens. Single lenses have been shipping to campaign backers already. For those not familiar with the Veydra Mini Primes for M4/3 sensors/mounts head over to our coverage here, and listed to our Podcast episode 24 with founder Ryan Avery, who shares some excellent insight on the development and details on their Mini Primes for Micro Four Thirds.
We've been following closely, and just yesterday a new 85mm T2.2 lens was added as well as some new exciting updates, which you can check out below.
Here's what Veydra founder Ryan Avery shared in the most recent update:
We had some delays in shipping the the 4 and 5 lens sets due to an intentional withholding of the 25mm and 50mm lenses until they were perfect.  We've had the 6 Lens Case, Formatt Firecrest Filters, D|Focus Accessories and the 16mm and 35mm lenses for a couple weeks now but we wanted to deliver everything at once for a complete experience.

We will be shipping to all Backers on Monday and Tuesday February 23rd and 24th.  We apologise for the delay but we did what we felt was in everyone's best interest.

We have already shipped to many of you for single lens rewards and the response has been very positive so we are assured you all will greatly enjoy our quality and workmanship.
New 85mm T2.2 Mini Prime
We are pleased to announce the all new Veydra 85mm T2.2 Mini Prime! We've been working hard on making some new lens calculations and we are happy to announce that we will be shipping a new 85mm focal length at the end of this year.  The 85mm T2.2 M4/3 Mini Prime will have the same features as the other lenses identical length, focus/iris gears in the same position, plated brass mount, 80mm front diameter, and 77mm filter thread.  The 85mm is available for pre-order on Veydra.com and we will be sending a special offer for priority delivery to Kickstarter Backers.
We will also announce later this Spring a wider focal length than our current 12mm for those of you that desire something even wider.  We finalize the design on this lens and announce it in the coming months.  We hope to deliver everything we announce in the coming months before the end of the year.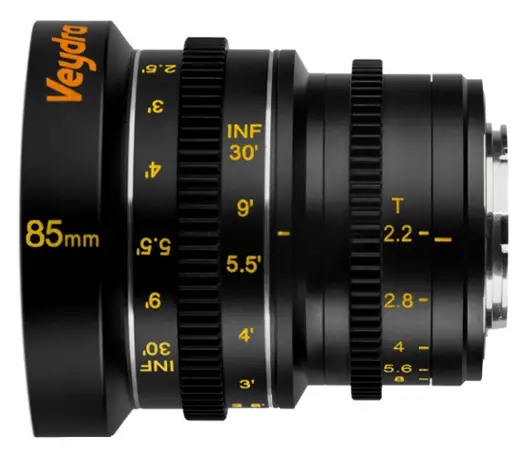 JVC LS300 Compatibility
We are pleased to announce that all current Veydra Mini Primes have been tested by JVC here in North America and they are compatible with the new JVC LS-300 4K camera. The Veydra Mini Primes in 25mm, 35mm and 50mm all cover the effective portions of the sensor on the LS300 with no sensor mapping required and the 16mm and 12mm also cover due to the variable sensor mapping technology found in the LS300.  We have had several Backers ask us about this camera due to it's larger Super 35 sized sensor in the native M4/3 mount and we are pleased to have had it tested by JVC here in North America directly to get confirmation.  If this camera meets your needs, then we are happy to say the Veydra Mini Primes appear an excellent match for true cine style shooting.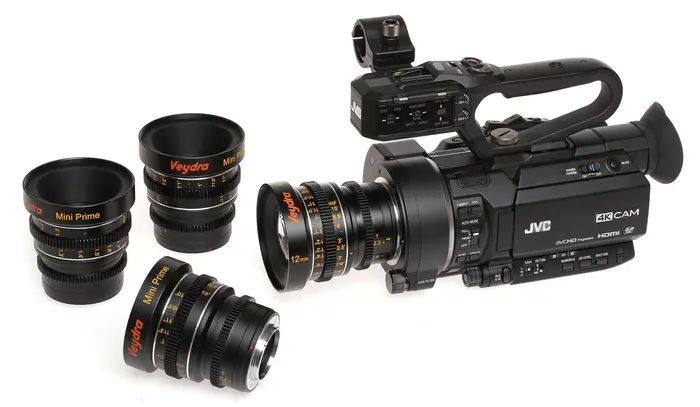 Here's a reminder of what makes the Veydra Mini Primes quite special:
All the Veydra Mini Prime lenses have the same features:
Resolution that exceeds 4K
Constant T2.2 aperture for easy lighting set ups
Cinema 0.8 module focus and iris gears
300 degree Focus rotation
Consistent Focus & Iris distance
9 blade iris for a round pleasing bokeh
Industry standard 80mm front outside diameter & 77mm filter threading
Similar length for quick lens changes
high quality aluminum housing
Brass plated mounts for durability.
Here's a lens test they did with Wide Open Camera. From Ryan:
Here are some more complete tests from the Panasonic GH4 for everyone to review. We are confident you will be happy with the performance of Veydra Mini Primes and we have put them up against some popular lenses. We have been working hard on this for the last 4 days so please understand we couldn't test everything against every lens on every camera. Lens tests are very difficult with multiple criteria and the possibilities are nearly endless. We feel that what we have given you here is a good representation of what the Veydra Mini Primes can do as if you were going to test them for rental.

On this Test we used a Panasonic GH4 and you will find the following; Focus Breathing, Color Matching within the set of lenses, Flare, Contrast, Skintones, and Bokeh.
Follow Ryan on Twitter, and also head over to Veydra.com to pre-order a full set, the new 85mm T2.2 lens and other kit. The Veydra story continues…
Claim your copy of DAVINCI RESOLVE - SIMPLIFIED COURSE with 50% off! Get Instant Access!