Over here at 4K Shooters, we dig filmmaking gear creators, who go against the grain and take their ideas/prototypes to the community via crowdfunding platforms, such as Kickstarter, in order to get their products of the ground. More often then not, such creators come up with some really innovative and disruptive products designed to fill a void in the marketplace, either abandoned or not tapped by traditional and more conservative manufacturers.
Whether it's jibs/cranes or dolly's, or gimbals, 360 degree cameras, motion-control sliders, or lighting equipment and grip accessories, filmmakers and smaller independent manufacturers utilise the incredible power of crowdfunding platforms to get stuff that we really want into a reality.
Of course, not every piece of kit or gear seeking funding meets its goal for one reason or another, but every now and then a crowdfunding project comes along that just makes you say – Wow, this is BIG! Just as it was the case with the Axiom 4K Beta open-source camera project by Apertus receiving overwhelming support from the filmmaking community and far exceeding their funding goal, today we have something very special.
If you're shooting video professionally on a Micro Four Thirds camera like the GH4, Blackmagic Cinema Camera MFT, or a Blackmagic Pocket Cinema camera, you've often had to adapt photographic lenses not in the native Micro Four Thirds mount to get the images you need. That does not necessarily mean the images your camera deserves.
However, Veydra are about to revolutionise not only the way your work with your camera, but also the way you think about using cine lenses thanks to their new Veydra Mini Prime Cinema Lenses. 
Veydra is a Premium Cinema Lens made specifically for filmmakers using Micro Four Thirds cameras such as the Panasonic GH4 and the Blackmagic Pocket Cinema Camera. Not only that, but the Veydra cine lenses also come with a price tag that won't cost you your marriage or your house.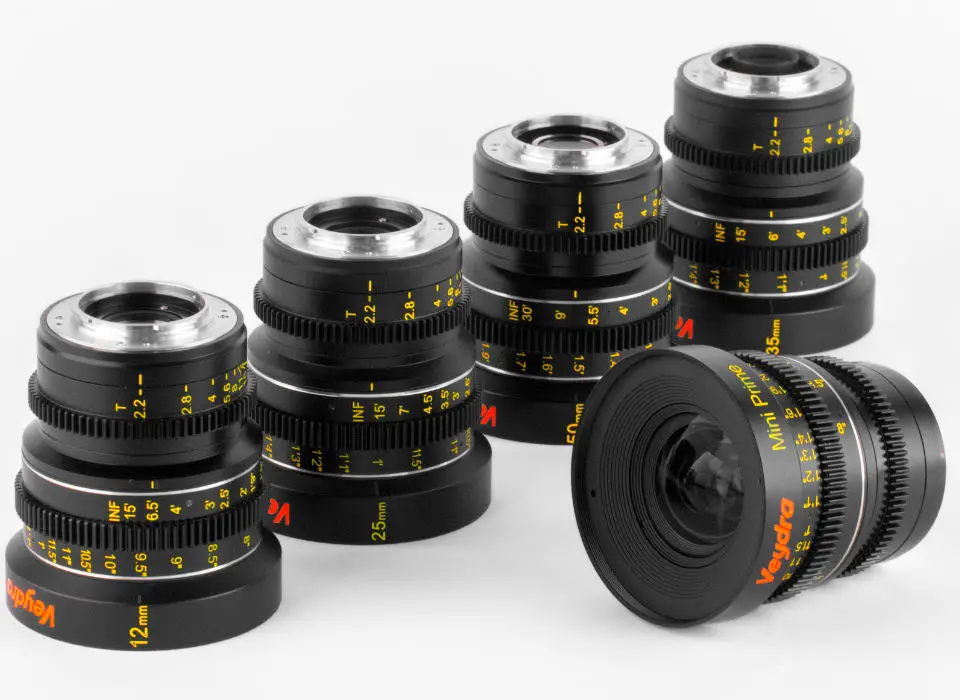 The very slick and totally unprecedented Veydra Mini Prime Cine Lens set for Micro 4/3 comes in a total of 5 purpose-built cine prime lenses – 12mm, 16mm, 25mm, 35mm, and 50mm all at T2.2 for the native Micro Four Thirds (Micro 4/3) mount covering MFT sensors and smaller – BMCC MFT and BMPCC.
And here's the best part – for the duration of the Kickstarter campaign, Veydra are offering the full set of 5 Prime Cine lenses to campaign backers for only $3,199 (a massive discount from the regular $4,895), which is less than what you'd pay for 1 x Cine prime lens from a well known German optics manufacturer.
Alternatively, backers can pick any one lens at a special price of $699, or get 4 Primes (16mm, 25mm, 35mm, and 50mm) for $2,499.
Veydra is a new optics company founded by Ryan Avery of Convergence Products – a distributor of high quality cinema camera and photography filters, optics, and accessories. Ryan, who has a solid background in the optics industry working prior for the likes of Schneider Optics and other highly regarded industry names for a number of years, banded together with optical and mechanical lens designer Jim Zhang to form the company.

So they decided to put their 40 years of combined industry experience into a solid set of truly affordable True Cinema Prime Lenses specifically designed for the Micro 4/3 format. Up until now such lenses did not exist. The Veydra Mini Primes will give the legions of GH4/BMPCC shooters out there a chance to own a set of real high-quality, no-compromise, cinema lenses and tell amazing stories with gorgeous images.
They are seeking to raise $50,000 in the next 30 days so they fast track the shipment of these lenses. See their Kickstarter promo below featuring Matthew Duclos of Duclos Lenses, a world-renowned lens specialist (don't just take my word for it, check out his "Circle of Confusion" blog – possibly the best lens blog on the planet, yeah Matthew Duclos knows lenses!) and Ilya Friedman, a GH4 & DSLR champion and owner of LA-based HotRod Cameras, one of the coolest camera shops around.
All the Veydra Mini Prime lenses have the same features:
Resolution that exceeds 4K
Constant T2.2 aperture for easy lighting set ups
Cinema 0.8 module focus and iris gears
300 degree Focus rotation
Consistent Focus & Iris distance
9 blade iris for a round pleasing bokeh
Industry standard 80mm front outside diameter & 77mm filter threading
Similar length for quick lens changes
high quality aluminum housing
Brass plated mounts for durability.
 Veydra Mini Prime lenses bring high quality cinema optics that exceed 4K resolution in a purpose built size and mount for the Micro 4/3 format. Veydra offers an unparalleled cinema quality prime lens line at a competitive price.  You can own a complete set of Veydra Mini Primes for the price of one full frame high quality cinema lens.
All the Veydra lenses, except for the 12mm (scheduled for June 2015 release) are expected to start shipping at the end of January 2015.
The fact that the lenses resolve more than 4K resolution is huge, but not only that, they are all T2.2 and have the same focus rotation and iris distance. This alone will make your and your AC's jobs so much easier, as swapping between lenses is not big deal – forget about "reverse" Nikon focus rotation or weird, limited and clunky focus ring on a photographic lens.
The fronts are 80mm standard for ease of using standardised mattebox sizes, and you can also use any 77mm Neutral Density, Vari ND, Circular Polarizer or any other screw-in filter you need if you are in a situation where you don't want to lug around a mattbox, like in a run-and-gun style shooting scenario.
The benefits of using proper cine lenses for video work on any camera are clear – you get higher quality optics with ergonomics designed for cinema use, without excess photographic features – such as AF or missing iris rings, as is the case on Canon EF lenses for example, requiring shooters to source adapters, often more expensive than the actual lens or camera they are using it on.
That's all fine all things considered if you lets say are shooting stills as well with your GH4, or if you are just shooting video for fun. However we're talking about a long-term investment here; an investment in a professional lens kit specifically designed for shooting moving images, not stills. A professional cine lens kit like the Veydra Mini Primes, which will long outlast not just your GH4, but the GH5 or whatever the next version is called. Such cine lenses are designed to last decades.
Veydra are committed to developing lenses specifically designed for camera systems, and not adapting lenses to fit different cameras, so it would be interesting to see if in the future they consider making a Super 35mm EF or Sony E mount set for example for other camera systems.
And because I know there will be those who'd ask if these are re-housed lenses, here's a quote from Ryan:
No these are purpose built optics. Accept no stills glass in cinema clothing! These are purpose built cinema lenses manufactured and designed by Veydra.
Often more experienced and wise cameramen would say – "invest in lenses, not cameras" and today this golden piece of advice rings true more than ever before.
Today we are really fortunate to have access to (extremely!) affordable cinema cameras and other professionals gear such as sliders, gimbals, cranes etc. Up until now, affordable cinema lenses where somewhat of a missing piece of the puzzle. Not anymore, as for the price of a decent telephoto zoom and a portrait lens from (insert any major Japanese photographic camera manufacturer) you can get yourself a real Cinema Lens kit and just keep upgrading cameras as they came out, not the other way around.
Have your lenses be the main part of your kit, not your camera. 
To donate and/or claim your Veydra Mini Prime Set visit their Kickstarter campaign. Follow Ryan on Twitter, and also check out Veydra.com and Convergence Products for further details. We'll be watching these guys closely and report on their progress. And oh yeah, they're totally going to fund this in no time, so better get yours at the promo price before they're gone.
Claim your copy of DAVINCI RESOLVE - SIMPLIFIED COURSE with 50% off! Get Instant Access!