NAB may be usually associated with big camera announcements and this year, unlike the last few years, the show seemed about lacklustre when it came to big camera announcements with the exception of maybe one from Sony (the big studio 4K beast – the HDC 4800), however the sheer number of exhibitors and manufacturers present ensures a diverse mix of all sorts of new product announcements beyond acquisition. On the audio side of things there were a few interesting announcements at NAB 2016, namely the MKE 440 from Sennheiser. The legendary microphone manufacturer announced a brand new affordable compact shotgun stereo microphone for DSLR and videographers, the MKE 440 at NAB 2016. The compact microphonic features a unique twin shotgun microphones mounted in a "V-Stereo" configuration for a more directional pick-up pattern, while still capturing naturalistic stereo sound in the direction of the camera.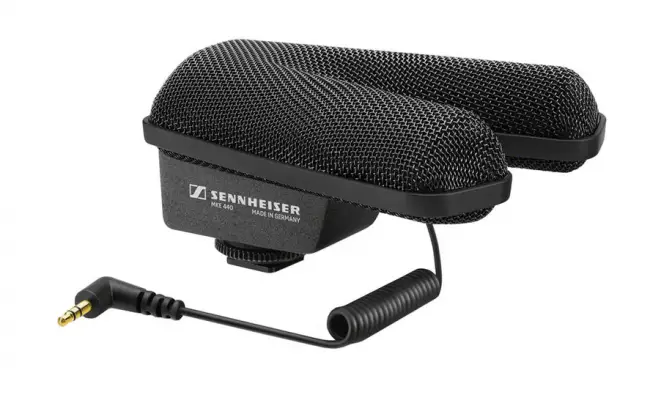 "The MKE 440 is not only the most compact stereo shotgun microphone on the market," said Kai Lange, Sennheiser product manager, Broadcast and Media. "Quite unlike other stereo camera microphones, it will predominantly pick up the sound from within the camera angle thanks to its new stereo principle." The result is a well-balanced mix between ambient sound and clearly comprehensible speech and dialogue. "This enables DSLR users to capture professional stereo sound in one go, which saves production time and effort," added Kai Lange.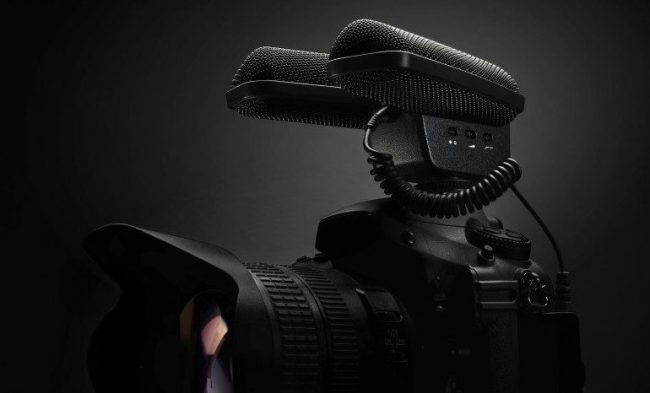 Sennheiser MKE 440 Features
Dual mini shotgun mics create frontal focus
Suppression of ambience and background noise
Built-in elastic suspension and wind protection
3-level sensitivity adjustment and low-cut
Compact, all-metal construction
Standard size camera shoe mount
The Sennheiser MKE 440 is targeting DSLR users and small compact camcorder shooters, whose cameras have a hot-shoe mount and a 3.5mm jack input.
Capturing an immersive stereo environment is a difficult task to achieve with conventional shotgun microphones, and good stereo mics are usually expensive and don't fall within the budget of many independent filmmakers. For example the Rode Stereo VideoMic X is awesome, but it costs $800! The MKE 440 on the other hand is priced quite affordably and more inline with its target audience at just $350/£250 UK.
The new MKE 440's rather unique design with two V-shape arranged mini-shotgun microphones mounted in the direction of the camera, thus capturing sound from the front as opposed to more traditional and designs such as AB, MS or XY arrangements. The downside of these classic stereo set-ups is that they are prone to capturing sound and noises from the sides – including any comments from the camera operator or people next to them.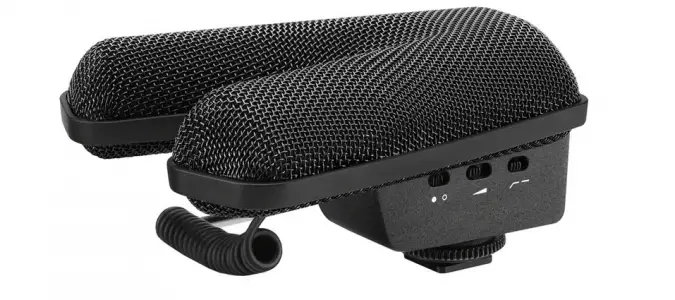 Technical Specifications
Dimensions – 67 x 106 x 128 mm
Max. sound pressure level – 132 dB SPL
Connector – 3.5 mm jack plug
Frequency response – 50 Hz to 20 kHz
Weight – approx. 165 g (without battery)
Pick-up pattern – Stereo, Super-cardioid
Operating temperature –10 °C to +55 °C
Operating time > 100 h
Power supply – 2 x AAA
Low-cut filter – switchable
Sensitivity – switchable
The mini-shotguns of the MKE 440 are matched and incorporate a super-cardioid pick-up patterns that overlap to create a front focus. The microphones are shock-mounted internally to reduce any handling noise and are protected against wind noise by a stainless steel micro-mesh. For strong wind, a special hairy cover is available as an accessory.
The design here is all-metal, the MKE 440 is ruggedly designed as one would expect from any Sennheiser product. The unit attaches to standard camera shoe mounts and also features a three-level sensitivity switch to adjust to softer and louder sound sources and has a switchable low-cut filter to eliminate low-frequency noise such as wind noise.
The MKE 440 is powered via two AAA batteries and the green LED of the on/off switch doubles as an indicator of low-battery. The LED will turn red approximately four hours before the batteries run flat, ensuring sufficient time to finish shooting.
The MKE 440 is expected to ship in June 2016 and currently can be purchased from authorise dealers like B&H for around $350.
Disclaimer: As an Amazon Associate partner and participant in B&H and Adorama Affiliate programmes, we earn a small comission from each purchase made through the affiliate links listed above at no additional cost to you.
Claim your copy of DAVINCI RESOLVE - SIMPLIFIED COURSE with 50% off! Get Instant Access!