Less than a year ago, Chinese camera manufacturer Kinefinity announced their plans to release an affordable digital camera capable of 6K resolution acquisition. We've covered their KineMINI 4K camera before numerous times, and we've see the images improve significantly over time compared to their Gen 1 models the KineRAW Mini and KineRAW S35. Early on when the KineMAX 6K was announced, many were skeptical due to the lack of footage and only a few 3D renders to go by, but just a few days ago, Kinefinity released the first 6K footage from their KineMAX 6K camera. And it's gorgeous. See for yourself the 4K Vimeo version below plus download the 4K H.264 clip from Vimeo.
Details on the crew and kit used:

Cameraman: Orlando Bassi (Movie Studio Bali); Location: Bali Island
Camera: KineMAX 6K Prototype, KineMOUNT+ PL mounting adapter;
Lens: Zeiss Compact Prime Set;
In-camera Codec: 6K KRW 5760 × [email protected];
Parameters: ISO 800/400;
6K Cineform RAW mov and 6K CinemaDNG by KineStation.
Edited by: Liu Qingqing(FCP X), Graded by: Hui Yun (Davinci Resolve)
No Sharpening or Denoise.
Boasting 16 stops of dynamic range (S35 at 3K via pixel binning some some aliasing and moire are expected), and 14 stops at 6K resolution, the KineMAX 6K as evident by the shots above can produce lovely skin tones and pleasant colour rendition. The vivid and organic imagery off the S35 CMOS chop is nothing short of amazing.
The 4:3 Anamorphic mode is another feature often demanded by working cinematographers today and the KineMAX can do a native 4K 4:3 frame as 4320×[email protected] 24/25fps. The camera also supports standard DCI 4K 4096 × [email protected] 24/25fps in 4:3.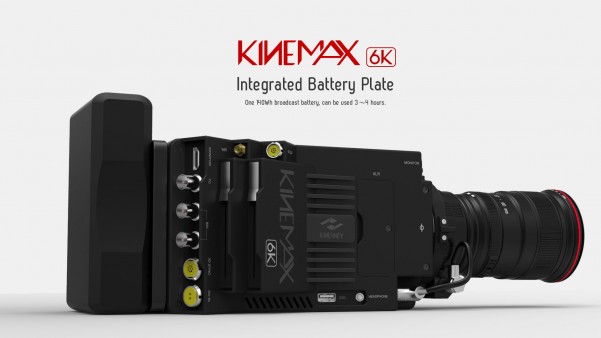 KineMAX 6K Specs at a Glance:
6K CMOS sensor
14f-stops / 16f-stops Binning 3K
1x 2.5″ SSD Slots
3G SDI & HDMI Video Outputs
In-camera MIC;
Support KineAudio with 48V Phantom Power XLR
Wifi Control Function
The amount of frame rates, sensor crops and codec options can be quite overwhelming – so the chart the guys at Kinefinity have is very helpful.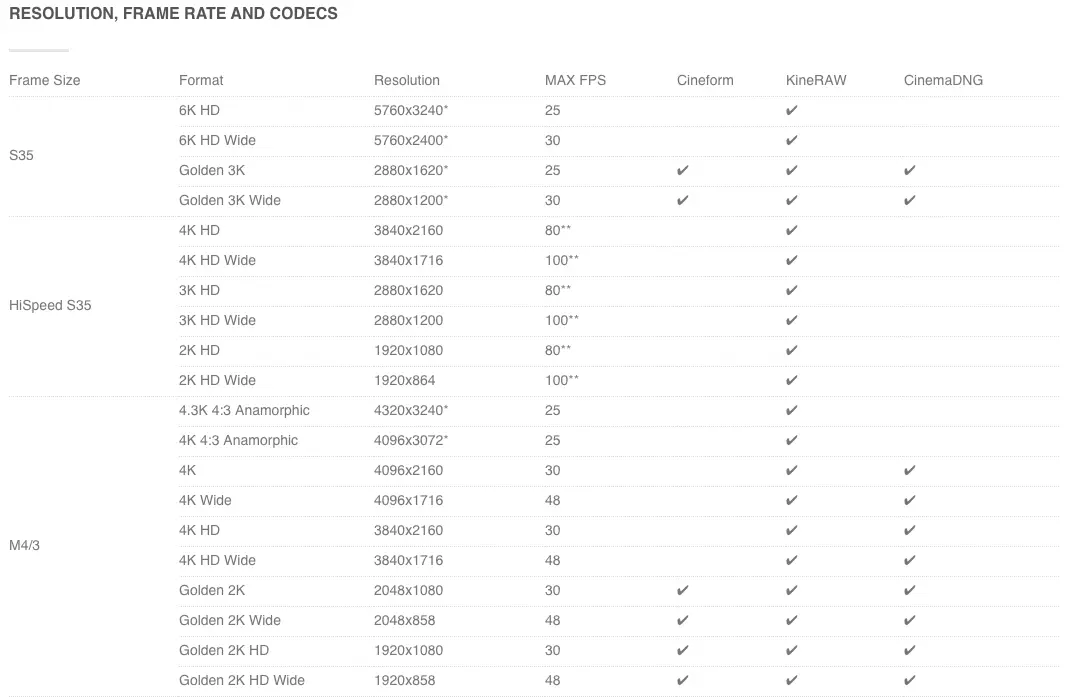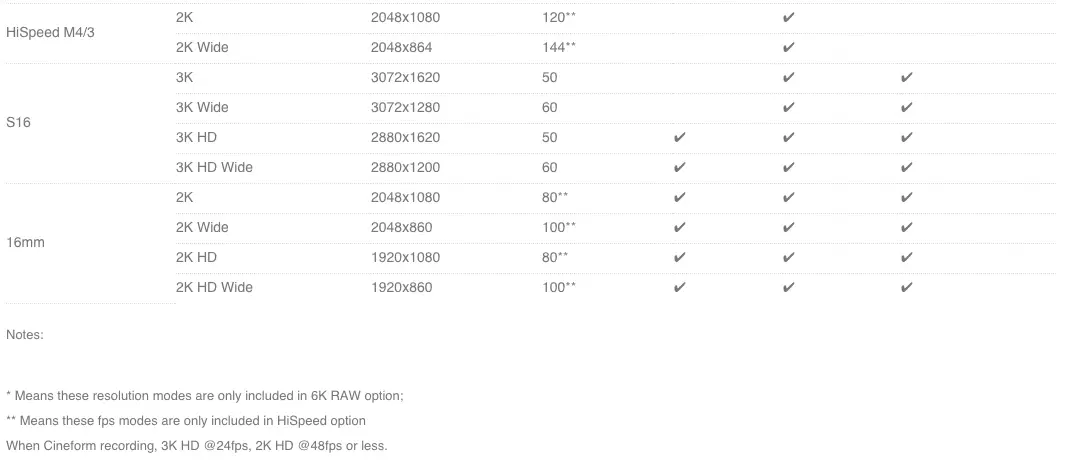 More on the workflow for the test shoot above and screenshots:
KRW footages were transcoded into 6K Cineform RAW mov by KineStation. The Cineform clip without LUT is logged; but Cineform clip with in-camera LUT seems normal and neutral. Following are some graded screenshots of this video, and comparison with logged clip or with in-camera LUT.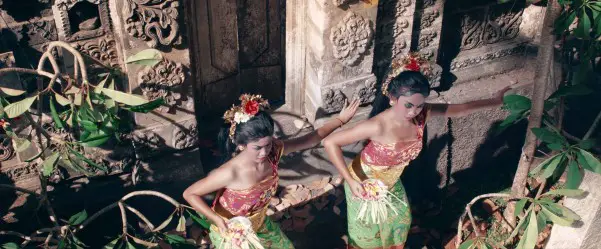 The KineMax 6K is expected to be start shipping in April 2015, and is available for pre-order directly from Kinefinity.com or from their official EU reseller – Germany based HDVideoshop. The camera comes in three different packages – Starter, Standard, and Professional (around € 14K). See the chart from HDVideoshop below for more info.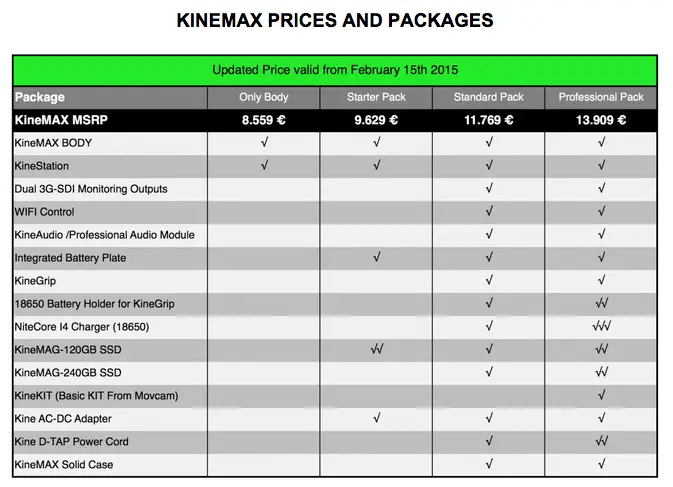 Get the graded outputs with different codecs or resolutions:
4K ProRes422 HQ (3.68GB)
4K H264 mp4 (920MB)
6K ProRes422 LT(3.61GB)
Download some 6K raw files and do your own grade:
6K Cineform (6K Cineform RAW by KineStation)
6K CinemaDNG (.dng)
6K KineRAW(.krw)(natively footages by KineMAX)
[via Kinefinity]
Claim your copy of DAVINCI RESOLVE - SIMPLIFIED COURSE with 50% off! Get Instant Access!