ARRI just announced the latest addition to their ever growing ALEXA family of cameras – the ALEXA MINI. Sharing the industry standard 35mm ARRI ALEV III CMOS sensor of the ALEXA Classic & XT range, the ALEXA MINI is in essence a lightweight, carbon fibre standalone miniaturised version of the ALEXA, that can be operated either wirelessly, or normally with the addition of the ARRI MVF-1 viewfinder, or an on-board monitor and controlled via the buttons on the side of the body. Coming in at just about 5 lbs/2.3 kg, the ALEXA Mini is lighter than the sort of sibling model – the ALEXA M Head (which does require an SxS recording module in order to record) alone, which weights about 6.4 lbs/2.9 kg, making it perfect for flying with handheld gimbals or unmanned areal systems.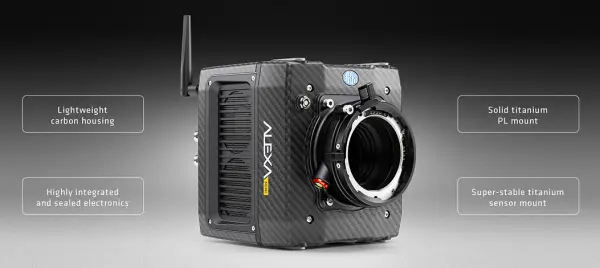 However, unlike the ALEXA M, which is pretty much the only other modern ARRI digital cinema camera that comes even close to the form factor of the new ALEXA MINI, and requires tethering to a recording module, the new ALEXA MINI can record internally onto CFast 2.0 cards in all flavours or ProRes up to 4444 in a variety of resolutions up to and including HD, 2K, 3.2K ProRes as well as 4K UHD.

4:3 Anamorphic recording is also included, in addition to 2.8K ARRIRAW up to 30fps output for external raw recording via a Codex recorder (and maybe the Convergent Design Odyssey7Q+ or another third party recorder in the future, this is yet to be confirmed).
High frame rate recording up to 200fps in ProRes is also included internally. The new ALEXA MINI is surely about to give the new RED WEAPON (which we're yet to officially see in full detail) or the RED Dragon Carbon Fibre a run for their money given the fact the cameras share quite a few common design features – such as lightweight carbon fibre bodies, titanium mounts (the ALEXA MINI will feature a Titanium PL mount with ARRI LDS support) and a small enough form factor to accommodate drones and 3-axis hand held stabilisers like the Movi M10/M15 and the DJI Ronin among other stabilisers capable of higher payloads.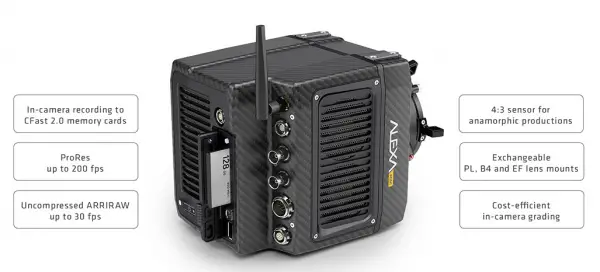 See the short promo piece "The Balloonist" below shot with the Movi M15 and the ALEXA MINI:
Behind The Scenes: ALEXA Mini with MōVI M15 and CineStar 8 multirotor from FREEFLY SYSTEMS: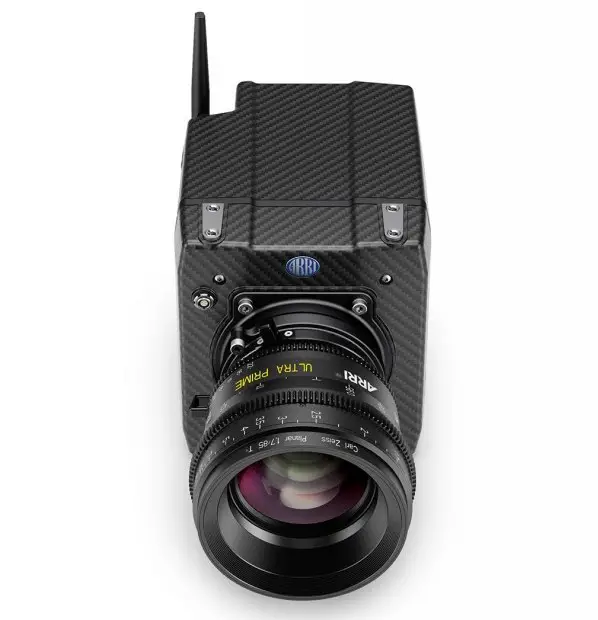 The ALEXA MINI features interchangeable mounts including PL, EF, and B4 for a variety of lenses already popular with video professionals. The ability to control the camera via Wi-fi from an iOS or an Android device, combined with the highly integrated and sealed electronics means the ALEXA MINI's body design is optimized for use with new-generation brushless gimbals, multicopters and other specialized rigs. A specially designed Codex recorder can take up to 4 Alexa Mini image streams to aid in 360 degree plate shots or other multi-camera setups.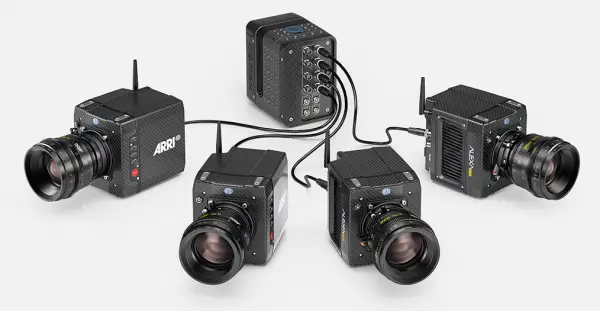 An Alexa in the palm of your hand. That's what it really is – the ALEXA MINI brings the world renowned ALEXA image quality in a form factor you can put in your overhead luggage. This being an ARRI camera, we won't expect it to be cheap, pricing has not yet been confirmed but is rumoured to be in the vicinity of 30-35,000 Euros. Pre-orders start next month, and the camera is expected to start shipping in May 2015.
ARRI have announced they'll do show the prototype of the ALEXA Mini for the first time, tomorrow at BVE 2015 in London. We'll be there to drool and take some snaps. Follow us on Twitter @4Kshooters for BVE 2015 updates tomorrow Tuesday 24th and Wednesday 25th Feb.
Full Press Release
ARRI announces the new ALEXA Mini, a versatile additional tool in the ARRI ALEXA camera range that combines a compact and lightweight form factor with the same unparalleled image quality that has made the ALEXA system a gold standard for the industry. Designed for specialized shot-making, the ALEXA Mini perfectly complements a full ALEXA shooting kit and allows crews to eliminate the complications of working with third-party cameras by keeping everything within a single system that is trusted all over the world.
To maintain ARRI's famously rugged build quality in a small and lightweight camera, a number of unique design solutions have been incorporated. These include highly integrated and environmentally sealed electronics, a lightweight carbon housing and a solid titanium PL mount that connects directly with the new internal sensor mount to ensure a super-stable flange focal distance, even when using large lenses. Nimble in use and hardy on set, the ALEXA Mini is a go-anywhere tool, easy to transport in backpacks or as carry-on luggage.
The ALEXA Mini can be operated in a number of ways: by wireless remote control, as a normal camera with the ARRI MVF-1 multi viewfinder attached, or with an on-board monitor and controlled via the user button interface on the camera body. Light enough to be comfortably held at arm's length in a hand rig, its compact size and extremely quiet operation also make it ideal for tight shooting conditions. The symmetrical design permits filming in any orientation, including upside-down and in portrait mode, while multiple accessory points enable highly creative mounting solutions. In addition, the ALEXA Mini's interchangeable lens mount can be replaced with any of those designed for the ARRI AMIRA, allowing the use of B4 video and EF mount stills lenses.
Equipped with a 4:3 sensor, automatic de-squeeze mode for anamorphic productions and frame rates of 0.75-200 fps, the ALEXA Mini records ProRes or uncompressed ARRIRAW either in-camera to CFast 2.0 cards or to a specially-designed external Codex recorder that can record image streams from up to four ALEXA Minis simultaneously — a compelling option for multi-camera setups such as 360° plate shots. Images from the ALEXA Mini will perfectly match those from all other ALEXA cameras, making the final grade easier and quicker.
Integrated functionality is at the heart of the ALEXA Mini's efficient and self-contained design. A built-in lens motor controller allows new active lens motors to be connected directly to the titanium PL mount, while ARRI Lens Data System (LDS) technology provides frame-accurate metadata that can save time and money both on-set and in post. Wi-Fi connectivity means that iOS or Android devices can be used to remotely control camera functions such as the motorized internal ND filters, which permit rapid responses to changing light conditions without adding bulk to the camera configuration.
The body design is optimized for use with new-generation brushless gimbals, multicopters and other specialized rigs. It is compact enough in the lens direction to allow the use of standard PL mount lenses even on lightweight and space-constrained rigs, such as gyro-stabilized aerial systems. The camera's superb low-light performance makes it perfect for underwater work; dedicated underwater housings are currently being developed by leading manufacturers.
Like the ARRI AMIRA, the ALEXA Mini can record 4K UHD ProRes images, facilitating real-time 4K UHD output and simple pipelines for high-resolution deliverables. More importantly, the Mini and all other ARRI cameras with the ALEV III sensor offer unrivalled overall image quality by focusing not just on spatial resolution, but also on other parameters such as colorimetry, skin tones and High Dynamic Range (HDR). This is equally true whether the chosen output is HD, 2K, 4K UHD or one of the native resolution outputs like uncompressed ARRIRAW 2.8K or ProRes 3.2K, ensuring that images captured with the ALEXA Mini are future-proof, whatever new industry standards emerge.
The ARRI ALEXA Mini is scheduled to begin shipping in May 2015, with orders being taken from March. A prototype of the ALEXA Mini will be on show at the British Video Expo (BVE) from February 24-26, 2015, in Booth J30.
Claim your copy of DAVINCI RESOLVE - SIMPLIFIED COURSE with 50% off! Get Instant Access!