Over here at 4K Shooters, we're huge fans of Convergent Design. As a long-time Nanoflash user myself (with my old AF101), I've grown used to the robust design and functionality of their recorders. These things are built to last. I've also used the Odyssey7Q on a few shoots with the Sony FS700, and can only say that it turns the camera into a whole new beast with 2K raw up to 240fps, and 4K Raw to 4K ProRes among many other additional recording options.
With the new Odyssey7Q+ they gave GH4 shooters a recorder that can utilise the 10bit 422 HDMI output for higher quality recording. Convergent Design don't do many products, but the thing about them is their stuff works. Every time. So, today instead of announcing an "announcement" of upcoming products at NAB, they're telling us they won't release new products at NAB, but instead will focus on improving and updating the already awesome Odyssey lineup of monitor/recorders.
I personally think this is a much better approach and really shows their commitment to their customer base. Sure, as with any other company they have to release new monitor/recorders or anything else they decide to do in order to be competitive in the ever evolving and complex world of video acquisition and post-production.
But the fact they don't go overboard, as some other manufacturers with a new product every major trade show, thus making their previous model obsolete, is a better strategy in the long run. That's at least what I think. And there are Odyssey7Q owners out there, who weren't too happy to see the Odyssey7Q+, but with the extra warranty and customer credits, I think CD have made good with their customers.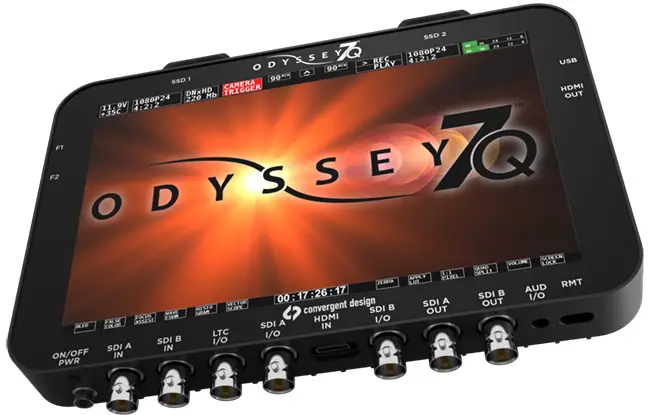 Please, Convergent Design, whatever you decide to do, don't do a camera. Keep cranking out updates for the Odyssey recorders and make them even more awesome.
See what they have in store for future updates to the Odyssey7, 7Q, and 7Q+ monitor/recorders below.
PRESS RELEASE
(March 5, 2015, Colorado Springs) 2014 was a record-setting year for Convergent Design.  The Odyssey7Q began shipping in October of 2013 and quickly became the monitor/recorder of choice throughout the industry.  In mid 2014 the lower-cost Odyssey7 began shipping, immediately establishing itself as the premier HD video monitor/recorder.  At the close of 2014, the Odyssey7Q+ debuted, setting a new benchmark as the "go-to" 4K monitor/recorder.
The growth and success of the Odyssey Family of Products is reflected throughout Convergent Design.  The company doubled its staff, moved to a new purpose-built facility that is greater than twice the size of its previous space, and increased revenues more than fourfold over the previous year.
And we are not ones to rest on our laurels.  In 2014 the Odyssey product line enjoyed six firmware updates.  Convergent Design plans to continue improving and expanding our products through free firmware updates with the same aggressive pace and the same high level of performance, and to offer surprise features that outpace and leapfrog anything in the industry.  Convergent Design will not be surprising the industry with unexpected new products at NAB this year.  Instead we are dedicated to the continuing development of the Odyssey product line as the most full-featured, most versatile, most powerful and most reliable monitor/recorders in the world.
Below is out forecast for firmware updates for the next few months.  The features listed are only a taste of what will be in each update.  We expect to offer a variety of new features and improvements on current ones.  And we plan to surprise you with functions unlike anything being offered by anyone else.  The March Firmware Update is ready to launch and awaits certification for the new recording formats.  And there are several surprises in this firmware release.
Please note that the Odyssey firmware updates apply to the Odyssey7, Odyssey7Q, and Odyssey7Q+ as appropriate to the capacities of each device.  It is the expressed intent of Convergent Design to support our products and clients long term.

March Firmware Update
Additional compressed video recording formats
Improved image processing for both FS7 & FS700 (FS RAW Record Option)
April Firmware Update
Programmable custom 3D-LUTs with LUT routing to tools & outputs
Improved monitoring functions and tools
May Firmware Update
Additional monitoring/recording features
High frame rate compressed recording for FS7 & FS700 (FS RAW Record Option)
New Record Option
June Firmware Update
Additional compressed video recording formats
New Record Option
[via Convergent Design]
Claim your copy of DAVINCI RESOLVE - SIMPLIFIED COURSE with 50% off! Get Instant Access!