Lighting and especially high-end LED lighting had a huge presence at BSC Expo 2018 to no surprise, after all this is a production exhibition show organized by the British Society of Cinematographers so don't expect to see strobes, audio kit or more broadcast-y oriented stuff. Cirro Lite, the UK distributor for DedoLight, Matthews, and Kino Flo had a super busy stand with lots of lights that you can play around with. Kino Flo came to BSC Expo 2018 with a selection of awesome new lighting fixtures including a new Freestyle 41 LED, a KF55 LED light bulb and a new prototype of a "tube" LED light that you can use in legacy 4x bank Kino Flo fixtures.
I had a chance to chat with Kino Flo founder Frieder Hochheim about their latest developments on the LED front.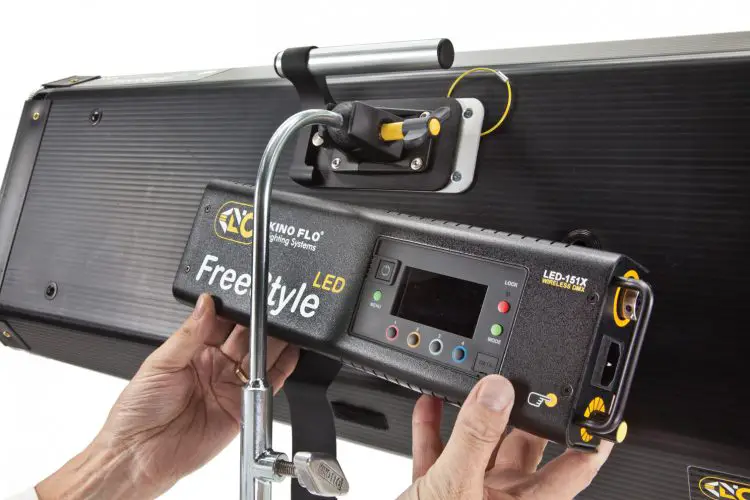 The Freestyle 41 is reminiscent of the legacy 4 x 2 fixtures in form factor, but as the rest of the Freestyle range, the light itself can be detached from both the ballast and the gaffer tray and barn doors making it easier for you to attach it overhead while saving weight. Just like the Freestyle 21 and 31, you get full RGBWW control over the light output, colour, hue sat, gels etc.
Frieder also mentioned they are working on getting out the LED SFX such as police car lights, paparazzi flash light, TV flicker (with different built-in profiles for news, drama, music videos etc) and more, to allow you to creatively and easy simulate such effects and save time on set.
Kino Flo Freestyle LED Features
Kelvin presets
Dial-in color temperature control between 2700K-6500K
Extended color palette from 2500K-9900K
Green/Magenta Control
Hue angle and Saturation adjustments
RGB control
Works with Apps with predetermined RGB presets or colour wheels
Can use preset buttons to store custom Kelvin settings
Light levels do not change when selecting Kelvin settings
No color shift while dimming
Color-correct with high color rendering index (CRI 95)
Universal input 100VAC-240VAC or 24VDC
Energy efficient, draws 1.25A, 120VAC and 6.25A, 24VDC (FreeStyle 31)
Flicker-free, quiet operation
Full range onboard and DMX dimming
DMX wireless link (Lumen Radio)
DMX Auto Terminate
Remote fixture with built-in barndoors
Removable LED panel with center mount and molded corner mounts
Fixture includes removable 90° Honeycomb Louver
Honeycomb louver also available in 60° as accessory
Removable Center Mount
KinoGrip Center Mount
Lightweight, slim profile
Mounts to stand, light enough to be hand-held
Controller mounts onto fixture or operates remotely with extension cable
The other two really cool new products on display were the prototype Tube LED that Kino Flo are working on bringing to market later this year. Unlike more conventional LED tubes, the Kino Flo variants (final product name has not yet been finalised, so I'll refer to them as the Kino Flo LED tubes) these LED tubes can project light from around 310 degrees compared to about 180 degrees on other such fixtures. The Tube LED are also IP64 rated (splash/rain protected –  perfect for the typical British weather) and can also be mounted inside the legacy Kino Flo 4x bank bodies.
This is a really exciting opportunity to get some super creative and portable soft light as you can expect RBG control thanks to the compatibility with the existing Freestyle ballast, so if you already own a Freestyle 31 or 21, you can also use the ballast to control up to 4x tubes at a time (mounted within the same fixtures that is). More details on pricing and availability will be available within the upcoming few months. Kino Flo are aiming to bring those to market later in 2018.
The other two innovations from Kino Flo are their new KF55 light bulb, which is meant to be used in a daylight environment, however due to its 4600 Kelvin temperature, it won't be "too red/orange" compared to incandescent fixtures which are normally around 2700K and tend to be too aggressively red.
With the K-Stacker from Matthews, the leading Hollywood grip makers, gaffers and cinematographers have the option to stack 2 or 3 x Kino Flo Select fixtures in top of each other and blast them through some sort of diffusion as to easily create a larger source while using a single C-stand to which the K-stacker attaches. The unit is priced at around $105 at B&H.
For more details on the K-Stacker head over to Matthews and also check out Cirro Lite's website for more detailed specs on the Kino Flo Freestyle LED range.
Claim your copy of DAVINCI RESOLVE - SIMPLIFIED COURSE with 50% off! Get Instant Access!