Austin-based live & branded content production company XI Media Productions teamed up recently with RED Digital Cinema, DELL, and The Fader to make the first-ever live concert streamed in 4K a reality as a part of the annual SXSW 2015 Festival next week. The 4K live stream will premiere at TheFADER.com/FORT Tuesday, March 17 at a Dell preview event at The FADER FORT with performances from Passion Pit and Mew, followed by The FADER FORT Presented by Converse festivities starting Wednesday, March 18 and running through Saturday, March 21 in downtown Austin between 1:00 and 8:00 p.m. CST.
The live performances will be captured on 4 x 6K Red Dragons each equipped with a 4K broadcast module enabling a live 4K video feed going through a Nipros LS-750 GTS Fiber Adapter into a Blackmagic Design ATEM2ME4K switcher. Dell computer infrastructure and 4K monitors facilitate the transmission with with the help of additional live production tools from Blackmagic Design and AJA.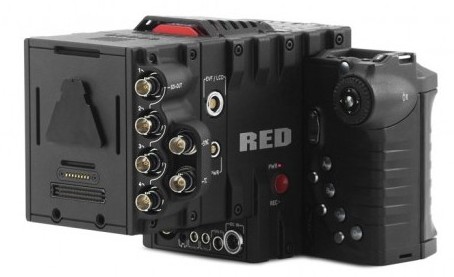 Just yesterday we sat down for a Skype chat with XI Media Productions owner Dusty Kraatz to discuss this landmark occasion into the 4K broadcast and live production frontier. For our full discussion, stay tuned for our next Podcast episode this coming Monday. In the meantime, read up on the press release for the event below.
Dell, Intel, RED Digital Cinema and XI Media Productions partner with The FADER to live stream first-ever live concert in 4K
Live stream will be made by possible by Dell Precision workstations, Dell UltraSharp 4K and 5K displays, RED EPIC DRAGON 6K cameras, Sharp AQUOS 4K UltraHD TVs, and video production from XI Media Productions
XI Media Sizzle Reel 2014 from XIMedia on Vimeo.
AUSTIN, TEXAS – March 11, 2015 – Dell announced today that the FADER FORT Presented by Converse, taking place during the 2015 South by Southwest (SXSW) Music Conference and Festival, will be the very first live concert streamed live in 4K worldwide. Powered by Dell, Intel, RED Digital Cinema, and Sharp, with key support from XI Media Productions and Omega Broadcast Group, the live stream will allow music fans around the world to experience the live performances and exclusive interviews from top artists including Migos, Bleachers, and more, live in brilliant 4K resolution.
All performances will be streamed online at TheFADER.com/FORT. The 4K live stream will premiere Tuesday, March 17 at a Dell preview event at The FADER FORT with performances from Passion Pit and Mew, followed by The FADER FORT Presented by Converse festivities starting Wednesday, March 18 and running through Saturday, March 21 in downtown Austin between 1:00 and 8:00 p.m. CST.
"Dell is excited to be providing the technology and expertise to open up the front-row experience of The FADER FORT to fans everywhere via live 4K streaming," said Andy Rhodes, executive director of Dell workstations. "With 4K adoption on the rise, we're thrilled to be able to work with such innovative partners to make this industry first a reality."
Dell has an established history of enabling customer innovation within the film and music industry through technology. The company has been behind the successful live streaming of music performances at ACL Live, festivals like Lollapalooza, Austin City Limits and Jazzfest in the past, as well as two previous years of The FADER FORT, so partnering with The FADER to power the first concert live streamed in 4K is a natural next step.
"We've seen some incredible performances take place on The FADER FORT stage throughout our 14 years in Austin, and our partnership with Dell not only provides local music fans invited to our event with the chance to experience them, but ones around the world," said Andy Cohn, president and publisher of The FADER. "We're all looking forward to being the first to showcase this 4K technology live, and to give our viewers at home as close of an experience to witnessing The FORT in person as possible."
Dell, Intel, RED Digital Cinema and Sharp Electronics are working together to provide a complete end-to-end solution that combines 6K cameras, powerful mobile and tower workstations with NVIDIA Quadro professional graphics, and high-end displays and TVs to handle the demanding visual and audio experiences. Production of the 4K live stream will be handled by XI Media Productions, leaders in the music and entertainment broadcasting industry, and the 4K live encoding software will be provided by Omega Broadcast Group, a 4K video solution reseller and rental house.
The workflow begins with RED Epic and Scarlet cameras equipped with RED 4K Broadcast Modules capturing the images on 6K sensors. The signal leaves the camera via quad SDI, enters the Nipros LS-750 GTS Fiber Adapter, attached to the camera, where the signal is sent over SMPTE fiber to the Nipros LS-850 GTS Fiber Base station, near the switcher. It leaves the LS-850 via quad SDI and goes to the Blackmagic Multiplex where the quad SDI becomes a single 6G SDI before entering the Blackmagic ATEM2ME 4K switcher. The switcher will be controlled both by an ATEM Broadcast Panel control surface and also via the Blackmagic software from a Dell Precision M3800 mobile workstation, which will also be used for editing as well as live 4K content contribution via an AJA Io 4K and Adobe Premiere.
From the switcher, the 4K signal is distributed to Dell UltraSharp displays and Sharp TVs throughout the venue over HDMI as well as over 6G SDI to a Dell Precision Tower 7810 workstation with a Blackmagic DeckLink 4K Extreme capture card inside. The tower will be running 4K encoder software that encodes and streams to the internet at 6Mbps to a CDN for viewing by a national audience on their home computers via the Fader.com website.
Starting March 17, invited guests at The FADER FORT's Dell preview event will get a behind-the-scenes look at the 4K live stream technology at the Dell | Intel Live Stream Pod onsite, which will be used for audio and video capture, encoding and building the editorial footage of the live stream. The live stream will be broadcast inside The FADER FORT, as well as popular Austin hangouts including Birds Barbershop (1107 East 6th St. location), Finley's Barber Shop (237 West 3rd St. location), Division 1 Bicycles, and Solid Gold Boutique, on Sharp 4K Ultra HD LED Smart TVs and Dell technology.
Fans looking to watch the live performances in 4K from the comfort of their homes now have many options for viewing devices that support 4K resolution, including Dell UltraSharp 4K and 5K displays, laptops and mobile workstations such as the new Dell XPS 15 and Dell Precision M3800 available with 4K display options, or Sharp's THX 4K certified AQUOS 4K Ultra HD LED Smart TVs, available in 60 and 70 inch (69.5"diagonal) screen size classes.
"We are huge fans of SXSW at RED and could not be more excited to work with Dell, Intel, The FADER, and a bunch of other great brands on this project," says Jarred Land, President of Red Digital Cinema. "With the use of our 4K Broadcast Module, you are able to not only record 6K R3D RAW masters on-camera, but also simultaneously stream live 4K off the camera. We love pushing the technology envelope whenever we can, and this is going to be amazing."

"The FADER FORT was the first live stream we ever produced," said Dusty Kraatz, owner of XI Media Productions. "How fitting that seven years later, on our company's 10 year anniversary, we are pioneering a new era in live streaming and video production."
"It is always great to be part of industry firsts and we are excited about this opportunity with Dell, The FADER and Converse", said Frank Soqui, General Manager of Intel's Technical Compute Cloud and Client. "Dell's Precision tower workstations with two Intel Xeon process will be front and center, playing a key role in delivering the high-performance composting and rendering pipelines that will make this industry-first truly spectacular."
Disclaimer: As an Amazon Associate partner and participant in B&H and Adorama Affiliate programmes, we earn a small comission from each purchase made through the affiliate links listed above at no additional cost to you.
Claim your copy of DAVINCI RESOLVE - SIMPLIFIED COURSE with 50% off! Get Instant Access!