First day of NAB 2015, and Blackmagic Design have yet again set sights on stealing the spotlight once again. With over 38 new products announced at the show, the ones gathering most eyeballs are, of course, the new cameras from Blackmagic Design, who are at least being consistent with their camera announcements for a forth year in a row. We already told you about their Micro cinema cameras here, and now its time for the URSA Mini 4.6K and other versions.
That's right there's four different versions, as its usually the case with new Blackmagic Cameras. However, to keep it simple: The new URSA Mini is available in the following versions:
URSA Mini 4.6K EF (new sensor with 15 stops DR)
URSA Mini 4.6K PL (new sensor with 15 stops DR)
URSA Mini 4K EF (using the old URSA sensor)
URSA Mini 4K PL (using the old URSA sensor)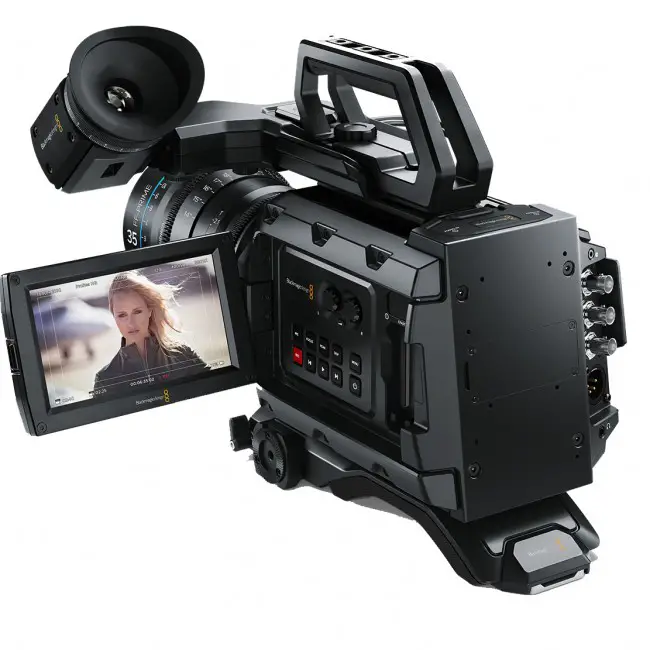 Taking a lot of cues from the Sony FS7 design, the new URSA mini body is made of magnesium allow for a rugged, yet significantly slimmed down foot print for a more ergonomic and lightweight shooting approach.
Tailored for a variety of shooting situations including a shoulder mounted style, the URSA Mini weighs in at just under 3 kg. The new 4.6K Super 35 sized sensor is capable of a significant boost in sensitivity offering 15 stops of dynamic range (that is of course as is everything else subject to third party testing, but super impressive nonetheless) and an even more impressive – user selectable Rolling Shutter and Global Shutter option.

The global shutter option, available in camera, does eliminate the infuriating "jello effect" when shooting hand held or panning fast, however when this option is selected the sensor takes a DR hit, not much, but possibly a stop or even more. When users choose rolling shutter, the full dynamic range of the sensor can be used. Base ISO is yet to be determined, by some speculate it may hover around the ISO 800 mark.
Compressed Raw 4:1 and 3:1 flavours are available on-board, as well as all Apple ProRes flavours from 444 XQ down to Proxy. DCI 4K in 16:9 and 2.4:1 as well as UltraHD recording up to 60p in Rolling shutter are available. Selecting global shutter halves the recording frame rate to 30p.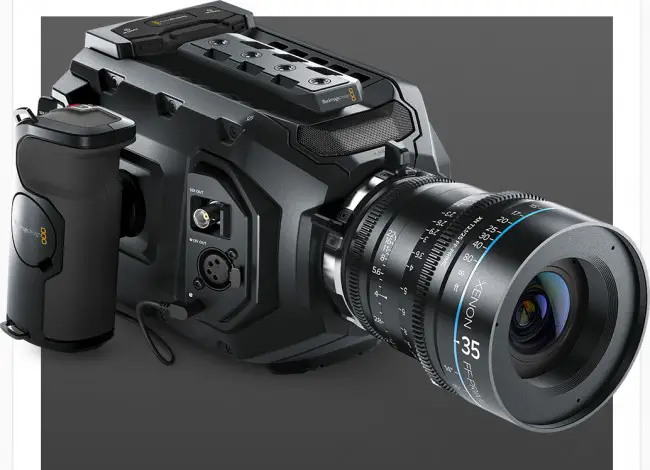 The recording media is once again CFast 2.0 in dual slots, but this time the camera comes with a 5″ 1920 x 1080p fold out screen, side hand grip (can be relocated forward as on the FS7) and an optional viewfinder. Professional dual XLR inputs are located on the top, and a 12G-SDI output, as well as Reference and TC inputs are present on the back of the camera.
Recording Resolutions URSA Mini 4.6K EF/PL
4608 x 2592
4096 x 2304 (4K 16:9)
4608 x 1920 (4K 2.4:1)
3840 x 2160 (Ultra HD)
3072 x 2560 (3K Anamorphic)
2048 x 1152 (2K 16:9)
1920 x 1080
Frame Rates
4K Raw up to 60p in RS, and 4K Raw up to 30p in Global Shutter mode
1080p up to 160p slow-motion (1:1 sensor crop window mode)
* 4608 x 2592
CinemaDNG RAW 3:1 – 180 MB/s
CinemaDNG RAW 4:1 – 135 MB/s
* 3840 x 2160
Apple ProRes 444 XQ – 312.5 MB/s
Apple ProRes 444 – 165 MB/s
Apple ProRes 422 HQ – 110 MB/s
Apple ProRes 422 – 73.6 MB/s
Apple ProRes 422 LT – 51 MB/s
Apple ProRes Proxy – 22.4 MB/s
* 1920 x 1080
Apple ProRes 444 XQ – 62.5 MB/s
Apple ProRes 444 – 41.25 MB/s
Apple ProRes 422 HQ – 27.5 MB/s
Apple ProRes 422 – 18.4 MB/s
Apple ProRes 422 LT – 12.75 MB/s
Apple ProRes Proxy – 5.6 MB/s
Note: Storage rates based on 30 frames per second.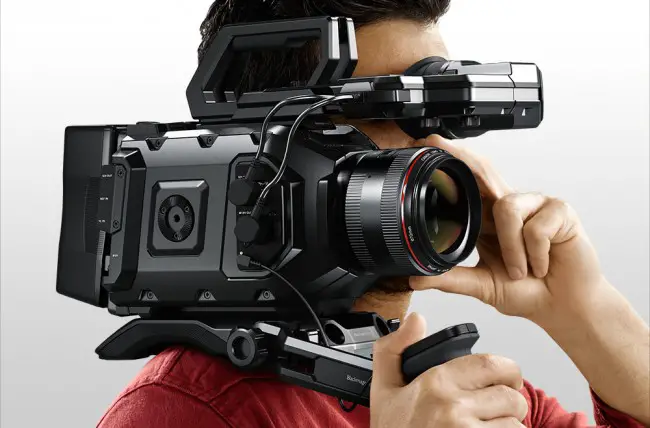 Optional Accessories include:
1080p OLED Electronic Viewfinder – $1,495 / £1079
URSA Mini Shoulder Kit (includes top handle) – $395 / £289
URSA Mini V-Lock plate – $95 / £69
The new Blackmagic cameras, especially the URSA Mini looks like stole the show again. The biggest complaint from users on the 1st generation URSA (or Big URSA or Original URSA) was without a doubt its significant weight. Second to that was maybe the limited DR. Now both of these shortcomings have been "resolved" with the URSA Mini. The 4.6K version is quite different than the big URSA, in that it does not offer future sensor upgradability and is limited to 60p in 4K compressed Raw, whereas the original URSA can do up to 120fps with the latest firmware update and the new 4.6K sensor.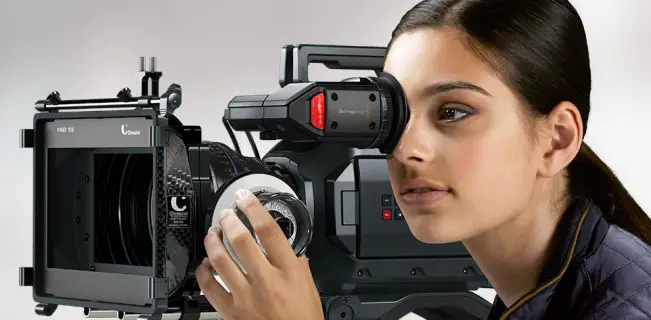 Oh, I almost forgot – you can upgrade the original URSA with the new 4.6K sensor for an extra $2,000. Availability is estimated in July, but by BMD standards that is of course to be taken with a grain of salt. I really like the look of the new URSA Mini, and judging from the show response so far, Blackmagic Design may have a real winner on their hands.
The price is right, the form factor too, compressed 4K raw and ProRes on-board, viewfinder, XLR's, EF/PL mount, and just about the only thing I can think of that I wish I'd seen in the camera is built-in ND's which the URSA Mini does not have. Other than that, it looks like a really nice camera to me.
Pre-order links via B&H below:
[via Blackmagic Design]
Disclaimer: As an Amazon Associate partner and participant in B&H and Adorama Affiliate programmes, we earn a small comission from each purchase made through the affiliate links listed above at no additional cost to you.
Claim your copy of DAVINCI RESOLVE - SIMPLIFIED COURSE with 50% off! Get Instant Access!