As resolutions and data rates from the latest generation of 4K and higher resolution cameras continue to increase the need for reliable and fast storage solutions also becomes quite apparent. Sony have just announced new 1TB and 2TB Pro external hard drives with Thunderbolt and USB 3.0 connectivity. The new external drives from Sony offer users an alternative to popular brands for such solutions in the likes of G-Technology and Lacie to name a few. I have been using G-tech, Drobo and Lacie drives for my storage media for quite sometime, but nonetheless I am always on the lookout for new storage solutions.
The latest announced external drives from Sony's expanding portable storage line-up include PSZ-HB1T, a 1TB model and PSZ-HB2T, a 2TB model. Each delivers high performance and durability to professionals who need large capacity, fast, reliable data storage for transport, back-up and transfer of content in the field and on-the-go.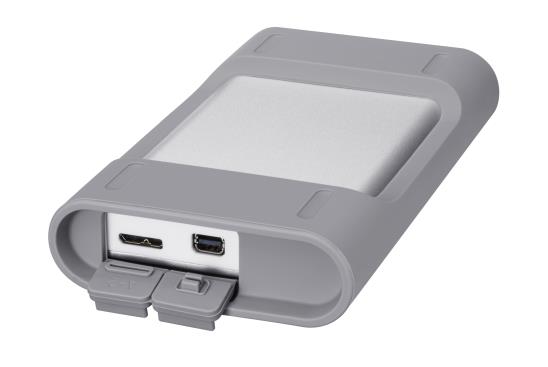 "Professionals need options when making storage purchase decisions, which is why Sony is now offering two high capacity, high-speed, rugged shuttle drives, with flexible interfaces," said Bill Cubellis, Director, Professional and Storage Media Sales & Marketing, Sony Electronics.
"Compatibility is also critical, and based on user feedback we included a Thunderbolt port in our HDD.  Now users can safely, affordably and easily transport large volumes of content, and deliver it in a timely fashion from the field, from nearly any device."
The PSZ-HB2T 2TB variant offers transfer speeds of up to 122MB/s, while the PSZ-HB1T can read and write at up to 120MB/s.
Another standout feature of Sony's shuttle drives are their durability.  The devices are covered in silicone rendering them shock-resistant, with an internal architecture optimized for use in rugged situations.  The drives are tested to withstand drops of up to 2.0m. Furthermore, the interface ports have silicone covers, offering a high level of splash and dust resistance*.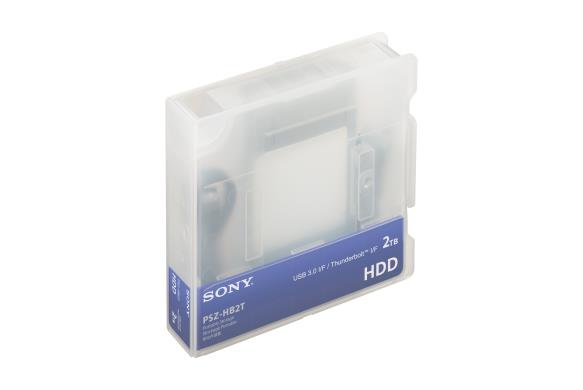 While the dual Thunderbolt and USB ports secure data transfer against unexpected problems to one port, with Memory Media Utility software, the highly reliable shuttle drives offer various enhanced functions. The software allows users to manage their portable storage with features such as device information display, reformat for quick erasure and re-use, backup to multiple locations and disk status check to determine optimum replacement time.
Memory Media Utility for PSZ series will be available for download in May at http://www.sony.net/mmu/. Sony's shuttle drives are uniquely designed so multiple units can be stacked, allowing increased airflow and effective cooling.
The HDDs come in a convenient, streamlined hard case, which neatly packages all of the included cables and offers space for detailing the contents of the drive.  This allows for protection during transportation, easy handling and organized shelf archiving.
The new Sony PSZ-HB2T and PSZ-HB1T HDDs are planned to be available in May 2015 with suggested pricing to be determined.  For more of Sony's line of portable storage, please visit www.sony.com/promedia.
Also, the Sony NAB 2015 press conference kicks off at 10pm GMT tonight, April 12th – you can watch it LIVE here: http://bit.ly/1Cu5jaP  and use the #SonyNAB15 hashtag for the latest updates.
Don't forget to also bookmark our NAB 2015 Live Blog feed here.
Claim your copy of DAVINCI RESOLVE - SIMPLIFIED COURSE with 50% off! Get Instant Access!